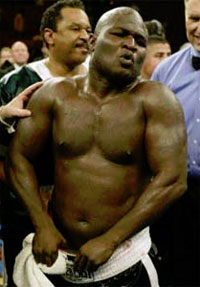 First reported by Fighters Only Magazine, then MMAJunkie and now to every single person on my phone's contact list; Randy Couture will face James Toney at UFC 118 in Boston which is scheduled to go down in August.
Yeah, I didn't believe it either.
Currently, the weight division in which this bout will take place is yet to be determined, however the bout will likely headline the card or be a co-main event. Pitting the former UFC heavyweight and light heavyweight champion against a dude that has a 0-0 record in MMA seems on paper to be a really, really bad idea. Well, a really bad idea unless you're talking about James Lights-Out Toney. The MMA world will finally see how to properly execute a shoulder roll…if Randy Couture doesn't take him down before.
Despite this bout being four months away, here's a video of James Toney doing what he does best (and it's not making poorly produced vlogs). [Source]