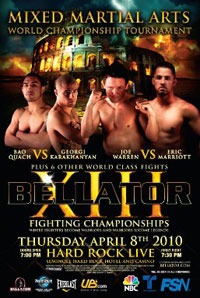 Last year we had to watch Bellator a day after it occurred on ESPN Deportes in Spanish. This year, we get to watch it on the Fox Sports Network on a six-hour tape-delay (if you live on the west-coast). Maybe next year we'll be able to see a live Bellator event in English, but in the meantime we'll front as if we're not disappointed. As far as the fights, Bao Quach proves once again that regardless of how cool your name is, you can still get KOd with a knee in the first round. Joe Warren managed to cover Eric Marriott with an array of ground and pound to get the unanimous decision and former Best Buy employee, Carey Vanier, TKOd Joe Duarte late in the third round. Before Roger Huerta entered the cage to bang against Chad Hinton, Bellator thought it would be a great idea (and it was a great idea) to interview Jeremy Shockey and Mickey Rourke who were in the audience supporting their dude Huerta.
When I first heard the interview, it was somewhat confusing so I checked my apartment for any empty vodka bottles to see if I've been drinking. When I woke up this morning, I had this sudden urge to flip through my DVR just to hear Jeremy Shockey again. This is exactly what the 2010 Superbowl champion said regarding Roger Huerta's debut bout in Bellator:
"I'm enjoyed the great time in the Hard Rock here, it's a great experience and I hope my boy Roger does a great job. He has a great work ethic and all we can expect from him is to come out and bash this guy!"

"Hits are hits, I don't care. If you're in this ring or a three-o'clock bar fight, it doesn't matter. I'm going see Rog and he has a great, great, great background and martial…and I'm ready to see this guy really take him down. And Mickey knows more than I do, and Mickey's a great guy and he'll tell you exactly more than I have, but let me tell you something…Rog is going to win this fight tonight!"
I'm not saying Jeremy Shockey was drunk, but if I were the reigning Superbowl champ and I flew out to Hollywood, Florida for a Bellator fight…I would be that drunk guy in that audience screaming 'Punch him in the [expletive] face!' until security escorted me out of the arena.