If you missed Dream 16 last night/morning in order to exchange your late night Japanese viewing habits for a little sleep, your MMA fan card has officially been revoked for the remainder of the month. Bobby Green will be coming over to your apartment later today to pick it up along with whatever MMA memorabilia you've collected this September. Dream 16 opened up with both Frank Trigg and Michael Schiavello garbed in luchador masks, a stunt that is only acceptable within the confines of Nagoya, Japan.
The Dream 16 intro opened up with samurais banging away on a drum set. That image essentially set the tone for the rest of the night/morning. It's hard not to believe that witnessing a Dream event is something that we will be telling our grandkids at some point in the future. The entire event is infused with so much 'cool' that your heartbeat literally accelerates when the lights go dim and the giant monitor inside the arena plays whatever techno mash-up FEG prepared for the event. In short, you're doing yourself an incredible disservice if you miss another Dream event from this point on.
The first bout of the morning consisted of James Thompson vs Deep Megaton champion, Yusuke Kawaguchi. Immovable object vs. impassable object. Totem vs. golem. Your will to eat McDonalds vs. your inherit guilt after eating McDonalds. It's all the same, and this morning was absolutely no different than the previous examples which were created within the timespan it takes you to fling a booger across your room. It took only two punches from the Deep Megaton champ to rock James Thompson, but The Colossus regained his composure and actually came into Dream 16 with a gameplan. It appeared that James Thompson was going for the single-leg takedown in order to lay some ground and pound on Kawaguchi. Everything was going well until the judge realized that Thompson's hands were allergic to guarding his face. The guy continued to get smacked with the frying pans that is the Yusuke Kawaguchi's hands. The bout continued to follow the same cycle until the end when the Deep Megaton champ won a controversial decision over James Thompson. A lot of people thought The Colossus won the bout due to that allusive element called 'ring control'. It's all good Thompson, one day you'll pull together a win and I will drink in your honor.
After watching Ishida vs. Wicky, I'm convinced that a bout between Antonio McKee and Mitsuhiro Ishida would only result in some paradox in the time/space continuum. Two double-leg takedowns executed at exactly the same time can only result in breaking some law of physics, the likes of which we will never see again. It seems as if Antonio McKee may be headed to the UFC, so that fight will only reside in a universe of hypothetical scenarios and 'what ifs'. Once again, we had yet another controversial decision in just the second bout on the card. If the defense is scored higher than the attempt of the offense, then Wicky easily won the fight. The guy defined what it was to neutralize a wrestler with superb takedown defense, perhaps some of the best we've seen in Japan since Mirko Cro Cop and Rampage Jackson. Unfortunately, the judges seemed to score the bout based on aggressiveness (which is understandable) and The Endless Warrior added another W on his record.
Next up was Little Hercules vs. Lion Inoue. Not even two consecutive suplexes could finish this fight for Little Hercules. Aside from having two of the coolest nicknames in Japanese MMA, this fight seemed to consist of a lot of fake knees from Lion and that — well that was pretty much it for Takeshi Inoue. The cornrolled Miyata easily grabbed the unanimous decision and, for some reason, Michael Schiavello insisted on calling him 'Little Overeem', a reference I still don't fully comprehend.
Tokoro vs. Hansen was up next and the only thing that repeatedly went through my mind was 'my god does Joachim Hansen need this win'. After defeating Shinya Aoki at Dream 5 due to a flurry of punches, all of which had ill intent, Hellboy went on a three-fight losing streak racking up losses to Takaya, Bibiano Fernandes and Shinya Aoki. This morning, Hansen managed to triangle-choke the will out of Tokoro early in the first round when he quickly tapped in just under three minutes. It's also important to note that before the fight, Hansen crashed on Mach Sakurai's sofa and played guitar in his make-shift rock band to relax. Got to love it. Good win for the Hellboy, now maybe he can finally pick up his phone for an interview since we've been trying to contact the dude since November of last year.
After a rather slick mid-card introduction, Michihiro Omigawa vs. Cole Escovedo stepped inside the ring at the Nippon Gaishi Hall. Granted, we should have all been watching Joe Warren vs. Omigawa, but one day that match will happen and when it does, I will be injected with so much caffeine that I won't have to worry about passing out at 3:40am on a Saturday morning. After this fight, the only thing that we're all forced to say is 'Omigawa is serious folks'. He's not just a guy you rooted for last year because Sengoku told you to. This guy is a force. AOL photographer, Daniel Herbertson, not only said that Cole Escovedo's arm 'popped' when Omigawa caught him in a straight armbar early in the first round, but when he executed the submission, Escovedo's arm made a loud noise that was heard by many who were ringside. In his post-fight speech, Omigawa said that 'he's the center of the featherweight world' and with four straight wins over very tough opponents, it's hard not to believe him. If you haven't realized, there is a highly probable chance that Omigawa will defeat your favorite 145lber. Two years ago I don't think anyone would have said that statement but as of 2010, it seems to be incredibly accurate.
Takaya vs. Chase Beebe played out exactly like many of you predicted. Takaya exploded his fists on Beebe's forehead. The type of explosion you would only see in archived military footage that you could order in box sets on late-night television. It only took a total of one minute and forty-five seconds for this cataclysmic event to occur which now brings Takaya's number of KO wins in his career to a total of eleven out of fourteen. I also feel obligated to inform you that Takaya placed fourth in our list of The Top Ten Greatest Fades in MMA. My friend Banguiz and I wrote that entire list on three napkins in Tucson, AZ. We consulted with King Mo and Damarques Johnson. They put their stamp of approval on it. The power of the fade was strong with Takaya at Dream 16.
Now this was the time in the morning in which many of you fell asleep. I tried warning you guys that intermissions are perhaps the hardest obstacle to overcome while watching a live Dream event. This was the moment where you really needed to ingest whatever substance you previously purchased in order to fool your body into believing it had more energy than it actually did. If you were an unfortunate victim to sleep, then just remember there will always be another time to earn your 'Japanese MMA fan badge'.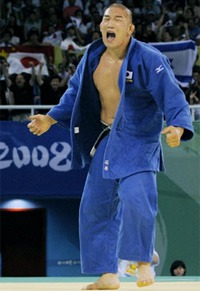 Four fights were left in Dream 16, the first of which was Minowaman vs. Satohsi Ishii. I think the entire MMA world finally witnessed Satoshi Ishii perform like the dude who we all were hyped about after the 2008 Bejing Olympics. If controlling red Speedos was Ishii's purpose in life, Satoshi Ishii could die today and be the most fulfilled man in the universe. Pure judo domination won it for Satoshi. While Minowaman was on his back for most of the fight, the Super Hulk champion just couldn't find a way to finish off Ishii. There was a point in the first round when Minowaman went for his patented heel hook, caught Satoshi and started twisting his appendage like he was trying to make freshly squeezed orange juice. Satoshi managed to roll out of the submission and regain control which lasted for the remainder of the round. In the end, Satoshi grabbed a unanimous decision over a guy many thought would end the fight with a spectacular submission within the first round. Got to give it up for the gold medalist judoka player.
The fight we were all waiting was next on the menu. I wanted to start off this paragraph with 'No pants, no problem' but that sounds like the title of some pornographic movie. Instead, I'll go with the less catchy 'BJJ practitioner vs. BJJ practitioner'. Shinya Aoki arrived to the cage without his trademarked technicolor pants, something that we've seen more often from The Baka Survivor. After controlling much of the fight, Aoki successfully opened up a giant canyon on Marcus Aurelio's forehead that bled for the remainder of the fight. In the end, Shinya Aoki won a unanimous decision over Marcus Aurelio in a fight that illustrated just how a bout can take place on the ground and still force you to be on the edge of your seat in excitement.
Jason 'Mayhem' Miller has consistently said that 50% of a MMA bout takes place in the entrance so it would be inexcusable if I didn't include a video of Mayhem's walk-out at Dream 16 against Sakuraba. Don't worry, I got you guys on this one.
That's why the entire MMA world has an undying love affair with this guy. I think King Mo said it best this morning with 'Saku!!! Please step away from the game'. It's brutal to watch a man that made MMA what it is today to be defeated by an arm-triangle in just over two minutes. It's depressing. Last week I bought my father a VXRSI 'Epic Tee' and told him the only way he could wear it in public was to watch Kazushi Sakuraba vs. Royce Gracie (the first one) which took place at the Pride 2000 GP finals. You could make the argument that modern-day mixed martial arts was born that night at the Tokyo Dome. The point in which Sakuraba walked over to his opponent's corner to shake the hand of Helio Gracie denoted that there was a non-Brazilian who could compete with any Gracie at the top of their game. My only hope is that Sakuraba takes a look back on his career and understand that there is nothing left to accomplish. He already achieved everything. The word 'legend' is an understatement.
The conclusion of the Dream Light Heavyweight tournament wrapped up Dream 16 with Gegard Mousasi vs. Tatsuya Mizuno. If the phrase 'complete and absolute domination' wasn't included in the description of this bout, I would have slapped myself in the face for not being honest with you. In the end, Mousasi's performance over Mizuno just illustrates how exceptional King Mo is which, of course, indicates just how amazing Fejiao is. It's like a cat-and-mouse game for compliments. After being wrapped around Mizuno for over six minutes, Gegard finished off the fight with a rear-naked-choke and earned his spot as Dream's first Light Heavyweight Champion.
My heart is still pumping from this morning, a cardiovascular condition that I can directly attribute to all the empty cans of Rockstar Energy Drink that cover my desk. We're going to have to wait until 2011 to see the next Dream card (with a potential Dynamite!! 2010 card going down on New Years Eve). Good show from FEG and, as always, Michael Schiavello made our cerebellums explode with a potpourri of similes and metaphors.