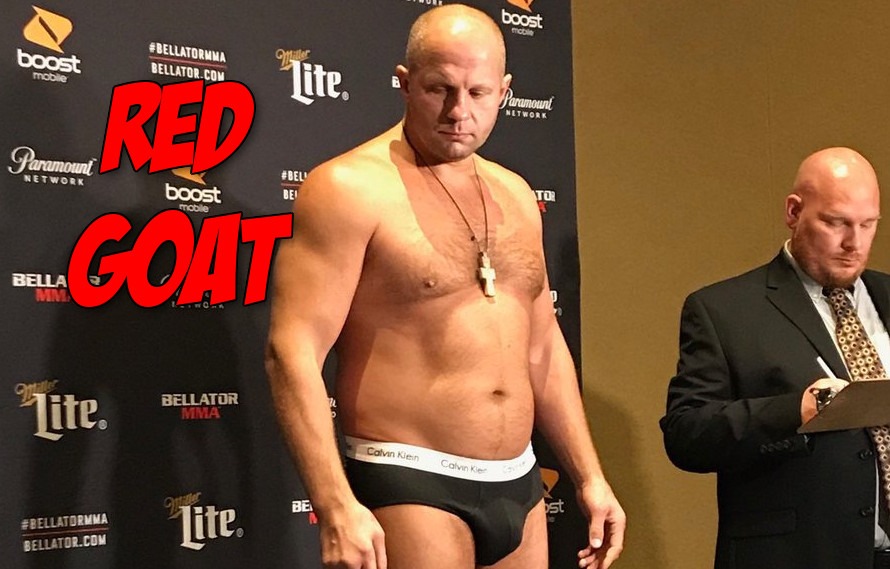 In world full of Fedor factoids and tall tales, this may be our new favorite. On Saturday in Long Island, New York, our Russian GOAT will fight once again under the Bellator banner.
Bellator 208 will feature Fedor taking on self proclaimed American Gangster Chael Sonnen in the main event. This fight is part of the semifinals from the mad late night doodles of Scott Coker's mind.
New York City is culinary utopia and we would love to find out what Fedor is dining on in his final week of fight preparation. What do the taste buds of the GOAT crave before battle? What is the proper meal to eat before you punch Chael Sonnen in the face?
From a now deleted Tweet from Bellator Public Relations Manager CJ Tuttle, why you delete it bro, Fedor apparently has eaten Red Lobster three to four times a week while in NYC.
I need a photo of fedor at the table grinning cheek to cheek with a lobster claw in each hand while wearing the red lobster bib

— Eamonn Keenan (@efkdottv) October 10, 2018
Red Lobster Cheddar Biscuits? Knew it.
The mental image of Fedor making his team walk past a bunch of five star New York City restaurants so he can eat at the same damn Red Lobster chain outlet night in and night out is too perfect.
In possibly related or unrelated news, The Last Emperor is looking both fit and tan as hell today (Oct. 12). That protein of the Sea diet is real and spectacular. Endless shrimp platters for some, Red Lobster Cheddar Biscuits for all.
The G.O.A.T. pic.twitter.com/qy7DfChhN8

— E. Casey Leydon (@ekc) October 12, 2018
Agree.
https://twitter.com/allelbows/status/1050758670072631296
Also agree.
Is it the return of Crabfest already? Sorry about your damn luck Chael.