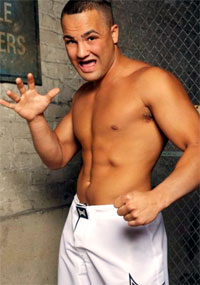 I never had a chance to thank Gilbert Meldendez for making Japan an American colony. Quite frankly, we all owe a 'thank you' letter to El Nino for making the impossible, possible. With a unanimous decision over Shinya Aoki at Strikeforce Nashville this year, Gilbert made Aoki's worst fear a sudden manifestation that consequently gives us all a time share off the coast of Osaka. In an interview with Sherdog's Loretta Hunt this past weekend, Eddie makes it abundantly clear that he wants a piece of Strikeforce's 155lb champion and he wants to do it as soon as possible.
"I made it really clear that I wanted to fight Eddie Alvarez, whether it's going to happen or not right now, I don't know. That's like my dream fight right now. If I can get past him, it proves that I'm still top three in the world."
Excellent. Now that Gilbert Melendez is down for the 155lb super-fight of the year, I just wish that Scott Coker would say he's up for it as well. Ah, he must have heard us.
"I said, 'Look, the situation with Gilbert is he broke his hand in his last fight, so he's out right now. He's going to be out, probably until the fall. So this is something we can readdress. We are open to fighting other fighters in other leagues."

"Doing co-promotions and fighting other fighters from other leagues is never going to be an issue. It just a matter of how do we do it? What's the deal?"

"We'll sit down and give it a shot. I would love to see that fight between Eddie and Gilbert."
Alright Scott, take it easy. We believe you. Relax. Now that you and the Strikeforce lightweight champion are on-board, I wonder if Bellator CEO, Bjorn Rebney, saw that one episode of Inside MMA where Gilbert Melendez called out Eddie Alvarez…
"I saw Gilbert on Inside MMA and Gilbert called out Eddie, you know Gilbert has the heart of a warrior and he just wants to fight the best of the best he doesn't care what banner they are under or what show they are on. Eddie called me literally 5 minutes after the show and said "Dude, I would do anything for that fight I would love that fight it would be awesome". We are talking about 2 of the top 5 lightweights today and I said absolutely. I would love to make that fight, let's do it. In reality, it really shouldn't be a fight that is that difficult to make. It's not one of those situations where you've got one fighter who is a major superstar and one is a phenom but an unknown from Brazil. You have 2 fighters who are pretty equivalent in terms of name recognition and pretty equivalent in terms of drawing power and they are closely matched in the world rankings. It's a great fight. It's the kind of fight where a guy like me and a guy like Scott Coker can sit down have lunch, have a couple burgers and some diet cokes and figure out how to make it work in relatively short order. A promoter or television network should not get in the way of that fight getting made. I'm hopeful that Scott and I can get together in very short order and figure out how to make it. As a fan I would love to see that fight."
Diet Cokes? My god Bjorn, is Scott Coker aware of these absurd lunch arrangements? All the elements are in place to have the first Bellator/Strikeforce co-promotion headlined by their two respective lightweight champions. Alternatively, if you say your prays at night there's a good chance that we may even see a Bellator vs. Strikeforce New Years Eve event not unlike what happened at Dynamite!! 2009 a few months ago.