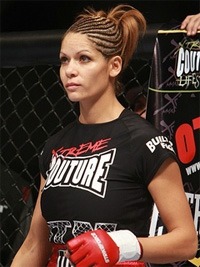 Alright so back on September 15th 2009 we announced that Brandon Vera will have an altercation with Randy Couture at UFC 105 and we mentioned that if Strikeforce wanted to get into the counter-programming business, they should assemble Kim Couture vs. Kerry Vera and confuse the hell out of everyone. Just a couple of days ago I was on the UG and I mentioned the idea again. Now it looks like the MMA gods have visited earth, grabbed a laptop from Best Buy, checked out MiddleEasy.com and stood in the return/exchange line to get their money back. Sherdog is now reporting that both chicks have verbally agreed to fight at 135lb (otherwise known as the Sarah Kaufman division). The fight will air…a week after Brandon Vera vs. Randy Couture on November 20th.
Besides being ridunkulously hot, Kerry Vera made her pro debut at Bellator Championships and fought like she's been in a bar fight or two…or twenty-two. When they showed the replay on Inside MMA a few weeks ago, everyone was just sort of stunned. The kind of stunned when you saw your first 80 hit combo on Killer Instinct when you were a snotty nose kid (now you're a snotty nose adult, and it's disgusting). Chick can fight and stay hot at the same time which has been like a prevailing theme in women's MMA.
Let me take this moment to reiterate why Kim Couture is one of the rawest chicks to ever step inside a cage. In her debut fight back in 2008 she stepped in the cage with Kim Rose who managed to break Couture's jaw in only a few seconds. Instead of calling the fight off like normal people, she continues to battle it out for the remaining fifteen minutes. Her DNA must be spliced with a Thundercat. Kim Couture is hot. I just wanted to state the blatantly obvious. She's some type of angelic…angel that descended from MMA heaven to hot up my TV every time she fights.
This should be beyond good. Beyond gooder…and all the sexually repressed guys sitting on their mother's sofa are the true winners. [Source]