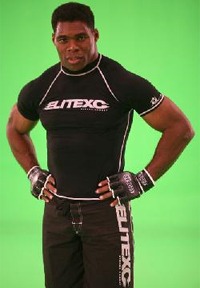 When Strikeforce announced that Herschel Walker was going to join the Strikeforce heavyweight roster, Scott Coker immediately followed up with:
"This isn't a publicity stunt or a gimmick…Herschel Walker has tremendous athleticism, and he has always shown that off the gridiron. He's accomplished a lot in his life and in the world of sports. His accomplishments speak for themselves, and we hope that his athleticism can transition into a successful MMA career."
'Accomplished a lot in his life' is an understatement. Dude has amassed like eighteen lifetimes worth of accomplishments and he's only been on this earth for forty-seven years. Since the MMA world has been pretty dead today, we found out as much as we could about Herschel Walker and his Strikeforce: Miami opponent, Greg Nagy, and composed our findings in a single line, easy to read list (because who really wants to read paragraphs on a Monday night?).
Herschel Walker:
Won the Heisman Trophy in 1982.
Inducted into the College Hall of Fame in 1999.
Won the Dial award for the 1972 National High School Scholar-Athlete of the Year.
Set the NCAA Freshman rushing record.
Has been sponsored by McDonalds and Adidas.
Two-time NFL Pro Bowler (in two consecutive years).
In 1989 he was traded from the Dallas Cowboys to the Minnesota Vikings for eleven players.
5th All-Time on the NFL's career rushing list.
Set numerous NCAA and SEC records.
Set the still standing, single-season, pro football rushing record of 2411 yards.
In 1999, he was selected to Sports Illustrated's NCAA Football All-Century Team.
Has a football field named in his honor.
Performs 2,500 sit-ups and 1,500 push ups every morning.
Nearly laid a beatdown on Dennis Rodman in Donald Trump's 'The Celebrity Apprentice'.
Trains with Josh Koscheck, Mike Swick, Jon Fitch, Cain Velasquez, Cung Le and Josh Thomson at AKA.
Author of two books.
Finished in seventh place in the 1992 Winter Olympics in the two-man bobsled competition.
Holds a sixth-degree black belt in Tae Kwon Do.
Founder, President and Chief Executive Officer of a company that makes a line of flavorful frozen chicken, beef, pork and seafood entrees and appetizers.
Has his own signature TapoutT shirt.
Greg Nagy:
Holds a 1-1 record.
Fought in the now defunct 'Rage in the Cage' organization.
Hails from Arizona.
Entire name consists of 8 letters.
If anyone knows anything about Greg Nagy (or even had a beer with him), let us know. We don't want to sell him short but we just have no idea who this guy is nor does the internet. Eventually, we will all find out exactly who Greg Nagy is January 30th at Strikeforce: Miami, until then…we'll watch this video of Herschel Walker train with Cain Velasquez.