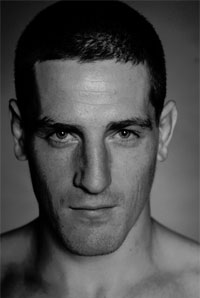 Yesterday, I decided to experience what a fighter goes through while cutting weight to get ready for weigh-ins. Instead of spending a couple of days not eating, sitting in saunas with plastic suits on and running on treadmills, I discovered a whole new way of cutting weight fast. It's simple really, just get into a car with no AC on a 98 degree day with 89% humidity and sit in Atlanta traffic at 5pm. A tractor trailer full of chickens overturned about 5 miles ahead of me which made the 15 mile commute take about 1 hour and 45 minutes. By the time I got home, I was 5.7 lbs lighter than I was when I left for work. I can probably crush a beer can with my thighs.
Today, I plan on fully hydrating myself with a gallon of Three Olive Vodka and Redbull while I tweet (twat?) during UFC 115. Ok then, on to the picks…no knee sock bets this time.
Mac Danzig vs Matt Wiman
This is so easy. I was going to pick Mac Danzig anyway because he's my favorite artistic, ass-kicking, emo vegan ever, but Matt Wiman sealed his own fate via the Curse of the Indoor Shades. Sorry Matt Wiman, we've been warning fighters for months about wearing shades indoors. You need to read MiddleEasy and stay in the know.
My Pick: Mac Danzig
Tyson Griffin vs Evan Dunham
Tyson Griffin has a nice badunkadunk, but I think Evan Dunham is going to win this one. More junk in the trunk might get you more tips at the local strip club, but I don't think its going to win this fight.
My Pick: Evan Dunham
Paulo Thiago vs Martin Kampmann
Paulo Thiago is straight gangster. Well, he takes out gangsters by being a gang-fighting cop in Brazil. He bears a strong resemblance to that Muppet Sam the Eagle who probably is the most hardcore Muppet there is…right after Animal.
My Pick: Paulo Thiago
Carlos Condit vs Rory McDonald
I'm flipping a coin on this one…and its telling me Rory McDonald
Ben Rothwell vs Gilbert Yvel
You know I have a hair aversion, and I heard that Rothwell's back hair often clogs up Team Roufus' showers. That's enough for me to pick Yvel. Ok, I was picking Yvel anyway. I just wanted to tell you about the back hair.
My Pick: Gilbert Yvel
Cro Cop vs Pat 'HD' Barry
I love this fight. It hasn't even happened and I already love it. Pat Barry is like my new hero. I'm giving Pat Barry a new nickname, it's Pat "the Cro-ate Killa" Barry. Remember when I told you about those mean Croatian gangbangers I grew up around? I see Pat Barry helping me get over my fear of the Croatian Mafia with this fight. I also can see my over-the-knee socks on either side of Pat Barry's face, but I'll tell you about that vision later when I've got a few rounds of vodka and red bull in my system…
My Pick: Pat Barry

Chuck Lidell vs Rich Franklin
I love Rich Franklin. He reminds me of the student history teacher I had my senior year of high school. I dated him, well more like used him to buy me and my underage friends beer. At the time I thought that was pretty dope, now its kind of creepy. Oh well, I still love Rich Franklin though.
My Pick: Rich Franklin