The newspaper industry has been dying a slow death for the past 25 or so years. Down in Australia The Herald Sun is trying to quicken its death by talking shit about Ronda Rousey. The largest daily newspaper in Australia still think it's a good idea to treat the sport of mixed martial arts like it was 1995 not 2015.
From today's sports section of The Herald Sun we have columnist Susie O'Brien (@susieob on Twitter if you would like to politely disagree with her) going all in on Rousey and the sport of MMA.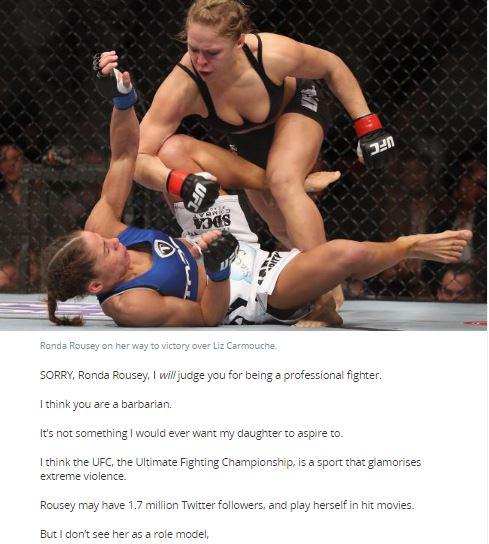 This is 2015 and sports reporters who get paid to express their thoughts through written words are still calling MMA fighters barbarians? Even the worst timeline from Back to the Future 2 predicted more progressive thinking than O'Brien and The Herald Sun. At UFC 193 in Australia, Olympic judoka Rousey will defend her belt versus former boxing champ Holly Holm. No word on if The Herald Sun and O'Brien will cover UFC 193 or continue their uniformed protest of mixed martial arts in the year 2015.
A link to the newspapers' Rousey story which is behind a self-imposed Herald Sun paywall and because newspapers really don't want you to find their content in 2015.
http://www.heraldsun.com.au/news/opinion/sorry-ronda-rousey-but-youre-a-barbarian-and-your-sport-glamorises-extreme-violence/story-fni0fhie-1227568316059
H/T to @justinfauxmma for screen cap