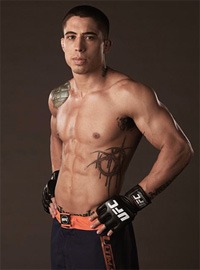 Woah man the MMA world is like one twisted episode of Days of our Lives (or the EastEnders for everyone in the UK). After his recent loss to David Mitchell at the Tachi Palace Fights, War Machine has left the MMA world and has now signed a contract with an adult entertainment company. Check out what he said on his Myspace blog:
"Date: Oct 31, 2009 1:58 AM
Subject:
War Machine to Whore Machine!! LOL!!!!!
Body:
So….I said fuck it! I signed with La Direct Models this week and today I did my first porn scene!
lol
I shot for Digital Playground with their girl Riley Steele.?.?.?.?.?.?was fucking awesome!!
I was nervous as shit but I came through.
I'm still gonna fight…..just gonna do this too because fighting isn't quite enough money and you all know I ain't trying to work! In life I have come to learn that all I enjoy is eating, sleeping, fighting and fucking!!
Fuck it! I'm living the dream.?.?.?getting PAID to fight and fuck! What more could I ask for? =)
WM"
And just to put the icing on the WTF cake, here is a video of War Machine getting his butt waxed for his first porn scene.