The UFC (Ultimate Fighting Championship) consists of twelve weight classes. Eight weight classes are for men, and four are for women. The weight divisions categorize fighters into appropriate weight groups to compete with others.
UFC embraces Mixed Martial Arts like boxing, taekwondo, Brazilian Jiu-Jitsu, wrestling, and karate. All the weight classes incorporate different jabs, knockouts, and grappling techniques.
The UFC is a multi-billion dollar American company led by Dana White. It was founded in 1993 by Rorion Gracie and Art Davie. The competition hosts fighters from all over the world. However, the fighters must be eligible to live and work in the USA. The company's headquarters are located in Las Vegas, Nevada.
The full UFC weight divisions are:
Atomweight: 105 lbs (47.6 kg);
Strawweight: 115 lb (52.2 kg) – UFC female
Flyweight: 125 lb (56.7 kg) – UFC female/male
Bantamweight: 135 lb (61.2 kg) – UFC female/male
Featherweight: 145 lb (65.8 kg) – UFC female/male
Lightweight: 155 lb (70.3 kg) – UFC male
Welterweight: 170 lb (77.1 kg) – UFC male
Middleweight: 185 lb (83.9 kg) – UFC male
Light Heavyweight: 205 lb (93.0 kg) – UFC male
Heavyweight: 265 lb (120.2 kg) – UFC male
Super heavyweight: No limit.
This article will help you understand the different UFC weight classes for men and women mentioned above. But first, why are these classes important?
The Introduction of the UFC Weight Classes
Even though the first weight class, the Heavyweight Division, was introduced in 1997, other classes followed gradually. UFC introduced the Light Heavyweight Division in 1997, followed by the Welterweight Division in 1998.
In 2001, the UFC announced the Lightweight and Middleweight classes. All these weight classes applied to men only.
The fighters in each weight class must not exceed the upper weight limit or fall below the minimum weight. At all times, the MMA artists must be at a healthy weight. Doctors in the promotion company determine whether a fighter is at a healthy weight or not.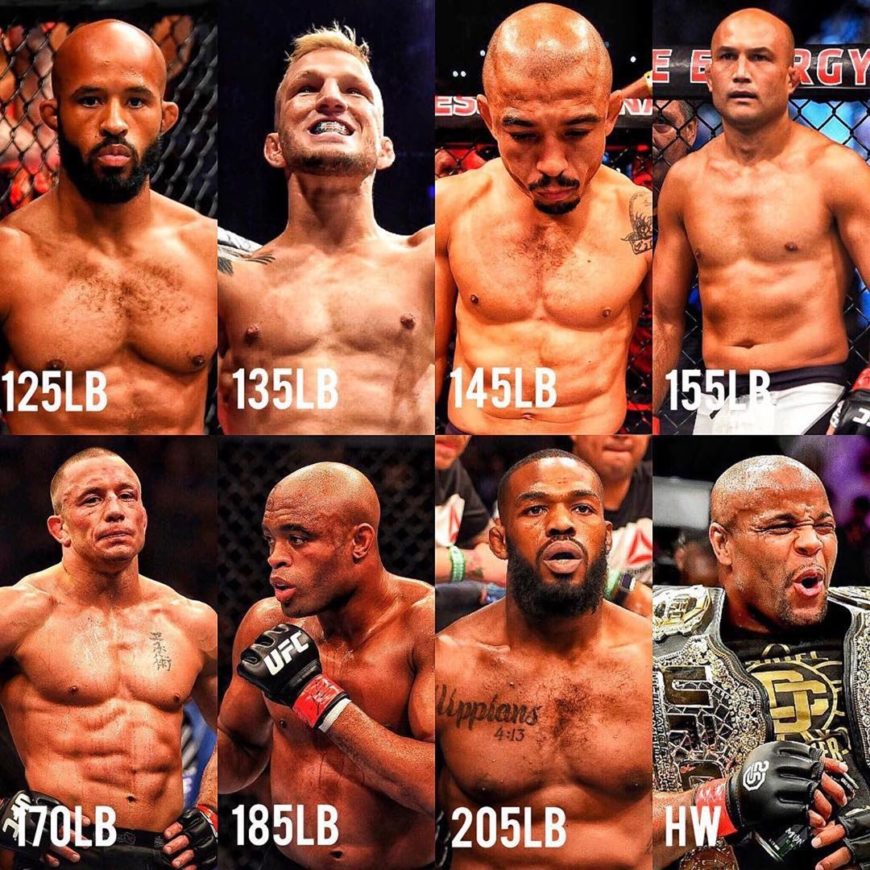 How Many UFC Weight Classes / Divisions Are There?
The UFC weight divisions vary quite a bit, especially in a few weight classes that include men and women. The weight classes that include both genders are:
Featherweight
Flyweight
Bantamweight
At the same time, Strawweight exists solely for the ladies.
UFC Men's Weight Classes in LBs and KG
Weight classes for the men are pretty diverse from the women's division. They include a wide range of weight limits from flyweight to heavyweight divisions. Mark Coleman was the first UFC Heavyweight Champion in UFC history after weight classification. [1]
| | | |
| --- | --- | --- |
| Weight Classes (Divisions) | Weight in Lb | Weight in Kg |
| Strawweight | 115 lb | 52.5 kg |
| Flyweight | 125 lb | 56.7 kg |
| Bantamweight | 135 lb | 61.2 kg |
| Featherweight | 145 lb | 65.8 kg |
| Lightweight | 155 lb | 70.3 kg |
| Welterweight | 170 lb | 77.1 kg |
| Middleweight | 185 lb | 83.9 kg |
| Light Heavyweight | 205 lb | 102.1 kg |
| Heavyweight | 265 lb | 120.2 kg |
---
UFC Women's Weight Classes in LBs and KG
The women's weight divisions are four, and only three are similar to the men's. Only one weight division is for female fighting competitors. The oldest division is Bantamweight which UFC introduced in 2012. In 2014, Strawweight was introduced, and in 2017, UFC introduced both Featherweight and Flyweight divisions.
Ronda Rousey was the first UFC female champion after the women's weight division began in 2012. She won the Women's Bantamweight Championship the same year.
| | | |
| --- | --- | --- |
| Weight Classes (Divisions) | Weight in Lb | Weight in Kg |
| Strawweight | 115 lb | 52.5 kg |
| Flyweight | 125 lb | 56.7 kg |
| Bantamweight | 135 lb | 61.2 kg |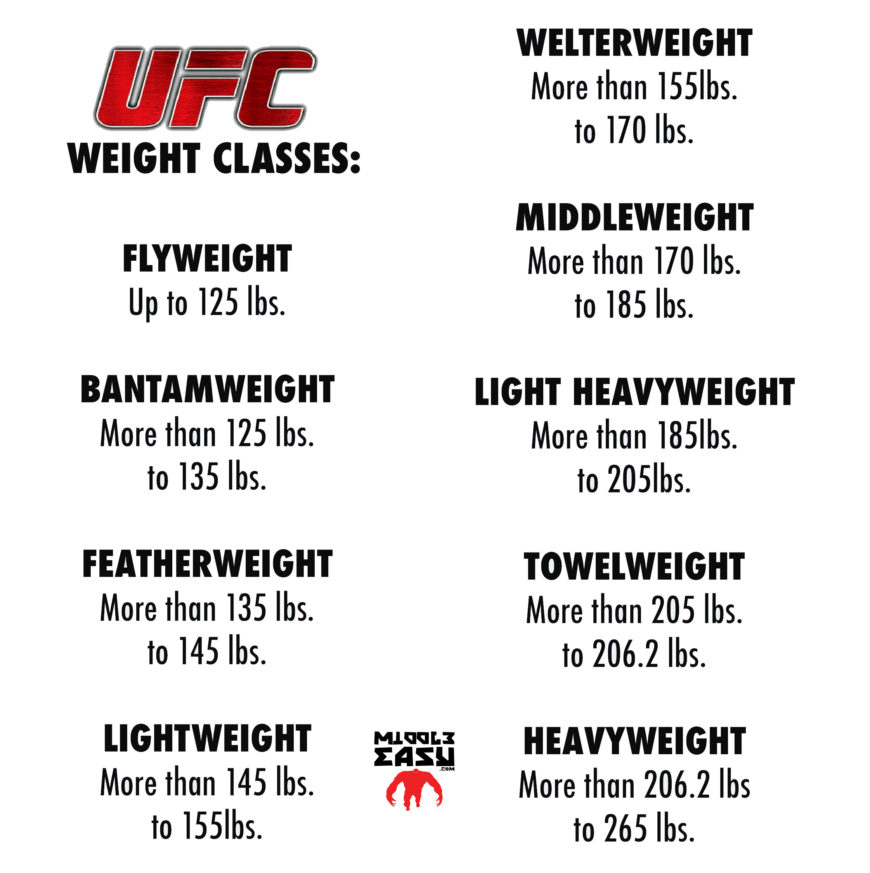 UFC Weight Classes (Divisions) Details:
Heavyweight Division 265 lb (120.2 kg)
Introduced in 1997, the heavyweight division is the oldest amongst the UFC weight classes. After UFC introduced the weight classes, Mark Coleman became the first UFC champion. Other remarkable champions in this weight division include Randy Couture, Kevin Randleman, and Stipe Miocic.
The UFC heavyweight division allows fighters weighing between 205lb (93.0 kg) and 265 lb (120.2 kg). This division features the strongest UFC fighters who mostly use heavy strikes as their main weapon.
From 1997 to the present undisputed heavyweight champions in the UFC.
Maurice Smith
Bas Rutten
Kevin Randleman
Randy Couture
Josh Barnett
Ricco Rodriguez
Tim Sylvia
Frank Mir
Andrei Arlovski
Tim Sylvia
* Interim champions: Andrei Arlovski, Antonio Minotauro Nogueira, Frank Mir, Shane Carwin, Fabricio Werdum, Cyril Gane
Light Heavyweight Division 205 lb (102.1 kg)
Previously called the Middleweight division, the light heavyweight division had Frank Shamrock as its first champion. Other champions include Jon Jones, Daniel Cormier, Jan Blachowicz, and Tito Ortiz.
The UFC allows fighters in the light heavyweight division to weigh a maximum of 205 lb (93.0 kg) and a minimum of 185 lb (83.9 kg). This division accommodates various fighters with different fighting styles due to the 20-pound difference between the minimum and maximum weight.
The UFC light heavyweight champions in the division's history.
Tito Ortiz
Randy Couture
Vitor Belfort
Randy Couture
Chuck Liddell
Quinton Jackson
Forrest Griffin
Rashad Evans
Lyoto Machida
Mauricio Rua
Daniel Cormier
Jan Blachowicz
Interim champions: Randy Couture, Jon Jones
Middleweight Division 185 lb (83.9 kg)
The UFC middleweight division came into play in 2001, with Dave Menne being the first champion in the division. This division has some of the best fighters UFC fans have ever witnessed.
One of the most notable fighters in the middleweight division is Anderson Silva, who had tremendous success in UFC. He held the middleweight champion for a historic 2,457 and recorded 16 consecutive wins. Many people consider him one of the greatest MMA fighters of all time. [2]
The competing fighters in this weight division weigh 170 lb (77.1 kg) on the lower side and 185 lb (83.9 kg) on the upper side.
UFC Middleweight Champions:
Dave Menne
Murilo Bustamante
Evan Tanner
Rich Franklin
Chris Weidman
Luke Rockhold
Michael Bisping
Georges St Pierre
Robert Whitaker
Israel Adesanya
Interim champions: Robert Whitaker, Israel Adesanya
Welterweight Division 170 lb (77.1 kg)
The welterweight division is one of the most competitive UFC weight classes. Its first champion was Pat Miletich in 1998. A UFC fighter in the welterweight division weighs 155 lb (70.3kg) to 170 lb (77.1 kg).
The welterweight division houses some of the best-talented UFC fighters like Matt Hughes and Georges St-Pierre, who defended the welterweight title nine times consecutively.
UFC welterweight champions list:
Pat Miletich
Carlos Newton
Matt Hughes
BJ Penn
Matt Hughes
Georges St Pierre
Matt Serra
Georges St Pierre
Johny Hendricks
Robbie Lawler
Tyron Woodley
Kamaru Usman
Interim Champions: Georges St Pierre, Carlos Condit, Colby Covington
Lightweight Division 155 lb (70.3 kg)
The UFC lightweight division's introduction happened in May 2001. It was previously called the Bantamweight division. The first lightweight champion was Jens Pulver, who defeated Caol Uno at UFC 30 in February 2001. Other champions include Sean Sherk, Conor McGregor, and Khabib Nurmagomedov.
Fighters in this division should weigh between 145 lb (65.8kg) to 155 lb (70.3kg). Due to their weight, the fighters portray speed and numerous fighting styles. However, some fighters in this division win by KO and TKO by knocking their opponents with heavy shots.
UFC lightweight champions list (The division was disbanded in 2001 and didn't return until 2006)
Jens Pulver
Sean Sherk
BJ Penn
Frankie Edgar
Benson Henderson
Anthony Pettis
Rafael dos Anjjos
Eddie Alvarez
Charles Oliveira
Interim Champions: Tony Ferguson, Dustin Poirier, Justin Gaethje
Featherweight Division 145 lb (65.8 kg)
There are two weight divisions in the featherweight division for men and women.
Men's Featherweight
The men's featherweight division showcases fighters with 145 lb (65.8 kg) weight as the upper limit, while the lower limit is 135 lb (61.2kg). UFC introduced the weight division in 2010 after absorbing Word Extreme Cagefighting (WEC).
Jose Aldo defended the title seven times as the first men's featherweight champion. Another big name to ever fight in this division was Conor McGregor, who held the division's title for two years before moving to the lightweight division.
UFC men's featherweight champions list
Jose Aldo
Conor McGregor
Jose Aldo
Max Holloway
Alex Volkanovski
Interim Champions: Conor McGregor, Jose Aldo, Max Holloway
Women's Featherweight
The UFC unveiled the women's featherweight division in February 2017. The division's weight limits are similar to those of the men.
The women's featherweight first champion was Germaine Martha de Randamie. UFC later stripped her of the title for refusing to fight Cris Cyborg.
UFC women's featherweight champions list
Germaine de Randamie
Bantamweight Division 135 lb (61.2 kg)
The bantamweight division weight limit is between 135 lb (61.2kg) on the higher end and 125 lb (56.7 kg) on the lower side.
Men's Bantamweight
The men's bantamweight division entry to the UFC was in 2010. The first men's bantamweight champion was Dominick Cruz. This division is among the most competitive UFC divisions, with opponents exhibiting speed and agility.
UFC men's bantamweight champions list
Dominick Cruz
Renan Barao
TJ Dillashaw
Dominick Cruz
Cody Garbrandt
TJ Dillashaw
Henry Cejudo
Peter Yan
Aljamain Sterling
Interim Champion: Renan Barao
Women's Bantamweight
UFC introduced the women's bantamweight in 2012, with Ronda Rousey as the inaugural champion. However, the division has also hosted great fighters like Amanda Nunes.
The women's bantamweight features have fighters with different techniques making it an exciting division. For example, Ronda Rousey focused on heavy shots to overwhelm her opponents early in the match.
UFC women's bantamweight champions list
Flyweight Division 125 lb (56.7 kg)
Any fighter in the flyweight division must weigh between 115 lb (52.5 kg) and 125 lb (56.7 kg).
Men's Flyweight
UFC unveiled the men's flyweight division in 2012, and Demetrious Johnson became the first UFC flyweight champion in the men's division. Other big names in the flyweight division include Henry Cejudo, a 2008 Olympics Gold Medalist.[3]
UFC men's flyweight champions list
Demetrious Johnson
Henry Cejudo
Deivison Figueiredo
Brandon Moreno
Women's Flyweight
The UFC announced the women's flyweight division in 2017. The first fight was between Nicco Montano and Sijara Eubanks, but Montano fought Roxanne Modafferi instead. Nicco Montano first held the women's flyweight division championship.
UFC women's flyweight champions list
Nicco Montano
Strawweight Division 115 lb (52.5 kg)
The strawweight division is a weight division reserved explicitly for women. It includes women that weigh a maximum of 115 lb (52 kg) but does not have a minimum weight requirement. The UFC president first announced the weight division in 2014.
Carla Esparza held the first championship title of the women's strawweight class in 2014. This division has the lightest fighters. Therefore, they mostly rely on technical skills and speed to win the matches.
UFC women's strawweight champions list
Carla Esparza
Joanna Champion
Rose Namajunas
Jessica Andrade
Zhang Weili
Will There Be A 165 lb Weight Class in the Future?
While there have been suggestions to introduce a new 165 lb weight class, implementation is yet to be seen. The 165lb weight division would close the 15-pound gap between the welterweight and lightweight divisions.
This new division would favor fighters who are "too small" to compete with fighters weighing over 170 pounds (welterweight division). Additionally, it would accommodate champions who are heavier than 155 pounds but do not fit in the 170-pound weight class.
Though various UFC fighters have campaigned for the introduction of the new 165-pound weight division, only the UFC president can announce the final decision. However, Dana White doesn't seem to like the idea.
Why Are Weight Classes Essential?
Weight classes are essential in martial arts because they provide fighters with a level and fair playing field. Fighters must face opponents of similar weight, which ensures that the competition is fair and unbiased.
UFC championships operate under strict weight limits, but there are open weight tournaments that do not follow the same guidelines. In these cases, the fight must be consensual between the participants, which means that fighters from different weights can fight each other.
Weight classes allow fighters of different sizes and weights to become champions, which means that there can be multiple winners in each category. This creates more opportunities for athletes to succeed and be recognized for their skills.
Moreover, weight classes keep sports fans entertained because they can watch and experience different participants and matches. Without weight classes, watching fights would become repetitive and dull, with only two fighters competing for one title. The weight divisions bring fun and diversity to the table, making martial arts a more exciting and engaging sport to watch.
The UFC Weigh-In Policy and Rehydration Rules
The Ultimate Fighting Championship cannot occur unless the competing fighters are weighed before the match. The weigh-ins determine whether the contenders make their weight class and if they are eligible to compete. The weigh-ins occur in the morning and the day before the fight. From there, the UFC fighters have 24 hours to rehydrate.
While boxing only involves one weigh-in, MMA fighters undergo two weigh-ins. In UFC, one legitimate weigh-in happens before the ceremonial weigh-in in front of cameras. During the fight days, doctors are available to follow fighters around; if they are still dehydrated, the doctors pull them out.
What if a UFC Fighter Misses Weight?
Since the Ultimate Fighting Championship operates within guidelines, weigh-ins determine which fighters fight together. If a fighter surpasses their weight during a weigh-in, the commission will give them two hours to cut weight. However, if they miss the weight after the period, it is up to the opponent to decide whether they will fight with them or not.
Two scenarios will determine whether a fighter who has missed weight can still compete. One scenario is only to surpass by half a pound in a title fight, and the other is only to exceed by one pound in a non-title fight. However, fighters should follow the rules if they miss their weight limit.
The competitor who weighs beyond the upper limit of their weight class is eligible for a fight but not the title. If the fighter wins the competition, they will give their competitor 20-30% of the fight purse. Additionally, UFC would not award the fighter any ranking points.
Weight Cutting in the UFC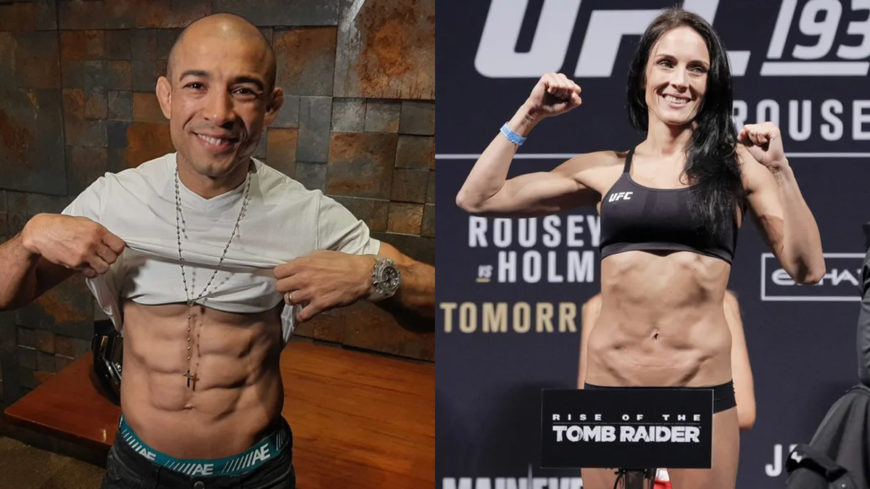 UFC fighters must weigh a certain weight to meet the requirements of their weight divisions. When their weight exceeds the expectations, they must devise practical and safe ways to bring their weight down during the weigh-in. That's where weight cutting comes in.
Weight cutting is a practice that involves a UFC fighter engaging in different techniques to drop their weight and fit in a given weight division.
The different practices include:
Dehydrating the body for five days before the weigh-in
Avoiding carbohydrates and salt
Sweating a lot: Indulging in activities that lead to excess sweating, such as hot baths, saunas, and wearing plastic jumpsuits.
Frequently Asked Questions (FAQs)
These are the most common questions people ask regarding the UFC weight classes.
How many weight classes are in the UFC?
There are 12 UFC weight classes. Eight of these classes belong to the men's division and four to the women's division. Only one class is reserved explicitly for women; the Strawweight division.
Why does the UFC Heavyweight division have a weight limit?
The UFC Heavyweight division has a weight limit to ensure the safety of the fighters. Furthermore, some fighters would find the competition unfair without a weight limit due to the vast weight difference. For example, it would be unfair for a flyweight (52.2kg) to fight a heavyweight weighing 93kg or more.
Who was the first champion in UFC history?
Mark Coleman was the first fighter to attain a championship in UFC fighting. He won the heavyweight title in 1997 by defeating Dan Severn.
What is the least weight a fighter can weigh to compete in a UFC fight?
The least weight for a fighter is 115 lb or 52.2 kg (Flyweight) for men, while there is no restriction for women. However, strawweight is the lowest division with a maximum weight requirement of 115 lb.
Which is the most competitive weight division?
The welterweight division (170 lb or 77.1 kg) is the most competitive weight class. The division class has seen a lot of talent and skill.
Will the UFC Add More Weight classes?
People envision the 15-pound difference between the Lightweight (155 lbs) and the Welterweight(170 lbs) divisions to be huge. While they look at the big weight difference, the UFC president does not seem to see it that way.
Therefore, there might be no additional weight classes in the near future. Nevertheless, UFC is still exciting, even without additional weight classes. You can keep cheering your favorite fighters as you wait to see if Dana White adds more classes.