Before compiling this list, I had to cross-check some things with Mr. Cool Ice but he was too busy showing off his new rawesome tattoo so I had to make this one by myself. Despite what you believe, a lot of chicks can beat you up. A lot. More than you can count on two hands. Unfortunately, we had to count them on both hands (thanks God for all of our fingers) and MiddleEasy has created the 'Top Ten Girls that can take Cyborg's Belt'. It took us days to agree on ten chicks that have the highest probability of being Strikeforce's next 145lb Women's Champion, but we did and we even made this cool graphic to go with it. So check out the Top Ten Girls that can take Cyborg's Belt, Only at MiddleEasy.com – Because MMA is Everything.

Alright, she only weighs 114lbs but this list would be invalid if I didn't include Megumi Fujii in the mix. She goes by Mega Megu (she must be a decedent of Megaman) and she is, without question, the best pound for pound women's mixed martial artist on the planet…probably even the universe. She holds a superhuman record of 18-0 with 15 of her wins coming by submission. What can be said about Mega Megu that hasn't already been said about Wonder Woman? She's the most decorated women's fighter in history and she has more trophies than I have broken promises to my parents. What the hell happened there? This just took a really unexpected turn that I'm not ready to deal with. Give me a second to be a guy and repress my emotions by watching Conan: The Barbarian for the 87th time.
Megumi Fujii truly is the female Fedor. That's been thrown around a lot lately in women's MMA but with seven of her fights ending in less than a minute, there's no other chick that can claim that title. Fighting Mega Megu must be what it feels like when you get your arm stuck in trash compactor. It may even be the same pain you experience when you accidentally step on a black hole. We're not sure and to be honest, that's a horrible example. If we had to choose between getting our limbs stuck in a theoretical black hole or getting trapped in an arm bar from Megumi Fujii…we're choosing the black hole. Check out this video of Serin Murray choosing the later and getting her friggin ankle broken because of it.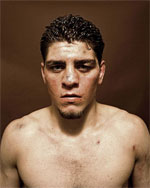 Jennifer Howe is the longtime girlfriend of MMA legend Jeremy Horn. If you're not familiar with Horn, dude holds the record for the most professional MMA bouts with over 140 fights under his belt. Howe isn't quite up to the triple digits, but she does hold an impressive record of 13-2 (both losses coming from Roxanne Modaferri). She's also the only chick on this planet that can say she's defeated Bodog's first (and only) bantamweight champion, Tara LaRosa.
Although she hasn't fought in nearly four years, we still think she has what it takes to go toe to toe with Cris Cyborg. In her last fight she TKOd Jennfer Fields in twenty seconds. There's not a single thing I can do in this world in twenty seconds, let alone score a technical knock out against a fighter. I can probably run away from a fight in twenty seconds.
The point all of this is that women's MMA desperately needs someone like Jennifer Howe back in the game, rearranging chick's genetic structure one straight jab at a time.

Despite all the shrapnel that's been flying at Tara LaRosa from Erin Toughill's factory of verbal daggers, LaRosa is still considered the #2 ranked pound for pound female MMA fighter on the globe. She hasn't lost a fight in six years and it's been rumored that Tara LaRosa has been talking to Scott Coker and is almost finished ironing out a contract with Strikeforce.
Marloes Coenen has called dibs on the title shot with Cyborg but if things don't work out, Tara LaRosa will be kicking it at the Philadelphia Fight Factory waiting for that phone call (and simultaneously booing Santa Claus). Alternatively, if she doesn't get the immediate title shot we would love to see a straight up grudge match of Tara LaRosa vs. Erin Toughill. The Toughill/LaRosa feud has been going on for years. When Toughill fired at LaRosa regarding her Bodog title shot and accused her of 'bashing every fighter that looks better than her', Tara LaRosa had this to say:
"Trust me, I'm not an Erin Toughill fan. You had to make this thread right now, because I have gained a lot of momentum going into this title fight, and you wanted to try to knock me back down. Don't blame me, blame Bodog, they're the ones doing the marketing. I never asked for a title shot/belt or a kewl promo.
That's a great highlight clip, it shows how you've made a career off of fighting girls much smaller than you. I don't understand how sexy pix translate to in-ring skills though.
Maybe you should just retire your mouth."
If this fight actually materialized (big word alert) I predict no pre-fight glove slapping (and maybe a Nick Diaz middle finger or two).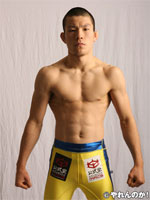 Raise your hand if you have a 44-0 record in muay thai. If your hand's raised and your name is not Germaine De Randamie then you need to get the F out of Asgard. 9 people on this earth understood that joke (and two of them are in jail, bummer). If we ever get the chance to interview Germaine, we would like to know how it was like being raised on the planet Krypton. Normal humans can't even comprehend attempting something 44 times and succeeding every time. Try going to class 44 times in a row without being late. I don't think there's been a single moment in my life where I've had 44 consecutive showers. My old roomate can take 44 shots of beer in a row, that's pretty impressive. 44 shots shortly followed by projectile vomit erupting out of his head much like a fire hydrant in a Spike Lee movie spews water on kids playing in the streets of New York. Except in this case, New York can be replaced with my living room and 'kids playing in the street' can also be replaced with 'the three hot chicks that lived upstairs'.
Although Germaine De Randamie has a muay thai record that would even make a member of X-men proud, she still has yet to make her pro MMA debut. She's been training with Bas Rutten in the fundamentals of ground defense so hopefully she'll be ready to hit the scene by the end of this year. With a name like Germaine De Randamie, you would expect her to be clad in chainmail, riding a horse into battle. Instead she gets in the ring with guys and knocks them out. Yeah, she knocks dudes out! If she can avoid the take down from Cyborg, then Germaine has a definite shot at taking Cyborg's belt. Check her out in this video for the Women's Lightweight World Title bout. The intro is pretty long but it picks up right when the bell rings.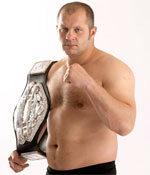 Well because she pretty much told us minutes after the fight on her Twitter account. Prior to the fight we asked Shayna Baszler who would win and she told us:
"Gina. I think that Cyborg has all the tools to beat Gina but I don't think that she has a head enough to follow any sort of game plan. She kind of goes in like 'RAAAWR. I'm a monster!'. Just going kind of ape crazy. I think Gina's striking is sharper. I think she has kinda a cooler head on her to fight—to put a game plan together so … um yeah, so that's the way I feel. I think Gina hits harder too."
Baszler was wrong, so were we…and if you dropped the cash you were going to spend on your girlfriend's anniversary gift on our MMAMoneyline picks instead, then we apologize.
Shayna Baszler has already brawled with Cris Cyborg and unfortunately she copped an L via TKO in the second round. But hell, if Shayna Baszler says she's better than Cyborg then the only way to prove it is throw her in the cage again. Guy rule #418: If a hot chick that rocks tight shorts wants to get in the cage, never deny her that privilege. Baszler has been training with Josh Barnett for years so her ground game is beyond solid. In fact, every one of her wins has come via submission. If Baszler vs. Cyborg II happens and Shayna finds herself on the ground like Gina did during the final seconds of the first round, chances are the result of that fight would drastically change.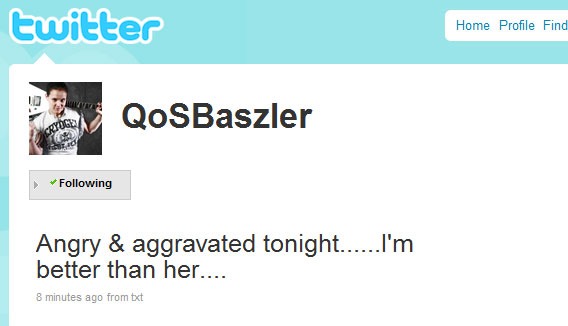 As of right now, Marloes Coenen is next in line to challenge Cyborg for her Strikeforce belt. Even though Toughill publicly said Coenen isn't quite ready for this fight, Scott Coker believes differently. Besides being a fighter from the Netherlands, a country that just gives birth to ridunkulously good MMA fighters, she's also being trained by none other than El Guapo. What Bas Rutten is training Marles Coenen in is still a mystery but we think he's giving her lessons on how to hi-jack Inside MMA every week and plug your website at awkwardly inconvenient moments (Just kidding Bas, you're the reason the entire country tunes in every Friday).
Oh, yeah…she's hot too. D**k 'Starscream' Grayson made me throw that in there as a desperate attempt to get an interview with her. Hopefully, it'll work but more than likely Marloes is already filing the paperwork for a restraining order. The reason why she isn't lower on the list is because two of her three losses have come by the hands of two top girls that we've interviewed. A little bit off-topic, but there's also this weird picture of Marloes Coenen as The Invisible Woman from Fantastic Four that's been floating around the net. There's also another one of Kimbo Slice as Beast from X-Men which is…well it's going to give you nightmares when you go to bed tonight.
Check out this video of Coenen pulling a flying arm-bar on a chick that's three times her size and check out the look on Marloes' face when her opponent screams in pain before the fight is stopped by the ref.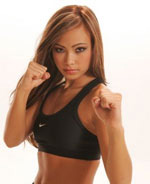 Fightlinker and MiddleEasy have been trying to get Modaferri a fight for months now (actually Fightlinker has been at it a lot longer than us). She's one of the baddest 135lbers out there and has served Jennifer Howe both of her losses in Howe's 13-2 career. Modaferri trains in Japan, is on a current six fight win streak and above all else, one of her all-time favorite videogames is Twisted Metal 4. Roxanne's literally been trapped on an island trying to get one of the top ten ranked chicks to fight her. She's even issued a press release essentially calling out Shayna Baszler for a rematch and challenged Laura D'Auguste to a fight via Youtube. We interviewed Roxanne Modafferi about calling out fighters and she said:
Well, I'm not getting fights here in Japan, so I want someone to give me a match; and I really want to fight these people so I'm hoping that by calling them out someone, some promoter would be like "Ooh, that looks cool let's match her up!" and it hasn't been working at all. No one pays attention to me. I'm on an island like "Here, someone fight me" and people are like, "Who is she? She's on an island", you know?
Roxanne should be fighting while I write this but due to the lack of chicks that want to brawl her (because she's too raw) she's been stranded in Japan teaching little Japanese children how to speak English and the proper method to perform a rear naked choke. Strikeforce, get this chick in the cage. Let her send a couple of girls to the hospital and the MMA world will be begging for Roxanne Modafferi to take on Cyborg. Make it happen.
And she's climbed Mt. Fuji. Beat that.
.
After Kaufman's win over Shayna Baszler, I wrote an article making everyone fully aware that the Sarah Kaufman bandwagon will be passing through their neighborhood later that day and it would be wise to hop on it before everyone else did. A few people listened, but others just held their ticket and went to IHOP instead. Now people are saying Kaufman is perhaps the best MMA fighter to come from Canada since George St. Pierre and all I can do is sit back in my cheap Wal-Mart swivel chair that I stole from my friend Bobby Digital and say 'I told you so'.
In high school, Sarah Kaufman must have been that chick guys would hire to beat up other chicks. Kaufman is forever in the 'Walking forward to overhand right you' position during her fights which has earned her 8 knockouts in her 10-0 career. She's undefeated and practices something called 'Anti-Ju-Jitsu' which basically means she takes her opponents Brazilian ju-jitsu moves and counters them with a hammer fist to the eye. It's probably astronomically more technical than that, but that description is the best we can do. Watching Sarah Kaufman fight is like witnessing someone strap on a suit of magnets and walk into a used car parking lot. The paper clips and pens won't hurt you as much as that oldsmobile flying directly at your shin. She fights at 135lbs but she can easily pull an Anderson Silva and move up in weight. Finally, Canada has something to be proud of (besides GSP and Emma May).
I think we can all agree that if Gina Carano held out one more second, that fight would have drastically changed in the next round (at least we like to think so). Even Randy Couture said Carano was just 'not herself' in the cage. Before Carano/Cyborg, Gina's last fight was in 2008 with EliteXC (RIP) so to say she had a little bit of 'ring rust' is an understatement. 856,000 viewers tuned in to see the 'Face of Women's MMA' get served her first loss by those metallic limbs Cyborg calls arms. It was disappointing for Carano and now that she has an L on her record, the pressure is off. Just look at Cris Cyborg. Her first professional MMA bout she was caught in a leg lock by Erica Paes and had to go home with a record of 0-1. Ever since then she's been a juggernaut. Mousasi is another example. After losing to Gono in 2006, Gegard has been on a 13-0 streak just serving out KOs like…well, like he gets paid for it. Should we even mention Fedor? Of course we should. He nabbed a TKO loss because he was cut in the first seventeen seconds of a fight with Tsuyoshi Kohsaka (worst rule ever). Since then, Fedor bounced back with a 26-0 winning streak.
You can't bury Carano in the ranks of Women's MMA just because she had the first loss of her career. Of course she can yank Cyborg's belt away from her. Give her another chance and most importantly, give the MMA world the privilege of watching Gina Carano hot up our TVs again.
Well because she hits like a friggin atom smasher. She told us she's been in more fights with guys than girls and we all remember the incident where she was accused of spousal abuse after showing her ex-husband who was boss back in 2008. She said Tara LaRosa was a joke to women's MMA, a troll, socially inept…and a lot of other stuff. Erin has also said Marloes Coenen doesen't even deserve a title shot…or even a title eliminator fight and on top of all of that; shes called out Cyborg. Erin Toughill claims to have the best hands in women's MMA and judging by her technical superiority, we completely agree with her. In fact her stand-up is so good that she's been training former WEC champion, Razor Rob on how to improve his striking (and he's been thai boxing since 1996). Her record stands at 10-2 with one of those loses being a disqualification simply because she was too raw for the Smackgirl-World ReMix.
She's fought Muhammed Ali's offspring and went the distance in perhaps the biggest stage in women's combative sports (Yeah, even bigger than Carano vs. Cyborg). The fact that Erin Toughill hasn't already been tapped to face Cyborg for her first title defense is just an injustice on the sport. If you're reading this, there is a good chance Erin Toughill would humiliate you in the cage. In fact, if she doesn't get a title shot against Cyborg just let her brawl it out in the men's division (She's just that raw). Erin Toughill is everything you wanted to be but were too afraid to achieve because you didn't want to quit your 8-5 desk job. Except for me, I always wanted to have a MMA site and make pretentious top-ten lists. I think I've achieved my goal. Zeus 1, Erin Toughill 0.