You guys are what the sport lives for. Ravenous individuals that will stop at nothing to support everything MMA. You bleed MMA, then take your blood and mix it into an MMA shake. Always remember that without you, mixed martial arts would never exist. Sure people would practice it in small dojos across the country, but it would never manifest as a sport without your support. Thank you for giving thousands across the planet a career — whether it's MMA public relations, camera men, or just some of the old head bashing for money.
However, don't take those compliments the wrong way. A hefty portion of you can be morons. Friendly, dedicated morons with a good heart — but morons nonetheless. It's nothing to be offended about. That's why we've made this handy guide of the 'Top Ten Things We Wish MMA Fans Would Stop Doing,' only on MiddleEasy.com.
Alright, here's a common tactic I've seen used in the 'Tweet game' (yeah, that's actually a term now). Normally the average fighter isn't going to retweet your innocuous statement about how you pick all the yellow Skittles out of the bag because they taste like cancer. If they do, then not only does your favorite fighter know you're some dietary lunatic, but so do the thousands of followers on Twitter he/she has. That retweet tactic rarely happens since it's highly ineffective. The next best thing, of course, is to tug at their sympathy strings.
That's right, throw all of your friggin' problems on the fighter. If you lay the guilt trip on a fighter then they would look like an absolute ass not to respond to your tweet. Brilliant tactic, actually. An example of this would be something along the lines of 'Hey [Insert Fighter Name] my kid has leukemia and all she wants is to be retweeted by you!' First off, if you child is dying and her last wish is to be retweeted by someone, then that kid has incredibly low expectations. As a parent, would it hurt you to dip your Tyrannosaurus Rex arms into your pocket and front the cost of a plane ticket to meet [Insert Fighter Name Here]?
Another tactic I've witnessed is forcing fundraising on a fighter. You guys are sad saps. If you're handing off the responsibility of raising money for some noble cause to a fighter, then your philanthropic compass is skewed. Folks, it's not your favorite fighter's responsibility to raise money for you. In reality, you should be raising money for them compared to their pay in relation with the average sports athlete. Here's an example of this nonsense: 'Baby Ella needs $3,000 for her surgery, you can donate here. Please RT!' You've placed a gargantuan-sized burden on your favorite fighter, and he/she would look like a complete ass if they didn't retweet it. Now he/she has to juggle two-a-day, year-round training sessions, being active on social media, maintaining a strict nutritional diet, along with raising funds for Baby Ella.
Stop it. Stop the guilt tripping. You're better than that.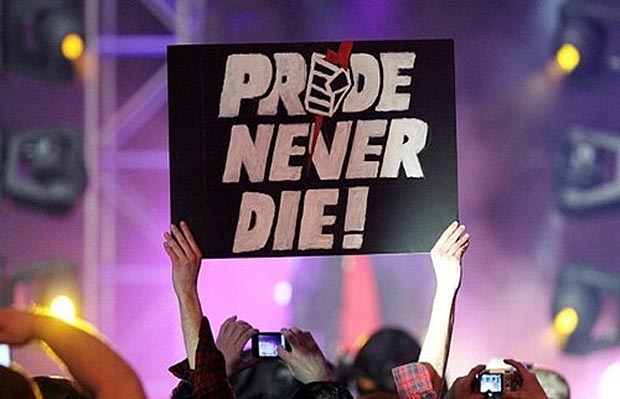 Hate to break it to you but Pride FC is dead and everyone that loves it are necrophiliacs. Pride died in 2007 — and we all know who killed it. If you said Dana White, then you're wrong beyond your wildest beliefs.
Talking about Pride FC is like talking about your ex-girlfriend that gave you the most amazing sex but died in a freak motorcycle accident. Pride FC will also go down as the organization with the most shady behind-the-scenes dealings. We had a conversation with Bas Boon a few years ago and he pretty much told us exactly why Pride died.
"Cro Cop was paid to not fight on NYE at the [Inoki] Bom Baye show (Pride arranged this he was paid to get injured) and this was the reason for me trying to save the show by getting Fedor to fight even with an injured hand. I had no other options left in Japan. I arranged for him to fight a pro-wrestler at almost 4 times more money than he ever made with Pride. The contract was for four fights."

"We were unlucky with the "war" in Japan as all three promotions/ companies K-1, Pride and Bom Baye were doing a New Years Eve show at the same time (this never happened before). Behind the scenes in Kobe, Japan that 2003 NYE fight night I had many Yakuza threats as well as Miro Mijatovic. Finally the Yakuza was pressing [Seiya] Kawamata [the promoter] to pay one million [We're assuming US Dollars] for Fedor to fight in Pride and another million to the Yakuza."

"The result was that the promoter, Kawamata, left Japan and took whatever money he could get with him mainly because of the Yakuza threats."
Could the Yakuza collapse the greatest MMA organization in history, yeah they could. Did they? Of course they did. You can ask Stephen Quadros, Jerry Millen, even some of the former Pride FC fighters and they'll tell you the same thing.
Pride is dead, let's just hope for a better future. Most of you guys that scream 'Pride Never Die' didn't even watch Pride when it was on air — with those cheesy DirecTV commercial spots. Stop living in the past.

Here, I'm about to save you an enormous amount of money on medical bills and life-long disabilities. Ready? You will never be able to defeat a professional MMA fighter ever from now until the universe dies of exhaustion. It's just not going to happen. Even the worst Bellator fighter will effortlessly finish you without breaking a sweat. Remember, you chose sitting in front of a computer inside of an office cubicle for the rest of your life. They chose to disregard their parent's advice and learn the craft of punching people's face for a living. In the fight game, that makes them vastly superior to you.
The old adage goes that just because you saw it on television doesn't mean that you can do it. For those that choose to disregard this blatantly obviously fact, perhaps you deserve to get humbled — Iron Sheik style. Fighters laugh at keyboard warriors that challenge them to fights. Trust me, I've had many discussions over the years about this exact topic. It's never going to happen, and if it does then there's a strong chance your body will be astral traveling in less than a minute.
We get it. You want to take a modern MMA fight and create a poster that embodies the vintage look of old boxing posters. Alright, so you take two fighters, remove the color, throw in a paper texture overlay and then place two red slanted rectangles at the bottom. Actually, the jokes on you. Vintage fight posters never looked like that. They looked more like this, and I don't see any of you running out to make bland, turn-of-the-century boxing posters that were heavy on awkwardly placed text.
The truth is the look above is actually a modern creation that has been replicated endlessly; through heavyweight boxing posters, posters of Survivor cast members fighting, AM talk-show sports radio guys, 2012 presidential election posters, Star Wars battles — heck, even old heavyweight boxing posters have been modernized to give it a vintage look, wrap your head around that simulacrum.
MMA doesn't need the same overused aesthetic. We've just overcome the entire skull/angel wing/tribal design thing a couple years ago. There's no more room for lazy design — the MMA world is literally overflowing with creativity and innovation. Let's embrace it.
We need more posters like this:
There's not much to say on this matter aside from we don't know anything, ever. Even if we did, there's no way we would tell you.
Stop asking us for illegal streams, it's horrible. Satan will devour your soul and throw your body into a volcano if you ask us again.
Seriously, that's all you're getting.
Stop, we will never be able to help you.
It's also important to note that 80% of the MMA media watches PPV events on illegal streams.
You have one chance to ask your favorite fighter anything and there will a 100% guarantee that he/she will respond to you — and you waste it on asking for tickets. Why even go to a UFC Q&A without a ticket. The more pertinent question is: How did you even get in?
Stop asking for handouts. The UFC has an entire program to distribute free tickets and signed merchandise. It's called' #Hunt4UFC' and although it may involve a little leg work, the rewards are priceless.
Support the industry that you love and purchase a ticket. You won't be bored. Even if you are, you're still watching two humans fight in a cage — which is infinitely better than what you normally would be doing on a Saturday night.

What you just witnessed was a shining gem of MMA commentary in a sea of apathy, clouded with doubt and lack of reason. Joe Rogan took a disastrous and seemingly innocuous scenario and made it an iconic moment in the sport. The dude spontaneously gave play-by-play of ice spilling on a canvas and he effortlessly captured your attention. Don't think this is some sort of fluke. It's surely not as easy as it appears. In fact, go outside and give play-by-play of your neighbor's water sprinkler in their front yard. See, you can't do it. No one can — except Joe Rogan and regardless of if there's a black hole in the center of our galaxy that will eventually consume us in the immediate to extended future, you will never be a better commentator than Joe Rogan.
Most of you guys have already learned your lesson by now and our buds over at CagePotato have compiled a feature of eighteen of the most ridiculous raised-fist poses in MMA. The only reason why your favorite fighter is raising his/her fist is in direct response to you raising their fist at them. A closed fist is seen as a sign of aggression, and fighters (being that there profession is rooted around aggression) is going to meet your raised fist with their raised fist.
The entire thing is just ridiculous. What's one raised fist going to do in a picture? Signify that you're ready to emerge from the digital 2-D universe you're trapped in and punch the viewer? It's silly, and fighters only make fun of you for doing it. Stop with the raised fist — twenty years in the future when you're browsing through your collection of photos, you will thank me later.
This is so many levels of bad that an exact number for the level hasn't been invented by mathematics yet. Is our country that morally bankrupt that some people out there are willing to get married, spend the rest of their time on earth, to a person they've seen on television? Just right there. On the spot. The entire 'meeting the parents' stage has been bypassed, expedited, so that really dumb decision can be made even quicker.
Let's say we do inhabit your utopian universe in which your favorite fighter/ring girl gives you a resounding 'yes' when you ask for her hand in marriage. Now what? She doesn't want to live in your studio apartment that you share with some guy that sleeps on the couch. You have to secure a future for both of you. Yeah, I bet you didn't think of that when you got on one knee at a UFC fan expo and made a complete ass out of yourself.
On topics like this, I must refer to a specific vlog that was tailored for this very occasion; it's by Bloodstain Lane and he encapsulated the idiocy of proposing to your favorite fighter/ring girl.
MMA fans, stop doing this. It's creepy. You don't want to look like this guy, trust us:
The only time that it's acceptable for an entire stadium to chant USA is when it was announced that Seal Team Six killed Osama Bin Laden, as seen in the video above. If you weren't at this Phillies game back in 2011, then you've missed your opportunity to chant 'USA' in a socially acceptable environment. It's over. So stop trying to recreate a moment of patriotism during an MMA fight.
Fighting knows no colors or nations. It's a richly diverse sport that features a panel of athletes from every nook and cranny the planet has to offer. MMA is a global phenom and it's apparent from the various organizations that have sprouted over the years. There's Americans fighting in Legend FC in China, Dutch competing in ONE FC in Singapore, Japanese guys brawling in EFC in South Africa — at no point in this multi-cultural equation is a USA chant acceptable.
I've heard USA chants screamed when Mark Bocek fought John Alessio back at UFC 145 in Atlanta, Georgia — and both of those guys are Canadian. At the heart of it all, if you're chanting USA at an MMA event, then you're rooting for a fighter solely based on nationality — and that's racist. Specifically, it's nationalistic and jingoistic, but in a wide variety of scenarios, it's also racist.
You're better than that, MMA fans. Like a fighter based on their performance in the cage. Not because they share the same culture or language as you.