I really don't know why you clicked on this. If you want to turn back now, I would completely understand. Go ahead, click close, our feelings won't be hurt.
Oh, you're still here. Damn.
Look, consider this your last warning. The following images/videos are disturbing and will stick with you for the rest of your life. There's no deleting these images from your long-term memory. They will be with you for the remainder of your life like some bad sexually transmitted disease. In short, we don't want to be liable for any projectile vomiting.
You're still reading this? Alright, check out The Top Ten Staph Infections in MMA History only at MiddleEasy.com – Because MMA is everything.

This picture of Ken-Flo's knee looks like it was taken just seconds before Quatto was about to burst out and give Florian life advice and pointers on how to time travel. This staph infection is the most recent and was photographed on April 13th 2010. Within days, Ken-Flo had the puss drained out of this beast, unfortunately he didn't bring a camera to film the process. Next time Ken-Flo, next time.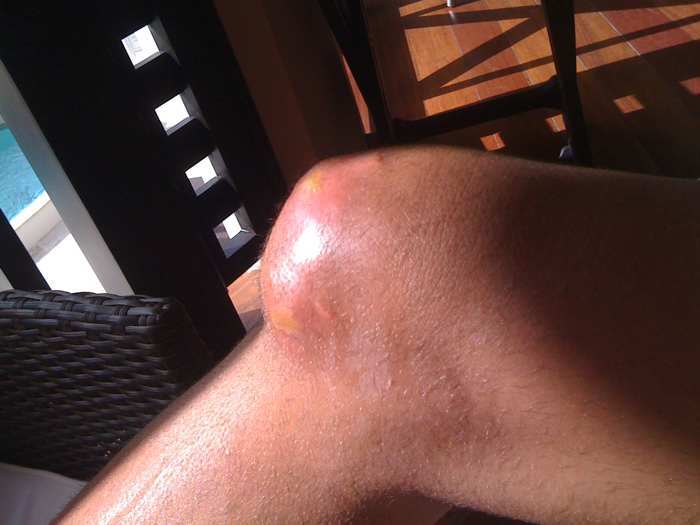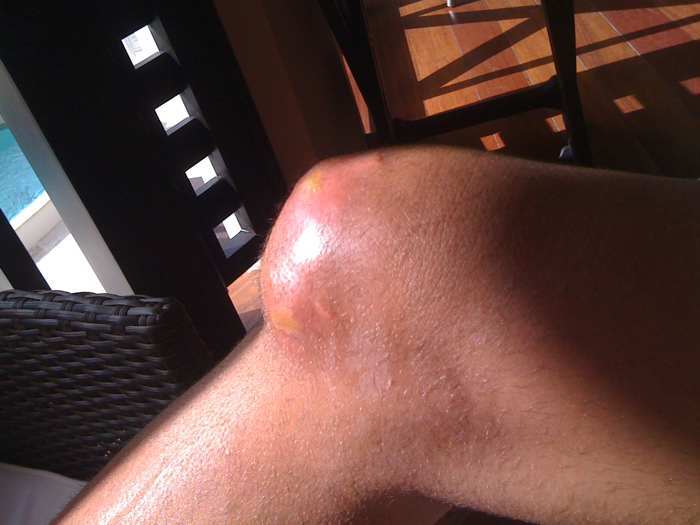 My God this UFC 108 curse. Gabriel Gonzaga and Big Nog were both sidelined with severe cases of staph infection and was forced to drop out of their respective UFC 108 bouts. Big Nog's staph was so bad that it was in his bloodstream and he was intravenously given antibiotics. Check out this interview of Big Nog talking about his case of the staph.
After Mayhem Miller's bout with Jake Shields at Strikeforce Nashville, Mayhem has revealed just what it means to be the incubating host of an entire infestation of intergalactic aliens entirely localized on his neck. It looks like that thing on his neck has something that it really wants to say, it just didn't develop a mouth in time to say it. On Twitter, Mayhem blamed Jake Shields' 'pimply' leg for giving him this disgusting case of staph infection.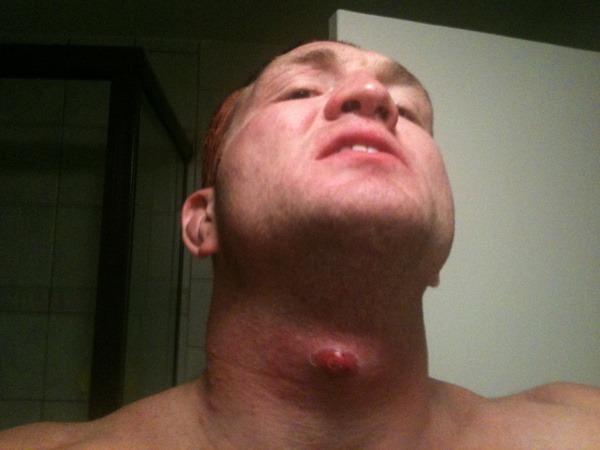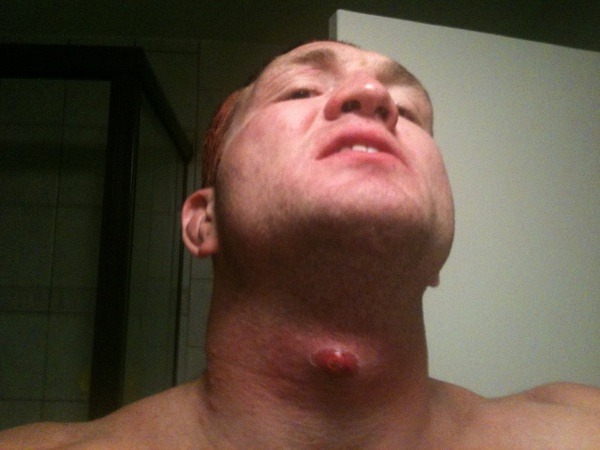 In a perfect world, The Ultimate Fighter Season four would go down as the greatest cast in show history. Unfortunately, a lot of people hopped on the TUF bandwagon when season eight aired and failed to witness Travis Lutter, Jorge Rivera, Rich Clementi, Pete Spratt, Scott Smith, Patrick Cote, Chris Lytle, Shonie Carter and former UFC welterweight champion, Matt Serra, all living in the same house. It was MMA's version of the 1992 Barcelona 'Dream Team'. Check out this clip of staph infection spreading throughout the house like some sexually transmitted diseased (minus the 'sex' part).
Alright, here's where it starts to get nasty. In 2009, Forrest Griffin was forced to drop out of his UFC 70 bout with Lyoto Machida due to this nasty infestation emerging from his leg. Apparently, the infection worsened to the point where Griffin could literally stick his fingers within the wound. Ugh, disgusting stuff.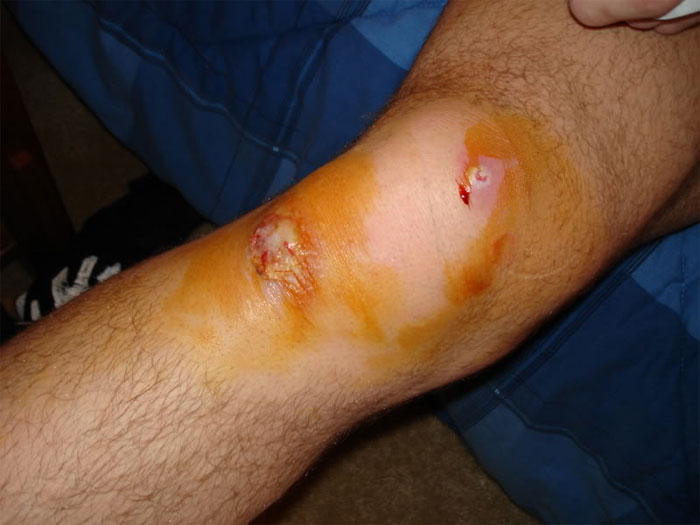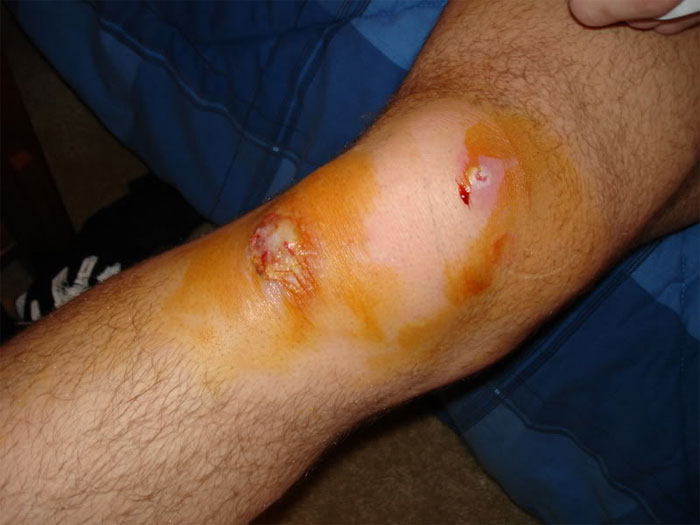 In 2007, Diego Sanchez was finally cleared to fight Josh Koscheck after serving a three-month suspension due to a failed drug test in which Diego tested positive for marijuana. The staredown was great, the 'shove match' was even better, but Diego eventually lost a three-round decision in a fight filled with few hits and even fewer take downs. After the fight, Dana White announced that Diego Sanchez nearly was nearly forced to retire due to a diagnosis of 'Hepatitis C'. However, the doctors were wrong. Dude had a nasty staph infection and according to reports, the day after the fight Diego Sanchez had a hole in his leg the size of a coffee cup. Here's what Dana White had to say about the ordeal.
"The day of the weigh-ins, we were going to announce Diego's retirement because the test came up that he had Hepatitis C. We kept testing him. The doctors were baffled. They eventually decided that he doesn't have Hep C, but they didn't know what was wrong with him. So he goes in and fights that shitty, horrible fight that everyone saw."
We know you have those staph infection pictures Diego Sanchez. If you're reading this, feel free to send them over.
AKA the staph infection that sidelined Miletich Fighting System for most of 2007. Tim Sylvia and Spencer Fisher got it, but no one had it worse than Drew McFedries. There really isn't much to say about this other than "Go to the doctor faster man" and "Dude, it looks like a personal pan sized pizza was sewn onto your leg".
God I wish you would have clicked the close button by now. You knew it was coming up folks, you knew it. The worst thing about Kevin Randleman's staph infection is that I'm forced to stare at that gaping hole underneath his armpit while I type this, regardless of how many times I look away in horror. I'm going to keep this one short just to move on. Randleman was in critical condition inside the hospital for three weeks while this staph infection manifested over his torso. According to MMANews, Dude had two organs shut down in his body. Sorry, I can't look at this anymore. If you want to know more about Randleman's staph, Google it.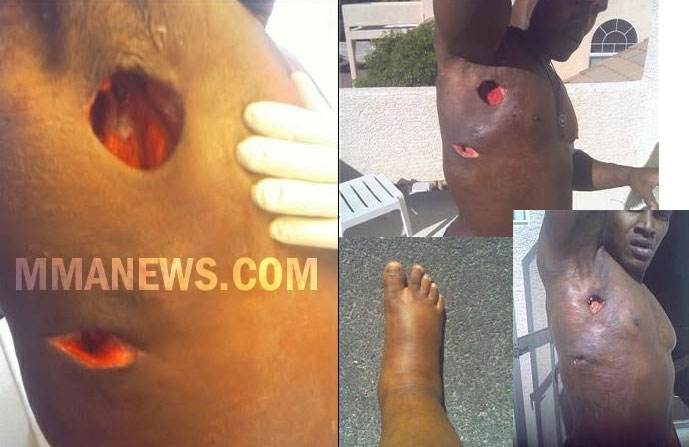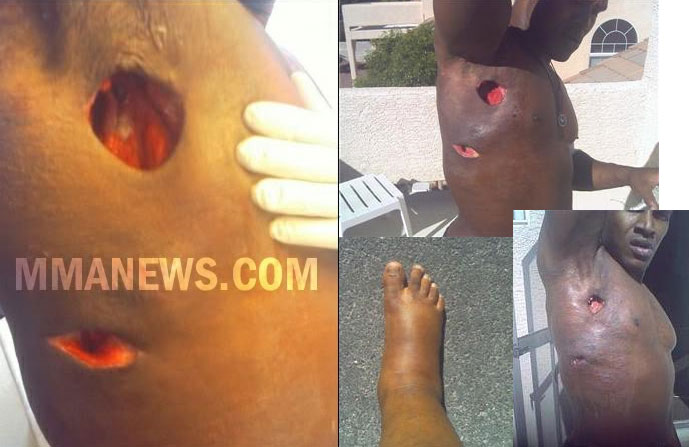 I feel obligated to share this guy's story with you based on the fact that you're looking at the dude's bone in that picture. After multiple operations, Sherdog member ZombieProphet, was forced to use a wheel chair for nearly two years after this case of staph infection literally ate through his achilles' tendon and an array of muscle fibers you would rather keep if you wish to walk again. Apparently, he went to two doctors to get a diagnosis of what it actually was but they said the reddening was 'due to his weight'. ZombieProphet now walks with a cane and plans to sue the doctor(s) that incorrectly diagnosed this beast of a staph infection.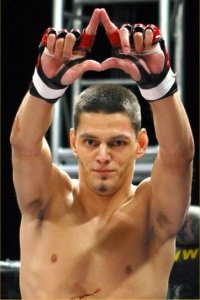 If you've made it this far without regurgitating your breakfast over your keyboard, then you've seen multiple incidents in which fighters were sidelined due to staph. Still, all of those stories pale in comparison to Cole Escovedo. Dude had to take a three-year layoff from MMA because he was paralyzed. That's right folks, staph infection lead to complete paralysis. In an interview with TheGarv, Cole Escovedo talks about the time when he nearly lost his life from his staph infection.
"As for the surgery, it was about 3 years ago that I contracted a staph infection in my left forearm, and it was grossly misdiagnosed by the doctor I saw, and spread to my spinal cord and left me paralyzed from the waist down, and required surgery to fix–and even that was a gamble, thus why the neurosurgeon was sure I'd be lucky to walk right again, but surely thought the chances of me fighting ever again were like 0%. And yet, here I am. I'm currently in the tail-ends of a lawsuit against the doctors and hospital that didn't do their jobs and allowed the staph to get to such a life threatening stage."

"I spent a large amount of that time simply trying to walk again, to be honest. I had everyone telling me that I'd be lucky to walk again so I had plenty of motivation from within. Once I knew I would be returning to fighting, I made the most of my time waiting for a fight by training smarter than I ever had before; and it was obvious in my return fight and the 5-0 record I've made since that return, with 4 finishes and 1 decision that I honestly feel (had I not been sick) I would have finished him as well.

I always knew I would walk again and fight again if I wanted to. It was just a matter of 'how bad did I want it' and how hard I was willing to push myself to accomplish that goal. Everyone gets knocked down, but the real fighters, the real champions are the ones who will always find a way to get back up again and again."
Take that life-threatening staph infection.
Join our list
Subscribe to our mailing list and get interesting stuff and updates to your email inbox.