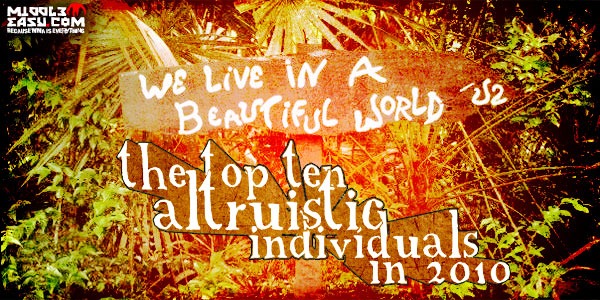 If you played Fallout 3 and its strange, but satisfying offspring, Fallout: New Vegas, then you've already transformed into some incredibly altruistic individual albeit in a digital post-apocalyptic universe. Altruism can be defined as making a positive impact in someone's life without the reciprocal expectation of anything in return. It goes beyond 'being nice' or the golden rule of 'treating others the way you want to be treated'. If you're religious, it's impossible to be purely altruistic because any act under a religious pretense is not from the individual, but an obligation to whatever higher-being you believe in. According to Ayn Rand, humans have no right to selfishly exist and service to others is the only way any human being should justify their life. If you've taken any college level class of existentialism, then you're familiar with the concept that 'self' is considered 'evil' and 'selflessness' is considered 'good'.
Damn, didn't mean to take any of you on a half-baked, impromptu course on philosophy. That may be too much to indulge when all you wanted to do was see our list of The Top Ten Most Altruistic Individuals in 2010.
Listed below are the top ten individuals in mixed martial arts who have engaged in the greatest selfless acts of 2010. We've done our research and if we were in the position to hand out some gold-plated and (or) diamond encrusted award, these are the individuals who would receive it. Unfortunately, the best we can do is place these people in an easy-to-read list and describe why these people are more morally evolved than you or I.
When it comes to haircuts previously reserved for villains in post-apocalyptic movies staring Mel Gibson, Chuck Liddell is a pioneer. After eighteen years of rocking what is now coined the official haircut of mixed martial arts, Chuck Liddell shaved off his legendary mohawk. On August 30th 2010, Chuck Liddell appeared on Fox and Friends not to participate in a ridiculous debate with 'birthers' as to whether Barack Obama was born in this country. It was more noble (and coherent) than that. Liddell appeared on the morning show to take a razor to his head for BIC 4 GOOD, a movement started by BIC to encourage people to shave their hair for the betterment of mankind. For each person that shaves their head and records it, the company will make a donation of up to $60,000 to DoSomething.org, a charity that encourages volunteerism among youth. The Iceman makes our list because he was willing to sacrifice identity in exchange for promoting others to selflessly help members in their community.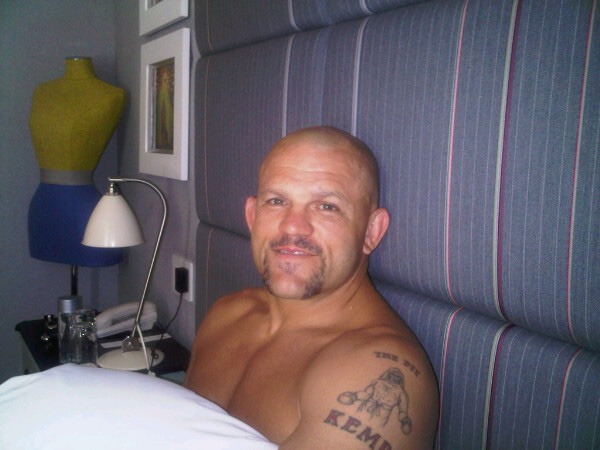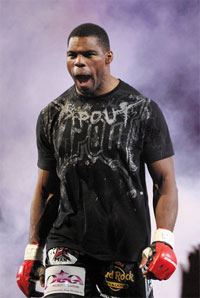 Herschel Walker does 1,000 push-ups and 5,000 sit-ups a day. He only eats a meal which consists of a soup and a salad daily, and he only sleeps four hours a night. Actually, while we're listing Walker's superhman feats, let's just go all out and give a thorough rundown:
Won the Heisman Trophy in 1982.
Inducted into the College Hall of Fame in 1999.
Won the Dial award for the 1972 National High School Scholar-Athlete of the Year.
Set the NCAA Freshman rushing record.
Has been sponsored by McDonalds and Adidas.
Two-time NFL Pro Bowler (in two consecutive years).
In 1989 he was traded from the Dallas Cowboys to the Minnesota Vikings for eleven players.
5th All-Time on the NFL's career rushing list.
Set numerous NCAA and SEC records.
Set the still standing, single-season, pro football rushing record of 2411 yards.
In 1999, he was selected to Sports Illustrated's NCAA Football All-Century Team.
Has a football field named in his honor.
Performs 2,500 sit-ups and 1,500 push ups every morning.
Nearly laid a beatdown on Dennis Rodman in Donald Trump's 'The Celebrity Apprentice'.
Trains with Josh Koscheck, Mike Swick, Jon Fitch, Cain Velasquez, Cung Le and Josh Thomson at AKA.
Author of two books.
Finished in seventh place in the 1992 Winter Olympics in the two-man bobsled competition.
Holds a sixth-degree black belt in Tae Kwon Do.
Founder, President and Chief Executive Officer of a company that makes a line of flavorful frozen chicken, beef, pork and seafood entrees and appetizers.
Has his own signature TapoutT shirt.
In short, Herschel Walker has more accomplishments than you have Xbox Live accomplishments, and if that sentence made any sense to you, you really need to get out more.
Herschel Walker entered the world of MMA at Strikeforce Miami where he successfully obliterated Greg Nagy in his MMA debut. Prior to the bout, Walker mentioned that he planned on donating his entire fight purse to a faith based charity. Reports circulated that Herschel Walker only made $600 for his MMA debut, however this amount did not include sponsorship earnings and any non-contractual and contractual bonuses, all of which was donated to charity. In an interview with Sherdog, Herschel explains why he chose to fight for absolutely free.
"When I decided to fight, it wasn't anything I was doing for money. I love competition; I love to compete. It just so happens I was going to get paid. What I wanted to do was help someone else. I've been blessed in life through a lot of different things."
Scott Coker even commented on Herschel Walker's decision to give 100% of his proceeds to Project Turnaround.
"He's doing it for charity. He's donating 100 percent of his purse to a non-profit," said Coker.

"He wants to just test himself and he's been at the AKA (American Kickboxing Academy) training camp the last 45 days. He's not gonna go home for Christmas. He's gonna stay through the holidays and train there. He's in good hands," Coker detailed, adding that Walker told his trainers at AKA to advise him not to fight if they felt he wasn't going to be ready to compete."
Regardless of the amount that was donated, to sacrifice your health and reputation for the sole reason of bettering the lives of a few families you've never met is altruism in its purest form. Ayn Rand would be proud.

DaMarques Johnson is part of the MiddleEasy staff. Seriously, he really is. He's contributed stellar articles to the site and we just can't pull the trigger to sponsor him a fight. The last guy we sponsored was Melvin Manhoef in his fight with Robbie Lawler at Strikeforce Miami and we're convinced that the MiddleEasy logo on his shorts jinxed him. In fact, since that fight, Melvin Manhoef hasn't won a single fight in 2010 in MMA or K-1. We've learned our lesson, and there's absolutely no way we can do it to our dude D-Zilla.
On August 1st 2010, DaMarques Johnson suffered a broken orbital socket compliments of Matt Riddle's handiwork at UFC Live: Jones vs. Matyushenko. While DaMarques Johnson was in the hospital waiting to literally get his eye reattached to his head, he walked around the emergency room and met a fan named 'Lem' who had tickets to the event, but was unable to go due to a reoccurring medical problem. DaMarques Johnson spent time with the kid, snapped pictures, signed his unused tickets to the event and gave him the sweaty shirt he wore that night at UFC Live: Jones vs. Matyushenko. Pure charity without the expectation of any gain is a remarkable of act of altruism, one that earned D-Zilla a spot on our list.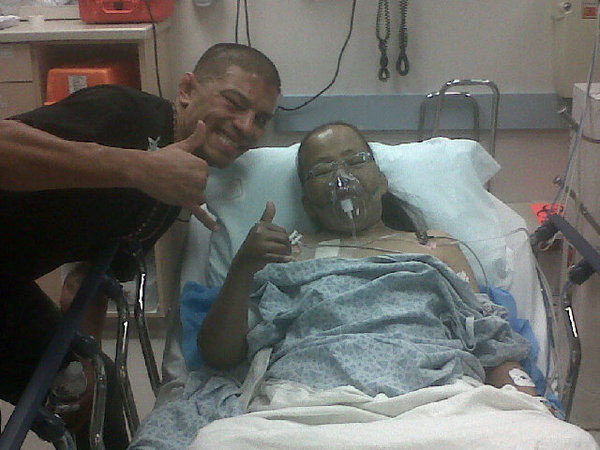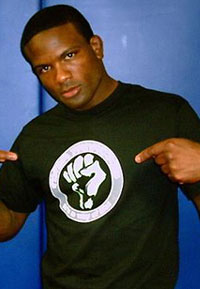 Any genetic material used to create grade-school bullies should be better used for making an army of koala bears that are pre-programmed to sit on someone's sofa and simultaneously be used as a pillow. You can sell these things at any convenience store, since the concept of a Koala bear that doubles as a headrest is the most convenient thing in this universe. Bullies on the other hand, need to be dealt with as soon as possible. Fortunately, we have Din Thomas to help us in the excavation of these societal trolls from our environment. In an interview with The Palm Beach Post on November 17th 2010, Din Thomas announced that he was hosting a free anti-bullying seminar and that he would stay all day in order to make sure that every kid knows what to do when they're in the vicinity of a bully.
"All my life I've always been the one to root for the underdog," Thomas said. "But in cases like this, where kids are getting hurt and dying, there's just no question about it – we have to do something."

"We can break up the classes, I'll stay here all day if I have to. I just want to make sure that we work with everyone who comes in"

"They always say that with other people, treat them the way you want to be treated, and make sure to help one another out"
Nothing says altruism like teaching someone a method to ensure their personal health/protection without any monetary gain. Din Thomas is hero, yet we still think Ricardo Mayorga rocked him with his qi energy at the Shine Fights press conference in New York. Ah, just kidding Din. But, seriously…

In 2010, Scott Coker probably saved my life. I'm not exactly sure, nor do I want to disclose the details of the ordeal, but Scott Coker performed one the most altruistic actions that I've ever received, and to this day he still refuses to take credit for it. There's no way I can pay him back, nor does he even want me to. Unfortunately, I'm unable to discuss what actually happened, but perhaps one day I will be comfortable enough to tell you guys what went down this year.
In short, thanks Scott — for everything.
I think the reason why Shane Carwin's altruistic work is overshadowed is because the guy does so much of it. If Carwin interrupted the positivity that he spreads throughout the universe by occasionally punching some innocent civilian in the face outside of a Las Vegas night club, then maybe more people will take notice when he fills an SUV full of frozen turkeys and gives them away to the less fortunate. From cutting promos for Anti-Bullying campaigns to helping out terminally ill children that he's never met, Carwin is like the Swiss-Army knife of altruistic behavior. Check out this video of Carwin starting off his Happier Holidays campaign on his website where he will award over one hundred prizes just to inspire people to put forth the effort to make someone's holidays a little more enriched.
And here are some of the results of Shane Carwin's initiative.
Anything I could say about Ricardo Almeida would be overshadowed by Bauzen's amazing write-up of his time with Almeida in New York this past August. I suggest all of you read it, but if you refuse to, I'll summarize the story and present to you the abridged version, absolutely free of charge.
You know the guy your mother always wanted you to grow up to be? Ricardo Almeida is that guy. A week before UFC 117, Ricardo registered to participate in the annual Sea Paddle NYC, a twenty-eight mile paddle race around NYC to benefit autism awareness. Just days after his UFC 117 bout with Matt Hughes, Ricardo wielded his pair of board shorts and embarked on his journey at 6:00am on August 14th 2010. Bauzen from MiddleEasy documented the entire twenty-eight mile trek and Jason Nawara edited the voyage down to a 4:45 video. On that day, Sea Paddle NYC raised nearly $300,000 for autism research and the altruistic actions of Ricardo Almeida was undoubtedly behind a large portion of that amount.
If donating time, effort and money for the sole reason of improving the life of children were pogs and slammers, Faber would have ruled every junior-high school in the mid 90s.
On March 7th 2010, Faber organized two training seminars in Columbus, Ohio and gave a portion of the proceeds to The Children's Body Image Foundation. The day before, Urijah organized another event where Clay Guida, Anthony Johnson and Donald Cerrone were present to help auction items donated from Dana White, Forrest Griffin, Randy Couture and Matt Serra. All proceeds from the auction were given to Children's Hospital of Columbus.
There's a multitude of occurrences in which Faber has donated items, training seminars and money for the sole reason of helping children, including auctioning off nearly every WEC glove he's ever worn in his life. Judging Urijah Faber's character strictly by the selfless acts he's done for others indicates that the level of altruism is high with this one.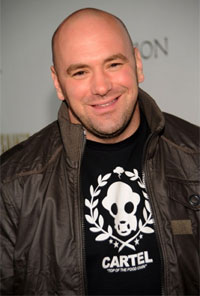 Where should we even start with this guy. On September 16th, Dana White announced that he would auction off a 'Twitter Mega Package' which included a guarantee that he will follow the winner of the auction for a minimum of 90 days, retweet one of his/her tweets and tweet out a message including the winner's Twitter handle. It seemed ridiculous at the time, but Dana managed to pull in $25,000 for his charity, aHomeInHaiti.org.
Still not impressed? In April 2010, a UFC fan emailed Dana White to inform him of the story of Ruby Owen, a two-year-old girl diagnosed with a brain tumor in 2009. Ruby Owen's family created a charity to raise enough money for a six-week proton therapy treatment, a form of radiotherapy which only treats diseased tissue. Dana White donated $10,000 to the charity without even contacting the family. The guy just did it and then went back to his day job of dominating the mixed martial arts world. That's incredible.
What about the time when a fan told Dana White that he received a $300 speeding ticket just to get to Oakland, California for UFC 117 and White dipped into his own pocket and gave the guy $300. Of course there's the time when Dana White organized a twenty-four hour long radiothon to raise money for The Caring Place, a cancer charity. I could even bring up the WEC/UFC charity paintball brawl this past October, but that would just be overdoing it.
To sacrifice wealth for another person's well-being is a high form of altruism, something that seems to be embedded in Dana White.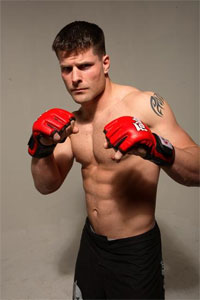 If Brian Stann wasn't placed at number one, all validity this list holds would be void. Sure you can present the argument that all of Brian Stann's heroic actions were under the guise of the US Military, and without explicit orders to protect the United States, none of his superhuman-like feats could have been possible. The true mark of altruism is acting without instructions and without any reciprocal gain. Some of you may even say that Brian Stann actions were out of pure necessity to survive, which would be against the 'self-sacrifice' principle that Ayn Rand discussed throughout her life. I accept your counter-argument, but Brian Stann is an [expletive] hero in every sense of the word. There's not a single argument that can justify the contrary.
On May 8th 2005, Lieutenant Brian Stann commanded the 2nd Mobile Assault Platoon during Operation Matador in Iraq. While trying to secure the Ramana Bridge near Karabilah, Stann's platoon was ambushed by insurgents. While under fire from enemy small arms, machine guns and mortars in a 360-degree fight, Brian Stann and his troops held the area for six straight days, long enough to coordinate air and tank support to eventually leave the area on May 14th 2005. Brian Stann ensured the safety of all forty-two soldiers of his unit and in 2006, Stann received the Silver Star, one if the highest medals that can be awarded for valor in combat.
On February 4th 2010, Brian Stann was presented with the Tequila Cazadores award for the charity work accomplished as the executive director of Hire Heroes, a non-profit organization aimed at providing jobs for veterans of the United States armed forces.
One guy accomplished everything that you just read before he turned 30, and to boot, Brian Stann wasn't even born in this country. The dude is technically Japanese and on January 1st 2011, Stann will start off the new year by banging against Chris Leben at UFC 125 which may yield him his second fight of the night in a row.
Check out this video interview of Stann talking about his feats of pure humanity to CNN.