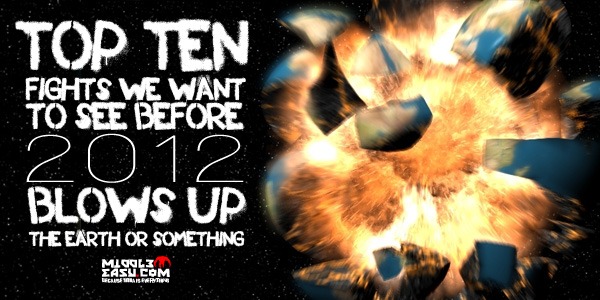 So it looks like the world is about to end, bummer. According to many scientists, philosophers and the Mayans, a cataclysmic event will shake us to the very core on December 21, 2012 destroying the earth as we know it and sending our civilization back into the proverbial stoneage. Terrance McKenna, a psychonaut from the 1970s, created a computer program after consulting with the I-ching and of course a few late-night magic mushroom and DMT binges. Dude came up with his doomsday theory called "Timewave Zero" which graphs all of the world's major events over a 25,000 year period. Of course the kicker is that everything stopped in December of 2012. It's kind of like Terminator 2, he came up with a time period for when machines would start making machines for the purpose of the machines.
So start stocking up on Toaster Strudels and other necessities for your homemade bomb shelters. Here are The Top Ten Fights We Want To See Before 2012 Blows Up The Earth Or Something. Only at MiddleEasy.com – Because MMA is Everything.
Adrenaline III went down June 19th 2009 and it was supposed to feature Ray Mercer vs. Tim Sylvia in a sanctioned six-round boxing match. The owner of Adrenaline, Monte Cox, got a call on June 11th informing him that a boxing match was illegal because it wasn't regulated by a US commission. In order to save the event, he changed the fight to an MMA bout, a first for Ray Mercer. The former UFC heavyweight was facing a guy roughly around the same age as your father. People thought if Ray Mercer could defeat Tim Sylvia in his first professional MMA bout (the CFFC fight with Kimbo was an exhibition match), it would be the greatest upset in MMA history. Even greater than Joe Warren defeating Kid Yamato at Dream 9.
June 19th came around, both fighters got in the cage…and this happened:
Tim Sylvia was knocked out by the 48 year old Ray Mercer in nine seconds. Maybe Jens Pulver, Rich Franklin and everyone else in the MMA world was right…Tim Sylvia should not have accepted that fight. The fight was so devastating that Tim Sylvia was pulled from the Affliction Trilogy card that went down later that summer.
Ray Mercer is now undefeated in MMA with his only win coming from a former UFC heavyweight champion. It's a pretty impressive record. So impressive that Fightmatrix has Ray Mercer ranked as the #14 heavyweight in the world.

Alright we have to admit, this one is pretty obvious. They are relatively close in weight. GSP has confirmed that after weigh-ins he usually rehydrates at around the 175 pound range. We don't have to be greedy. It could be a catchweight fight if St. Pierre would just take off his Under Armour and stop drinking Gatorade for a few weeks and pack on an extra 10 pounds. An easy way to do this would be go to the Mandalay Bay pool and drink enough alcohol until you forget your entire name. Here's what GSP had to say about the bout.
"Of course it would be something very interesting for me. If the timing is right and everything goes according to plan, and it's something the UFC would do, it's something that may be for the future interesting."
The Canadian God went on to add:
"I've been thinking about it. It's going to depend on the scenario. I have a lot of training partners at 185 and my weight class is 170. I would never get into the way of one of my training partners," he stated. "I would never fight somebody I train with. But if one day, I have the opportunity, the way is clear, and I did everything I had to do in my division, of course I will (fight Silva)."
If you read both those quotes in a French-Canadian accent, don't worry…everyone does. Both fighters have cleaned out their divisions and it would be nice to finally see how powerful Silva could be off his back. Travis Lutter did a pretty good job against The Spider (well, until he got caught in that triangle). Dana, you have the power to make this happen. You better hurry up though, that Mayan alarm clock of doom is about go off in just a couple of years.

One of boxing's greatest pound for pound fighters versus arguably the best and most elegant striker mixed martial arts has ever seen. Even at age 40, Jones is a living legend that has held a boxing title in 5 weight classes. All the pressure is on Jones Jr., He would have everything to prove and nothing to gain (just the kind of fight we like) as a champion boxer to someone who is coming into his sport. Even if Jones is "past his prime" winning 5 of his last 7 bouts, this fight would be electric. Silva has openly admitted he will fight Jones after his UFC contract is up.
"After my contract with the UFC ends and end my career in MMA, I intend to have a boxing match with Roy Jones. That's something that's already been arranged, it's all practically a done deal. Now I just have to wait and see."
Remember the first time you saw The Matrix (when it was cool)? That's how this is going to look and funny enough, Jones was in those horrible Matrix sequels. The fight probably wouldn't be able to be on normal TV, the broadcasting companies would need to figure out a way to add more frames per second into the feed so we don't miss any punches. Hopefully they would also mail us some super-cool 3-D glasses to wear which will double as eye protection so we can all watch the sun die and the earth turn to frost once the apocalypse hits.
Most of the baby boomer generation will recall quite clearly where they were when JFK got shot. A lot of people can tell you how they felt when John Lennon died. I remember very clearly the night Seth Petruzelli knocked the seemingly unstoppable force of Kimbo Slice out cold on the 3rd most watched MMA bout in US history. Seth took the fight on only a few hours notice. Impressive but not without controversy:
"The promoters kinda hinted to me and they gave me the money to stand and throw with him, they didn't want me to take him down. Let's just put it that way. It was worth my while to try and stand up punch him."
On that night, the Smoothie King became a Smoothie God in front of millions of people. But now Kimbo has been training hard (and eatin' alotta of chicken and steak, that's my UG shout-out) with the TUF Season 10 under his belt. Most people thought it was only a matter of time before Kimbo would succumb to a "real" fighter, but to be knocked out by Seth Petruzelli? If he repeated his pink Mohawk magic, it could lead to an ocean of smoothies for Seth, smoothies that we will need when there are no more fields to sow or livestock to bring to slaughter after the Armageddon happens.
This would probably be a bigger fight to some then Brock vs. Fedor, those people being me. We need this match-up. 16-0 vs 18-1 and both of these chicks dominate (and not even in the way you're thinking). Megumi has some of the smoothest ground transitions in the sport and can go from full guard to having the back of her opponent all in one fell swoop in less than ten seconds. Mini Mt. Fujii has a Japanese National Sambo Championship, two Pan-American Championships in Brazilian Jiu-Jitsu and a third place medal from the Abu Dhabi Combat Club's 60 kilo division, where Fujii took on chicks much bigger than her.
Tara hasn't had a fight go to a decision in over three years. She has solid stand-up and ground game…and she wants it bad.
"Aside from the World games for FILA where that is my weight, I really want to compete against Megumi Fujii. I want to rematch Kyra too but that can wait. There is a lot of talk that Fujii can beat me and I feel like there is only one way to find out. I mean, she came in 3rd at the ADCC. Truth is Felicia Oh worries me more than her, but all the talk is about Fujii. I want to fight Megumi, and at ADCC, on the biggest stage, that is where is at. I hope to get an invite, but I finished 2nd in a higher weight class and I am coming to win the whole thing. I hope they invite her too though she was 3rd and that is questionable whether she deserves the honor".
Sounds like fightin' words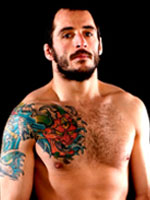 This is the one fight that just might scare off the pending apocalypse. Let's be real here, you will never be as big as Mariusz Pudzianowski or Bobby Lashley. Guys like this come once every 300 years. Well, apparently twice every 300 years.
Both these guys are what every superhero in the Marvel Universe aspired to be but failed miserably. I'm pretty sure everyone remembers Mariusz Pudzianowski, Polish dude, muscles bigger than industrial sized toasters. Well he's officially the World's Strongest Man, he even has the trophies to prove it. Apparently moving huge cinder blocks, lifting trucks filled with massive iron kegs and pulling gravity towards the earth seemed monotonous so Mariusz decided to throw some gloves on and deliver beatings.
Imagine being on the opposite end of the ring from someone universally recognized as 'The World's Strongest'. Yeah, imagine those…forty seconds. Marcin Najman does and here is his evidence that he's going to use in court to convict the guy who convinced him to get in the same arena with Mariusz Pudzianowski.
Bobby Lashley knows what it takes to rearrange a universe also. Bobby Lashley can defeat any Decepticon or Autobot known to man. This hasn't been scientifically tested, but my hypothesis is Optimus Prime doesn't have anything on Bobby Lashley. If Bobby Lashley were an Autobot, he would transform into a hydrogen bomb with the words 'Bad Ass M**' engraved on the side and just bully entire planets. Bobby Lashley's last fight was at MFC 22 where he squared off with Mike Cook. Before the fight, Mike Cook said that Lashley will 'sh** his pants once he gets hit'. Let me break down the entire Compustrike Stats for this fight:
| | | |
| --- | --- | --- |
| | Mike Cook | Bobby Lashley |
| Punches Thrown | 0 | 1 |
| Punches Landed | 0 | 1 |
| Percentage | 0% | 100% |
| Submissions | 0 | 1 |
There is no way I am making this up. The fight lasted 24 seconds. Wasn't the entire planet earth taken over and humanity enslaved in 30 seconds by John Travalotta in that movie Battlefield Earth? I think that achievement is synonymous to this Lashley fight.
We were fortunate enough to witness Lashley fight the other Bob that's gargantuan and worshiped in the far-east like a Japanese Kami: Bob Sapp. It wasn't pretty and Ron Kruck told us to not blink because it would be over in the first. Dude was right. Check it out for yourself:
Notice both of their opponents tapped from ground and pound. If 2012 comes and goes and there's no cataclysmic event that that accompanies it, don't worry. It's just waiting for Bobby Lashley vs. Mariusz Pudzianowski to go down before it wipes the galaxy away.

If you're not familiar with Joe Riggs, then all you really need to know is that the dude has beef with Nick Diaz. Serious beef with Diaz. So serious that it has actually been elevated to hospital food beef. After their UFC 57 match (Riggs grabbed the unanimous decision), Diaz actively continued to do what Diaz does:
"We were like going to get a room, and like he is always popping off, talking smack. I go down toward his end of the hospital to find a doctor so he could watch me pee in a cup for the boxing commission, and he comes talking smack. I'm like, go back to the WEC. You're bush league. You just got beat up. That's two in a row. You're out. I was just standing around talking sh*t to him. He was like, that's it, and comes out of his room. I had my hands down. He starts coming up to me. I just never in a million years thought he'd throw a punch. He threw a right hook and hit me right in the chin. I mean it hit me right on the button. I seriously can't say that I was knocked out, but I kind of went down to a knee. Then we just fought and scrambled. I put him against the wall and just Thai clinched and started kneeing the sh*t out of him. His nose was bleeding. I kept kneeing him, and they broke us up. That's all that happened."
Strikeforce saw the blatant rawesomeness in that story and decided to match them up at Strikeforce: Carano vs. Cyborg for the vacant Strikeforce welterweight title. Things were good, everyone was beating their chest in exhilaration and Riggs mysteriously disappeared into some hospital ward due to an 'allergic reaction to an undisclosed drug'.
MMAWeekly knocked on his hospital door to see how Diesel was doing an apparently, all of this occurred from an allergic reaction to an anti-depressant called 'Effexor' which apparently has the ability to 'Eff' up your central nervous system:
"It started shutting down my central nervous system…I got out of bed, and I couldn't walk. I thought I was dying. So I went to the hospital and they gave me some medication to reverse it and I felt fine immediately, but they kept me in the hospital for two weeks to keep an eye on me."
Joe Riggs is finally alive…again. In fact, dude just got a TKO victory in Rage in the Cage 129 on December 4th 2009. Both fighters are ready and before God back-slaps earth into the sun on 2012, this fight needs to go down.
These guys have made it abundantly clear that they don't get along as witnessed during the entire season of TUF 10. Rampage threw a major stick in the spokes of the feud when he decided to go make the A-team movie. First the fight was canceled because of the upcoming film and a few days later, Rampage left the UFC. Here's what Rashad had to say about the ordeal:
"Rampage is a very emotional fighter, a very emotional person, and he just let his emotions take over his rational thinking. I think that him and Dana White just probably need to talk it out, and get past it. I think it's just a breakdown in communication. Dana's the kind of guy who is going to say what is on his mind, maybe without thinking it through all the way, before he said. Rampage is a hothead, as well. You get two tempers like that, go at each other like that, it makes the situation hard to work through. I'd be disappointed not to fight him. It would be a good fight, a fun fight, but mostly because he talked trash. He got me really angry, and I want to fight him just because of that alone. It's a fight that people want to see. You get your mind wrapped up, and you get your mind so psyched up about fighting a fighter, and then it doesn't happen, it's disappointing. That's why I hate making a fight personal. At the end of the day, we're professional athletes, and we get paid to do a job. But when you get to fight someone you really want to fight, that's like a bonus. You'd almost do it for free…. I would have loved to punch him in the face for free."
Once TUF 10 wrapped up and The A-Team was finished, Rampage made one of those 'I'm just kidding' blog post on his site.
All Rampage fans don't trip if haters come on OUR website and talk crap. Don't reply because the webmaster will delete it off anyway. Give it no energy cause you never know who it is, how old they are, or if they're retards or not & you'll feel real bad if you found out you were arguing with a retard. I've noticed that the UFC & TUF have some fans brainwashed or something. They still haven't realized yet that the TV show is just a TV show. I did my job by entertaining people and if you ever paid any attention to me, that's what I'm known for doing.

Now, I wanted to let my fans know that I'm going to come back to the UFC & finish my contract. Not because the haters are talking shit about me being scared of Rashad or Titties or anybody else. I'm coming back for my fans & to shut Rashad's mouth up & shut Dana's mouth up. Then after that I'm going back to doing movies & I might do a boxing match once a year just to stay in shape. Hate on dis!
When volcanoes take over the earth's ocean and aliens finally invade earth, hopefully civilization can simultaneously agree with Rampage that we do indeed need some black on black crime.
The definition of a BJJ chess match. These two guys are some of the most decorated Jiu-Jitsu specialists on the face of the planet. The same planet that's going to get blown up by some unknown force in 2012. Aoki rocks a 22-4 record and holds two All Japan Jiu-Jitsu championships, a Japan Open Jiu-Jitsu championship, a Budo Open championship, and an ADCC Japan championship. Penn holds the honor of becoming only the second fighter to win UFC titles in two different weight classes, (the first is Couture) and frankly he has way to many Jiu-Jitsu championships to even put in this article. It would just make it too long. Respectively BJ Penn is ranked the #1 lightweight in the world. Shinya Aoki is #2
Shinya Aoki knows what the final frontier is for him, he just doesn't want to be involved in the UFC to make it happen.
"Please do not misunderstand — I really need this to be clearly expressed in the media: Shinya Aoki will not go to the UFC. I just want to fight B.J. Penn. This is my selfish wish. I know that everyone says they want Penn, but I think I'm the number one Japanese fighter to be saying this."
Frankly we can't imagine this going beyond the two just wrapping up in a human pretzel and hovering in the middle of the cage defying the laws of space and time with their BJJ. In what would be probably the penultimate Jiu Jitsu clinic, true fans of the sport would probably have at least 1 small brain aneurysm at the mere thought of this match.
What can be said that hasn't been said already about this match-up? The Superbowl of fights. When Affliction collapsed, Dana White claimed he offered Fedor a six-fight, $30,000,000 contract (that's five million a fight), a cut of the PPV sales and above all else an immediate title shot against Brock Lesnar. Rumors flew around like condoms at the San Francisco Pride Parade and on July 28th it was reported that Fedor signed with the UFC and his first fight was against Brock Lesnar. Of course this was the same summer when OMA from the UG trolled TMZ by saying Kimo died. Unfortunately, the entire MMA world was successfully trolled. Fedor never signed with the UFC and elected to go with Strikeforce instead. Of course, Dana White whispered sweet expletives in Fedor's direction which inspired M-1 Global's Jerry Millen to tell Dana Fedor would fight Brock for free. Dana White responded by taking Millen's offer and then subsequently bashing M-1 Global. This verbal exchange will probably go on from now until 2012 does whatever it does to the planet. The M-1 Global/UFC beef will never stop which means we will probably never see this bout. Hell, we even wrote another Top Ten List about how this fight will never happen.
If this really goes down will be the catalyst for the end. It just may take the end of the world to bring them together…but it can happen.
And then we all die.