Last week I traveled across the country in my car in order to get to the hipster holy land that is Hollywood, California. After traveling 3,000 miles by yourself, you realize that this country is saturated with green Toyota Camrys. Also, there's a truckstop in Abeline, Texas that may or may not hold a dimensional portal to another world in between the NBA Jam arcade and the men's restroom. There's a strangle blue glow hovering just above waist level. I didn't have the balls to stick my hand in it like they do in movies, but I did take down the address for anyone that wants to check it out. It's at 101 North F M 707 Abilene, TX 79698. Have fun and if you get caught within the fabric of time and space, it's not my fault.
When I made it to Arizona, I decided to meet up with one of my friends from Tucson. The dude has a name, but everyone just calls him 'Banguiz'. We used to get drunk and uproot full cacti with our bare hands to throw each other. The last time we hung out, I put him in an anaconda choke in the middle of 6th and Euclid because he drop kicked my bean burrito into someone's front yard. Banguiz told me about this legendary barber shop in South Tucson that taught him everything he ever wanted to know about the mechanics of a fade. We then sat down and created this list of the Top Ten Fades in MMA on the back of a few cocktail napkins. Enjoy.
If this was a list of whose head looks like a Nissan Cube, Aoki would get first place. Shinya Aoki may be one of the rawest jiu-jitsu practitioners to ever step foot inside of the Saitama Super Arena but that's only because his head looks like half of an unfinished Lego. When we started to compile the list, we noticed a slew of Japanese fighters rocked fades. Some were expertly crafted, others looked like that were assembled after a marathon of beer pong at a frat house. Either way, when it comes to fades…Shinya Aoki is a trailblazer. If fades were animals on the evolutionary chain, Aoki's fade would be the fish that first tried to walk on land and then suffocated to death seconds later.
It's not that refined as some of the others, but the fact that Shinya Aoki rocks a fade (along with that yellow New Balance jacket he always wears) definitely gets him on our top ten list. He may not be the pioneer of the Japanese fade, but over the past couple of years Aoki has informed the MMA world that yes fades are ridiculously sick and yes there is an entire underground culture in Japan that pays homage to the fade.

When we asked King Mo who has one of the dopest fades, he texted back with 'Mark Munoz'. If you analyze Mark Munoz, dude only has the appearance of a fade. The dude's head is living in some 'Fade Matrix' and King Mo took the Blue Pill and accepts it as a reality. Mark Munoz doesn't have a fade. Neither does Jason High. Guys you automatically assume would have fades simply don't and people need to realize this. Shogun Rua is a definite exception. He's the pioneer of the Brazilian fade which consists of a fade from the bottom to the top as well as from the front to the back. It's like the fade equivalent of two and one shampoo and conditioner. Shogun rocks a very efficient fade that is normally drowned out by his explosive stand-up, ruthless ground and pound and his uncanny ability to win the UFC light heavyweight belt. Lets face it, the dude beat Machida. The judges were just too busy looking at Shogun Rua's fade to notice. Shogun Rua's fade is a direct result from a life long diet of chicken and steak. Hopefully Shogun Rua will inspire an entire army of Brazilians to adopt the fade

With a little tweaking, Takeshi Inoue could make the top five. Unfortunately, I can't give him any suggestions because I'm not fluent in Japanese. Panda Express has taught me everything I know about speaking the Japanese language and that is downright pathetic. If I could speak Japanese, I would tell Takeshi Inoue to follow the teachings of Martin Lawrence. Dude is like the Dalai Lama of the fade. My friend Banguiz told me that there's a barber shop located in South Tucson that has Martin Lawrence posters plastered all over their wall. The owner of the shop told Banguiz that Martin Lawrence has the perfect fade and the only thing barbers across America can do is aspire to create a fade like that. He said that no one really knows who does Martin Lawrence's fade, it's one of the greatest mysteries in Trichophilology (the science of hair).
Takeshi Inoue has one of the most unique fades in MMA. It's pretty tame on the bottom and the top looks like it missed the bus out of Woodstock and just said 'Screw it' and decided to raise a family there. Takeshi Inoue's fade is unorthodox and that's why he made our list of the Top Ten Fades in MMA.
Alessio Sakara makes the list because he's the only fighter that has a fade that is most like Drake's. I didn't even know who Drake was until he was introduced at this year's Grammys alongside Eminem and about 3 minutes full of bleeps. Drake is also the same guy rapping about not having anything to rap about on that Coca-Cola commercial. Ironically, he appeared on stage at the Grammys and performed that same rap. Maybe he was right.
Since Alessio is from Rome, his fade is a throwback to ancient times when people used to get their fades freshly done before going out for a day of watching Christians get slaughtered by lions. He's the only Italian guy in MMA (besides those guys off Jersey Shore) that has dedicated a portion of his life to get his fade expertly crafted.
When we were coming up with this top ten list, we asked Damarques Johnson who had the undisputed illness fade in MMA. Damarques told us that he should be considered for a spot on the list as long as we don't judge the hair he was rocking in Memphis at UFC 107. He also said that Andre Winner and Anthony Rumble Johnson had some pretty ill fades. Well we analyzed their fades and have determined that they are just another product of the 'Fade Matrix'. The Fade Matrix is a world within a world in which hair appears to be faded, but in fact there is no fade at all. It's usually due to awkward camera angles, poor lighting or the assumption that a fighter has a fade when they just don't. A guy like Rumble Johnson, you would expect him to have a fade. He doesn't. We've debated about Rumble Johnson for days, the fade is non-existent.
We thought Damarques Johnson was a victim to the 'Fade Matrix' but he actually has one of the most well-proportioned fades in MMA. Evidence of Damarques' fade can be found in several pictures floating around on the net and throughout The Ultimate Fighter 9, but perhaps the single greatest piece of evidence illustrating Damarques' fade can be found in this picture of him rocking our MiddleEasy shirt. Notice the gradual appearance of hair and the seemless blend from side hair to top hair. It's the stuff legends are made out of.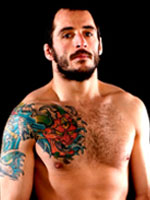 Hiroyuki Takaya's fade is congruent with his ability to pull off the Zoolander 'Blue Steel' pose. You may remember Takaya from last year's DREAM 11 Feather Weight Grand Prix where he managed to defeat Jong Won Kim, Maeda and Tokoro before losing a split decision to Bibiano Fernandes in the final round. Once again, we have a scenario in which the judges were too occupied on admiring the fade to actually judge the fight.
Takaya has one of the most reliable fades in MMA. His fade is so magnificently crafted that you can see it from the front. When it comes to Japanese fighters with fades (and there are a lot) Takaya stands above all and that's why he's earned the number five spot in our list of the Top Ten Fades in MMA.

If Ubereem wasn't in the top five, he would find everyone at MiddleEasy and treat us like a shrink-wrapped pack of horse meat. Alistair's fade looks like it was created from using the pieces of lesser, inferior fades. In this union, all the fades unanimously agreed that they would collaborate in harmony on Ubereem's head to produce a fade that will be read about in history books for generations to come.
With muscles on top of muscles on top of industrial sized tankers on top of muscles, it's easy to overlook the greatness of Ubereem's fade. The consistency of Alistair's fade makes his hair stand apart from the rest of the competition. Ever since Alistair Overeem moved up to heavyweight and become 'Ubereem', he has forever emblazoned the fade on his head and has racked up an impressive record of 8-1-1. We would attribute his recent success solely to his fade, but that would just be foolish. Ubereem's fade is like a decal on a 1998 Honda Civic. It gives him the extra horse power…to eat horses.
Thiago Alves' 'tiny fade' could go head to head with anyone's 'tiny fade' and win. Just ask Andre Winner why he didn't make the list. You probably don't know what a tiny fade is so let me explain it the best I could from when a guy I met on the corner of Campbell and 13th told me. A tiny fade is a fade that is so microscopic that it can't even be seen by the untrained eye. Tiny (or microscopic) fades usually start from bare skin and gradually progresses to a slight hint of hair on the top. From a distance, the tiny fade appears to be just a generic crew cut but upon closer observation (and a few fade lessons at that barbershop in South Tucson), you can easily identify a tiny fade. Props go to Thiago Alves for being one of these few guys in the MMA game with the balls to pull of the tiny fade.
Nobody would really expect Cro Cop to even make this list so that's why we had to put him at number two. Not for shock value, but just evidence that the fade has traveled to Croatia and lived to tell about it. Mirko Cro Cop is a man's man so it's only fair for his hair to be called a fade's fade. From a boy, you can tell Cro Cop's hair had the aspirations to be a fade, he just didn't know how to properly execute it. This was before the days of Kid n' Play so the wold really had no reference point to what a superbly trimmed fade was.
Ever since Cro Cop's fade hit the scene on May of 2004 (right around the time he fought Kanehara), he went on a 7-0 run dominating guys like Josh Barnett, Kevin Randleman, Mark Coleman. Cro Cop's frate trane of a fade was eventually stopped by non-fade wearer, Fedor Emelianenko. We managed to discover video of Cro Cop (Prime fade days) where he successfully punked Mauro Ranallo.
Eddie Alvarez's eyebrow's fade could beat half this top ten. He's the only guy that has a fade that could make Martin Lawerence cower in the corner of his millionaire mansion (I hope he used that 'Martin' money wisely). In fact if Martin Lawrence and Drake's fade had a baby and then you took Shogun's fade and his fade had sex with that baby and then you called up Alistair Overeem and Cro Cop's fade and invited them over for tea, but then put rufies in their tea and had sex with their fades, you would get Eddie Alvarez's fade (and you better have captured it all on tape and put it on Youtube).
When we put together this list, we automatically knew Eddie Alverez was going to claim the number one spot of the Top Ten Fades in MMA. If there was a Fade Hall of Fame, Alvarez would be the chairman of the foundation. Eddie Alvarez needs two nick names, one for him and one for his fade. Actually, Eddie Alvarez just needs a new nickname. 'The Silent Assassin' or 'American Knuckle Star' just don't roll off the tongue. If you put Eddie Alvarez's fade in the cage, he could take all nine other fades one after another and be home before lunch, Diggstown style.