Come on, we've all been there. Living in your mother's womb isn't that bad. All your bills are paid for. Free rent. You don't have to worry about where your next meal will come from. It's like nine months at a five-star resort entirely housed inside of a human being — and we were all abruptly evicted from it. Coming out of our mother's womb is the preferred method to arrive on earth. In fact, it's the orifice the entire human race emerged from. Occasionally in mixed martial arts, a cut will open up that resembles the 'thing' that had roughly five-hundred different aliases in junior high school. This list is dedicated to the top ten cuts in MMA that look like a womb giving birth. You may have other names for 'it', but it's because you're nasty, immature — and never got your 'cootie shot' when you were young. Enjoy!
Cub Swanson's forehead makes the list because it was the fastest artificial womb ever created. AT WEC 41 last year, Jose Aldo's flying knee cracked Cub Swanson's forehead which knocked him out eight seconds into the fight. Eight seconds, guys…that's amazing. The next time your girlfriend complains about you not being able to 'go' for more than a minute, just remember that Aldo finishes in only eight seconds.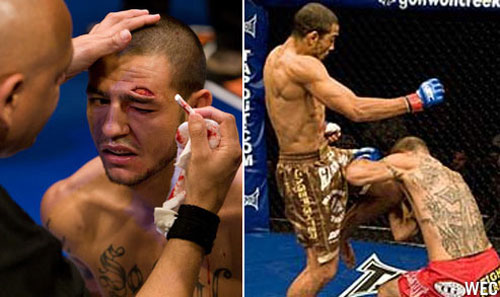 Images provided by Examiner.

Back in December of 2000, Kohsaka placed a babymaker on Fedor's forehead that forced the end of their fight. This forehead womb makes the list because it was the cause of the only loss to ever be listed in the GOAT Fedor's stat sheet. The last time Fedor loss, Bill Clinton was president of the USA. Well, until Werdum unexpectedly added another L to that list, but frankly I just don't feel like changing our list so it stays at number nine.
Since there is no still image of this cut, we're going to use this gash created by Big Nog in Pride.
Image provided by MMATKO.

Alan Belcher's knees are sharper than the sword from Thundercats. That's not even debatable, it's a fact. Not only did they leave the gift of reconstructive surgery over Kalib Starnes' right eye, it also stole any confidence Kalib ever had to stand with Nate Quarry or any other opponent for the rest of his career.  Since leaving the UFC, Starnes has won and lost five consecutive fights via submission.  As gruesome as it was, some fighters never recover from trauma like that, spawning ever respect and reassurance that this is the rawest sport in the world.
Image provided by Chicago Now.
While this fight is notoriously known as 'the fight that Babalu held onto an anaconda choke longer than necessary', we can't overlook the gash left on David Heath's forehead which resembled the San Andreas Fault.  It happened in round two after Babalu secured a takedown and rained down elbows like they were triumphant tears of emotion after his mom refused to buy him a Hulk Hogan action figure at Toys R Us.  There are few instances in which blood can escape a person's body as quickly as it did at UFC 74.  Once the janitorial crew sanitized the cage, David Heath was sent to the hospital while Babalu was served with his walking papers for poor sportsmanship from the UFC.  It was the last time he'd ever compete for the organization.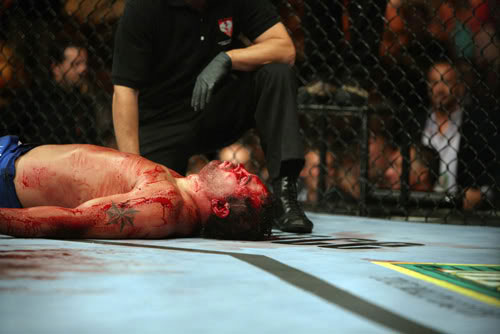 Image provided by Sherdog.
I've never visited the Grand Canyon but I'm told it's majestic experience taking it all in.  I'm sure it's a lot like the first time I looked into Marvin Eastman gash following his fight with Vitor Belfort at UFC 43.  It has peaks, valleys, and if you look deep into the gorge, you can totally see white blood cells canoeing along in the streams of rosey-red fluid pouring down his face.  Belfort has always been known for his ferociousness inside the Octagon.  From his early wins over Tank Abbot, Wanderlei Silva, and Randy Counture, to plowing through some of the greatest fighters in the world from other organizations, there are a plethora of reasons why nobody should every sign an MMA contract with the Phenom's name at the other end of it.
Image provided by UFC.
I used to think the meaning of life was somewhere inside the cut Joseph Benevidez left on Miguel Torres' forehead at WEC 47.  You know it's gnarly when you can see someone's thoughts between the threads of their hairline. Unfortunately those thoughts resembled a spilled jar of salsa roja all over a perfect plate of carnitas. An infinite amount of cosmetic surgeries later, Miguel's facial-taco healed and unless you knew it was there, it disappeared like any shot I ever had of dating Mary Louise Parker when she lived across the street from me in New York City.
Image provided by Miguel Torres.

Abe Wagner vs. Jon Madsen kicked off The Ultimate Fighter Season 10. In the first round, Madsen seemed to outstrike Wagner to such an extent that everyone inside the gym thought he would never make it to the second round. Wagner managed to endure another round of ground and pound delivered, and when the doctor saw the nasty womb on his cranium, Wagner's forehead was impregnated and put on bed rest for the remainder of the season .
Image provided by Spike TV.
This fight was the perfect way to end 2009. Well, not perfect for Diego Sanchez. BJ put on a display of cardio at UFC 107 and after five rounds of putting his fists on Diego's skull, he eventually opened a womb on Diego's head with a right high kick. The gash was so severe that Herb Dean called in the ringside doctor in to perform an emergency c-section. The fight was immediately stopped. No need to call Maury for a paternity test. BJ is undoubtedly the father.
With about thirty seconds left to go in the first round, BJ rocked Stephenson with an array of strikes that sent him to the mat at UFC 80. With one wicked elbow, BJ turned Joe Daddy's forehead into an orifice. Penn finished Stephenson off in the second round via rear naked choke and then graced us with the most disturbingly awesome victory celebration in a bout when he beat himself in the head repeatedly and then licked the blood of his victim from his gloves.
Most of you have never seen this fight.  It went down on the undercard of UFC 99 in Cologne, Germany. If you only tuned in for the main card, you probably thought the UFC decided to go with a red canvas instead their usual light gray. Stefan Struve's forehead dumped a Mr. Kool-Aid sized pitcher of hemoglobin over everything at UFC 99.  Every subsequent fight on the card left both fighters covered in Stefan Struve's bodily fluids. There was so much blood, the camera men had to take turns vomiting.  Rather than debate why we chose this to be number one amongs the surplus of facial womb victims, let's look at the direct impact this fight had on MMA.
As a result of Stefan Struve's performance and subsequent triumphant flailing around the cage in celebration while blood spewed out of his forehead, MMA was subsequently banned in Germany. In the days following UFC 99, German media responded with headlines like "Blood and Circuses" (Berliner Morgenpost), "Cologne Cage Fight Pleases International Mob" (Die Welt) and "Bloodstain on the Canvas" (Süddeutsche Zeitung).  Regardless of how rawesome the rest of the fights were, the 99% of the German media that attended the event couldn't get their minds off of Stefan Struve's cut.
'Those things [that happen inside the cage] can quickly be imitated by unstable teen-agers, with fatal consequences.'
– The Kölnische Rundschau quoting Carolin Krause, the head of Cologne's youth welfare center
'No more cage fighting in Cologne ever again.'
– The "Express," Quoting Cologne mayoral candidates Jürgen Roters and Peter Kurth.
The rest of the night could have gone off like Kimbo vs. Houston Alexander followed by Kalib Starnes vs. Nate Quarry, but the media still would have left traumatized.  It took nearly a year, but at least they forgave the UFC and eagerly await their return on Nov. 13 with Vitor Belfort and Yushin Okami headlining an event.  It's not all bad, at least Stefan Struve was in good spirits about his cranial "mailbox". Check out his post fight interview.