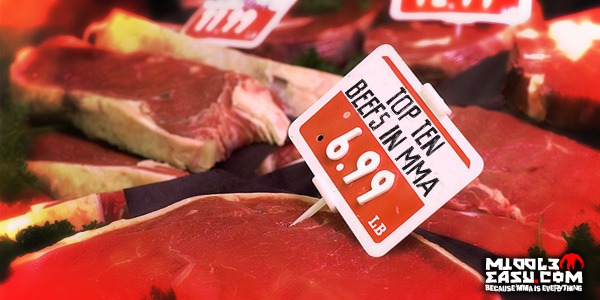 When we sat down to compile The Top Ten Beefs in MMA History, we tried to not look at all of the obvious vendetta's throughout the years. A certain criteria had to be met to make this list truly unique. Sometimes, in MMA a bout is more than just a bout. There are times when two human beings are so entrenched in either a physical or verbal war that it becomes a sum greater than its parts. A 'Beef' takes on a mind of its own. It becomes a benchmark for hate between two parties that is so phenomenally huge, that any subsequent comments to any of the aforementioned beefers about the beefies on the list will garner legendary quotes 80% of the time, 100% of the time.
It's time to take a journey down a beefy path. Here are The Top Ten Beefs in MMA…cooked rare.
There are a few things can count on in this world. Death, taxes and Erin Toughill. Besides being a damn good boxer, she is considered one of the best female mixed martial artist in the world…and she is active on the Internet. That's bad news for Kim Couture, the ex-wife of Randy and current holder of a 1-2 professional MMA record. Toughill has a beef with every fiber of Kim Couture's existence. She has a beef with Couture's training and just about every word that comes out of Couture's mouth. She even has a beef with Couture's confusing biography on her website. Toughill's hatred for Kim Couture runs so deep that it derails entire UG message board posts about Gina Carano into a massive verbal KO's on Kim's character.
Gimme a F*CKN break. Kim? If you used your "Greco skills like Randy did"??!! KIM — you ARE NOT RANDY AND YOU NEVER WILL BE. Saying you were "slightly overmatched" on the feet?? You were VASTLY overmatched on the feet. I agree you were more aggressive at times, but that in no way, makes you a fighter or a better fighter than Vera. You had 2 fights and you were already calling yourself the next ICON after Gina Carano? R u kidding? Pushing someone against the fence (while eating punches and elbows) doesnt show that you were the more imposing or stronger fighter lmao it showed your skill level is nowhere near where it should be, considering you have been training MMA "long before you met Randy". You landed 2 (maybe 3 punches) and the one time you actually had a single leg…you couldnt finish it. Vera negated everything you did, and if she was a lil more confident, coulda stopped you in half the time. For someone who has had THREE pro fights and took 3 weeks off from training in a year…fighting is not for you. Keeping your hands @ chest level, doing crazy far away switch stances and JUMPING in w left hooks only to be TKOd in minutes…I dont know who your striking coach is, but rewatch your fight…and start sparring and getting HIT during training.

Your post sounds exactly like the "BIO page" on your site. Stop living off Randy's name and stop pretending that you are a MMA fighter. If you wanna fight – go ahead, but use Borrego instead of Couture & work your way up like everyone else. Fighting is not for everyone, and its not good or bad, it just is. Vera is adorable and has SO much potential, I can't wait. Kerry is a great addition to SF and she had a great win over a vastly outmatched, underskilled opponent Friday night.

Kim was NEVER training MMA before she met Randy. Even if I married Randy (being at the "level" I am now) it would NEVER make me a world class Greco Roman wrestler lmfao thru marriage.

Kim has gone on record numerous times saying she "built" the Couture name/brand & it was nothing b4 her. Kim was interviewed post "sparring" with Wand Silva saying, "Silva had to turn it UP, when I turned it up" lol believing that she was actually making Wand spar HARD. She has said "it's really hard for Randy to pass my rubber guard" lol believing that her "guard" can keep the ICON away. Kim had lunch w some ladies from the XC gym b4 her fight. She had some lip augmentation done. Girls askd howd it affect her fight? Kim said, "It would not. I dont get hit in sparring OR when I fight. I have a 'black style' when it comes to boxing". That is word for word and it blew me away lol Kim has "improved everywhere" and has taken 3 weeks off from training in a year…yet lookd like she has been training for 3 weeks, total.

There are SO many women fighters that feel the same way…I just dont have an issue saying it. She has no business fighting nor taking spotlight from women who deserve to fight & cant seem to get a contract, like Roxy, Young, Tate…2 name a few. Yes, Im opinionated & ppl can love ot hate it lol but those quotes are not even in the same world.
I like Gina and I have always supported her. She had expressed interest in fighting again a few months ago, but seemed "iffy" @ the time. I, for one, would love to see Gina make a comeback. BUT, she has to REALLY want it this time. More girls are coming in the 145 division and they wont be "small" girls coming up in weight. I do NOT want to see her get hurt again if her heart is not in it 110%.

IMO Marloes will beat Cyborg in Jan. If she does, I believe a rematch w Gina n Cyborg can happen…and Gina CAN beat her if she stays mentally strong. She helped women's MMA SOOOO MUCH. She's a wonderful woman & I support her 100%.

On the other hand, this idiot [Kim Couture] (and her subjective website rants) is someone I DONT want to see. Her lack of talent (& real understanding of her place in the sport) will DESTROY women's MMA & set it back indefinitely. *KC should use a writer so that her BIO page makes actually makes SENSE*
Talk about being called out. One could only wish physical skills could somehow be channeled from one person through the next via marriage. If that happened, same sex marriage would have been legal years ago.

Hop in your time machine and take a trip back in the day before Jerry Millen was the USA Vice President of M-1 Global and released vlogs antagonizing Dana White. A few years ago Millen was the USA Vice President of Pride FC. Enter Bas Rutten. Bas was the color commentator for Pride for a number of years prior to Millen's landing in Japan. Pride was great, we all know this. I don't have to get into it. What made Pride magical for me (besides the obvious) was the commentating. Just watch Pride Total Elimination 2003. Not only are there classic matches but you get the hilarious commentating moments from Bas Rutten and Stephen Quadros. Whether they are talking backwards or downing "shots" between the fights, Pride was great because it was fun. Then…Jerry Millen came in and got rid of everyone. I never completely understood why there was a revolving door of commentators towards the end of Pride, luckily "El Guapo" wrote a strongly worded open letter revealing the whole sordid affair.
"Before we start I would like you to understand that when I read the article on CBS, I emailed Gary Millen and told him that he had to tell the truth. If he wouldn't take back the lies that he said in your interview, he would have a problem with me. I told him not a physical problem, like that I was going to beat him up or something, but a problem with me telling the people things about him that are the truth, like, and I quote, how he got the Pride job. He wrote me back, I guess he thinks he's a fighter now, because he surrounds himself with it, and he told me that he would never do what I said (guess he didn't like it in Japan when I told him what to back off from Mauro), I told him "sounds good!" and here we are. So this is directed to HIM personally and NOT Pride. He started this shit, he will receive, I warned him like I said but I think he doesn't know what I really know about him and his memory must be a sponge since I told him all this one time before. Now he says AGAIN that he was the reason we got fired, so here is the truth.

First of all, everything is fake about this guy, his name is Gary Millen, not Jerry, he doesn't think Gary sounds cool so Jerry was the name, ask for his drivers licence. About his appearance I have some comments too, but that's for later, I have way more on him. I told the interviewer of CBS everything that I wrote here, but I think he was tied by some things that I said, so I give it personally to you.

He got his job by faking that he knew the MMA game, his friend, who knows MMA, would tell him through a microphone (he was wearing a headset) what he would have to say when watching a tape of MMA. That tape he send to the Pride people, they believed he could do it and they took him in.

So that's how he came in, as a new play by play commentator. He said in the interview that he came in as the producer, but that was another lie because his own words to me (and from the Japanese representatives) were; "I did come in for Stephen his job, but than they gave me this job, so we don't have to fire Stephen". That's what he and they said to me, because the real truth is that when he was in Japan I think he started realizing that he could never do Stephen's job so he swung himself to another direction and took the job from Michael Braverman, the former US producer, so he got fired. When he took his job over, that's where the complains on the internet started.

He cut out the funny skits that we use to do at the opening of the show, he wanted to make it more look like boxing. I told him that EVERY organization in the world already did that and that people enjoyed the stuff we did before because we did something fresh and new, they NEVER complained before about the editing, they did now. But no, he wanted to make it look like all other organizations.

So that was out and he started to cut the shows together. The complains were like that he cut out fights in order to show some ring girl. Or he showed the entire walk through to the ring but than cut the fights? This didn't make sense, we are watching fights, but he cuts the fights?

He went out with me and Stephen Quadros the first night, we went to see some Pancrase fights. I realized that he didn't like Stephen at all, don't know why. He would ask me what I wanted to drink, and while Stephen was standing next to me, he wouldn't ask him anything and gave me only a drink. I asked Stephen afterwards if he did something to piss him off, Stephen had no clue. But I knew that there was something going on.

Next thing I is that they fired Stephen a show later.

They needed a new guy, so he brought in his buddy Damon Perry (maybe that was the reason that Stephen got fired I thought?) But Damon came straight out of Radio and he talked a lot and didn't get the whole MMA thing yet, I thought he was funny though and good to work with. But the Japanese people didn't like him, so they asked me if I knew somebody.

I said I did. I met Mauro like 4 years before that time and we both were in a movie where we both played announcers. I met him and they gave us like 5 pages of ******. He looked over it for about 2 minutes and put the ****** away, I looked at him and asked him :"Don't tell me that you already memorized it" he said he did, I started to ask him questions about the ****** and he knew it all! This guy is a freak show. The stuff we did was good and I really enjoyed working with Mauro, so I told him that if I ever would have a change to do something for him, I would call him. So four years later I call him and BAM, he sends in a tape, they saw his work, and trust me, Mauro has been doing this since he was 16 years old, Radio, TV, everything, they loved the tape and now he was in Pride!

They loved him so much and wanted to keep him, they gave him right away a contract, something that I never saw them doing.

Now I guess that Jerry now needed a new victim that he could push around, and Mauro Ranallo was that victim, why? Again, I have no clue, but he started to mess with him. I believe because he saw that Mauro was unbelievably talented and maybe he was jealous?

It became very bad and that's where I stepped in and told him to back off because he did it for no apparent reason. He backed off for a while, but than started to make up stuff. Mauro couldn't say "difficult" words because he said that the viewers at home are not that educated. We told him that Jim Lampley used words like that all the time, and that is in boxing, also a martial art. Jim Lampley is probably the best announcer in the world, but Mauro couldn't do it? And what, the MMA audience is less educated than a boxing audience? And he talks about having pro's in the booth? Wow.

Mauro is a walking encyclopedia, the things he knows is just unbelievable, he doesn't say these words to "look intelligent" he says them because he speaks like that, if you talk to him in a normal conversation, that's what you will here, also his voice is his real voice, some people think he makes that up.

Mauro wasn't allowed to make jokes, Mauro couldn't even say, including me, when we talked about a record. "This fighter is 12 and ZERO, just to make a point that he never lost, nope, we had to say 12 and O, we told him that O was a letter and not a number. He said that the whole Martial Arts world say O and not ZERO.

Whatever, again, be the same as everybody else. He told us to let the fight "breath" and don't talk as much, just like in other organizations? So he came in with his laptop and showed us a fight from another organization and that we had to be like them, these guys were talking non-stop, I started counting the silence they had and I swear, the longest "break" was 3 seconds, and that was only ONE time during the entire fight, three seconds, ONE time!

The Japanese people, Mauro and I looked at each other with a puzzled expression, what is he trying to do? Till this day I still don't get that one. Mauro also couldn't make jokes, that was my (Bas) job he said, I told him how funny Mauro was but nope, not him.

Ask all the fighters, trainers, even Doc Hammilton and "Stitch", at breakfast we would have so much fun with Mauro, that everybody would start putting their tables against our table for a good laugh in the morning!

It went bad again and again we had a conversation, first with the Pride people, Mauro and I by ourselves. They acknowledged that they gave Jerry, and these are there words: "Too much power", I also told them how he REALLY got his job in Pride and what he did more for lies, but … they believed in second chances and they wanted to give him another shot?! After all the things I told them, they still wanted to give him a second chance?!

So the meeting with Jerry took place, and again, I had a list of things for him with what he already did behind people's back, so I read him that whole list, and trust me, it was big! Jerry finally acknowledged that Mauro was getting better and better and he understood that it was good now. It was a few shows really good and it was relaxed, but it came back again. He has to be the number 1 guy I guess.

Every time he would tell Mauro when he would say something "Oh man, you are going to get ripped for that on the internet", shouldn't a producer make sure you feel comfortable during the show so it's keeps flowing? Nope, he did it right there at the commentating booth, that's not professional, every real producer knows this.

He also started to "second guess" Mauro, if Mauro would say "Wow, nice kimura attempted there!!", he would use his microphone and ask me, (Mauro and I BOTH could hear this, NOT the people at home), "Is that a kimura Bas?"

Doesn't he realize that you are really shutting people down this way, this was about him and his feelings towards Mauro, he would forget about the job that he has to do and that is to make the Pride show look as good as he can! He didn't, he made it personally. Wow, again, and he says that he wants to work with professionals?

Anyway, this stress and the fact that Pride never gave me a raise after even 6 years of working for them started to bother me.

They tell everybody that I am "the face of Pride", but they do anything to make it easier on me. Please understand this, I flew at least 11 times a year to Japan, that's 77 days gone from home, coming home with a jet lag and than still have to leave the house to do seminars and other stuff because they didn't pay me enough to live form that. So it became really hard on the family for me and together with the stress from Jerry Millen I though, "I don't need and deserve this, I am out." Everybody remembers the "I quit" letter on my website? And after that the President came to talk to me and I told the people that I was back again, remember that? Than they started to do other stuff and that's where I announced that I this time REALLY quit. And now Millen says that HE did that? This guy is the biggest moron, more about that later….

I apologized to Mauro and Mauro told me that he was going to see what he would do.

The Japanese people gave Mauro right away a raise because they didn't want to lose him too. Frank Trig came in and he and Mauro connected and they had great shows together.

Than when Jerry came to tell Mauro that there was something going down and that he probably was going to be the US representative of Pride, (so this time he took the job from the Japanese people, remember, these were the people that gave him a second chance!!) and he took their place, I guess he did a lot of talking to Mr. Sakikabara and Mr. Sakikabara believed him! They got fired and he got the job.

Mauro called me from Japan! And he told me that if THAT was going to happen, he would quit, he would NEVER work under Gary Millen he said. They announced it, and Mauro quit.

Now with Gary saying that we were not professionals and that he wanted professionals and that's the reason we were gone is just un-believable.

Remember that I said that he's the biggest moron? Here is why. He has another interview on www.mmanews.com and there he says that it was our decision that we left, not his.

Doesn't he keep track of his lies? I mean, here he says that he was the reason, and there he says we quit ourselves, which is the truth? Plus again, doesn't he remember the "I quit" letter?

One more thing, he talks bad about Dana White and that he's no pro?? Please take a look at what Dana White did for MMA, he made it huge! Now take a look at what he himself did, he's bringing the Pride show down, they already cancelled the April event, this is so sad.

Hey Gary, if you read this, you have to feel bad right? Look how many people you walked over, Karma, that's the word for you for a while KARMA, because Karma is a bitch!"
Now here is Jerry's (Gary's) rebuttal that is not nearly as long.
"Well, I'll just run through it real quick because this is like old news, but Stephen Quadros was fired one event while I was working here. I didn't fire him, it wasn't my decision – they wanted him out. They fired him, it had nothing to do with me. Okay? Bas Rutten decided to leave when he had some problems, I guess, with the Japanese. Umm, and uhh Mauro decided to leave. That's on them. I decided that I wanted some professional broadcasters. "
Personally we think Rutten's jokes hit us as hard in the funny bone as his kicks hit livers so we will keep watching him on Inside MMA.

Way back in 2008, Randy Couture (the heavyweight champ at the time) was leaving the UFC due to a contractual dispute. The belt was put up for grabs until Couture got a new contract, came back, and immediately lost the belt to Brock Lesnar. That created a bit of an awkward situation which set the stage for Mir to unify the heavyweight championship at UFC 100 against Lesnar. Here's what Brock said regarding his upcoming fight at UFC 100 with Mir:
"The biggest thing was that you've got 15 minutes. I had him up against the fence and I believe I was winning the fight. I made a rookie mistake and he capitalized on it. I'm looking forward to this upcoming fight against Frank. I'm a little disappointed that it got pushed back. In my mind, is Frank really hurt, or is he just scared? I think he understands the position I had him in, in our first fight, and I don't think it's going to change much in the second one, with a different outcome for sure."
"He won a make-believe belt from Nogueira. He is the former champion but there's no ifs, ands or buts about it. I'm the current champion."
At UFC 100, Brock managed to shove his forearm in Frank Mir's face enough times to get the W and truly unify the belt. This drove Frank Mir to some realm of the human psyche that is only talked about in Harvard criminology textbooks. When Brock got sick later in the year it actually physically affected Mir:
"When he got sick it screwed up my training because he was such a driving force for me. I went into a depression for two to three days where I didn't go to the gym, I got sick — I drove myself insane thinking we may possibly not fight again."

"I couldn't live with that."
Frank Mir's obsession with Brock has become the type of inspiration that makes moms lift cars. This is what he said during his training for Cheick Kongo late 2009:
"My long term goal is Brock Lesnar's demise. My short term goal is to give Cheick Kongo his walking papers and finish this for good. Cheick Kongo's standing in the way of that dream."

"I've never hated a human being as much as I hate [Brock]. It's never driven me to the points of insanity that it has driven me to now. I want to rip Cheick Kongo's arm off and make a statement, and it's just because I want to scare the s*** out of Brock. I want him to know that he will never be the same human being after I get out of that cage with him. I will detrimentally affect his physical life forever and scar him on a mental level. He drives me in a way that I've never felt driven before."
"I want to fight Lesnar. I hate who he is as a person. I want to break his neck in the ring. I want him to be the first person that dies due to Octagon-related injuries. That's what's going through my mind."
If Brock had a beef he would call it a "venison".
The beef MMA fans have with Cecil Peoples can be easily summed up into one match:

Lyoto Machida VS. Shogun Rua
I'm not even going to try to justify people's judging of this fight, or even Cecil's (see what I did there?). Let's remember that Peoples was 33.3% of the judging panel that night and the match was scored a unanimous decision. Regardless of these facts, the internet MMA fan base has hopped on the beef wagon. The crux of the problem is exacerbated by his explanations of his rationale:
"The fans and all the naysayers, I don't worry about. I don't back down because it's not popular. My thing is, Rua did hit him more. But Machida hit him harder, especially in the early rounds. I'm really perplexed about how you give (Rua) [Round1], because Shogun was kicking (Machida) a lot in the legs, but every time he kicked him in the legs, he got hit in the face. Shogun would put his hand up, and Machida would go right through, sweat's flying off (Rua's) face. Shogun kicked (Machida) in the belly –- that's how he got the red mark. But you gotta remember, Machida is stepping back, so when he gets kicked, he's getting brushed. But he counters Shogun with a hard kick to the belly. Which one counts more for the exchange? I give it to the (second one), because it was harder. It wasn't brushed. Machida was controlling that round because he was dominant in not getting beat up in that round. He was the general in that first round. I give the fight to Machida in a very, very close fight. Now you're pissed off because it's my fault that you lost your money. No, it's not. It's Machida's fault. If you don't like it, you can go to hell."
Strong words. By his standards, he could have just had one really hard hitting sentence explaining his thoughts rather than a weak collection of sentences. Maybe if Cecil could come up with some sort of spreadsheet showing exactly what he looks for in a fight? Does one strong punch= 5 weaker blows that still connect? Hmph.
Dana White set the internet on fire last summer when he did his best Liu Kang impression on one of his vlogs and bit Sherdog reporter, Loretta Hunt, in half. Loretta wrote an article about how some of the fighter's managers aren't getting the same backstage access as others. Many sources suggested that perhaps Zuffa was trying to distance fighters from their management. Dana went off. His tirade was so hardcore that he took it off the web 24 hours later…but it's the internet, nothing dies.
The very next day, Dana issued an apology to anyone who was offended by any homosexual slurs. About a week later, Loretta Hunt appeared on ESPN's MMA live to discuss White's verbal explosion:
"Obviously, I can't deny that he made some personal comments towards me. He's testing my credibility in this sport, but this isn't personal to me. I'm a journalist, and journalists sometimes write stories that the subjects don't like."

"I don't think any human being should talk to another person that way. I think he was just trying to scare the press, which is what he does."
The media volley's continued with remarks from White:
"Honestly and truly I regret that I offended some people…When I say that, I'm talking about the gay and lesbian community."
Alright Dana, now what about Loret…
"I'm not concerned with Loretta Hunt. Loretta oughta apologize to me"
Oh ok, well that is pretty baller.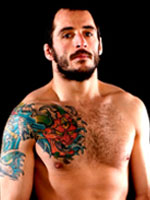 Nick Diaz was born to beef. Dude was probably gave the doctor a middle finger as he was coming out of his mother's womb. Somewhere in Stockton, California there was a handful of nurses getting an earful of trash talk from a mean mugging baby with a chin beard. It wouldn't be the first time Diaz talked trash in a hospital. After he threw down with Joe Riggs at UFC 57, the two combatants decided to hold their 4th round in a Las Vegas area medical center. Below are transcribed phone interviews straight from the gurney grapplers themselves:
Riggs: We were like going to get a room, and like he is always popping off, talking smack. I go down toward his end of the hospital to find a doctor so he could watch me pee in a cup for the boxing commission, and he comes talking smack. I'm like, go back to the WEC. You're bush league. You just got beat up. That's two in a row. You're out. I was just standing around talking sh#t to him. He was like, that's it, and comes out of his room. I had my hands down. He starts coming up to me. I just never in a million years thought he'd throw a punch. He threw a right hook and hit me right in the chin. I mean it hit me right on the button. I seriously can't say that I was knocked out, but I kind of went down to a knee. Then we just fought and scrambled. I put him against the wall and just Thai clinched and started kneeing the sh#t out of him. His nose was bleeding. I kept kneeing him, and they broke us up. That's all that happened.

My hands hurt so bad. I hit him in the forehead too. I was tired of hitting him man. I had to hit him again and I was like I don't want to do it any more. He wasn't done. He wanted to go a couple of more man. He was getting his stitches. He was getting stitched up and he comes flying out there. God. Dude. That is so unprofessional. There is no way he should ever be allowed to fight back in the UFC. That's what I would say . . . I had never met him before this weekend, so I wasn't talking smack in any interviews and stuff like that. I see him down at the fights and he is like, are you going to make weight? Are you going to make weight this time? I'm like, you better f#%king hope not. We're just going back and forth. I never met him before in my life, and he starts talking crap right off the bat.
Diaz: I'm in one room at the end of the hall, and he is at the other in of the hall with a bunch of people. He walked all the way down. I don't know if they sent him over there to get something from the nurses station. You know, because I was a little bit closer to the nurses station. I don't know if they sent him over there, or if he walked over there close to my room, by my room. When he did, he walked all the way over to my room, and I was like, what the f#%k are you doing over here?

Do you want to get your ass whooped or what? I was all, I didn't even say that. I started talking sh#t to him when walked over to my room. He was talking sh#t to me too, so I wasn't going to sit there in my room. I got up out of my room, walked out of my room, and I was like, what's up bitch. He threw up his hands and started doing his little Joe Riggs dance around and sh#t. I f#%king knocked him down. Then he got up and started trying to take me down. I turned him around. I put double under-hooks because he had a single leg. I put both my arms under his. I turned him because I'm hopping on one leg. So I hopped him on one leg, and I hopped him into the little office right next to the doors. You know, where the emergency doors open? You can't get in, but you can get out unless you are an ambulance or whatever. I would have hopped him through those doors; I should have hopped him through those doors and outside, should have taken it outside. But I hopped him into this room and I started punching him in his face up against this wall in this room.

And then the f#%king security ran in and grabbed me. I stopped fighting the security and sh#t. I was like, all right, all right, all right. I'm sorry. I'm sorry because they were about to tase us or some sh#t. Seriously, they were going to tase us. The cops came in. I figured the cops would have arrested us, but they were Nick Diaz fans or whatever. One of them got an autograph. They were like, hell no I'm not arresting this guy. He's my favorite fighter. I couldn't believe it. We were in Vegas, so I figured that is the reason why. I signed some autographs for the police. He was like, get your brother man. Get your brother man. Get your brother man, please. He was like, get your brother man. He's crazy. I'm like, f#%k you. He walked over to my side of the hospital, though. I didn't walk over there to his side of the hospital and try to fight him. I stayed on my side of the hospital. I stayed in my room. Okay?
In the future, lists will be made about Nick Diaz's top ten beefs…and that's the future I want to live in.



Ken Shamrock started to fight again after his brief pro-wrestling stint. He mixed it up in Pride and looked pretty good doing it. Don Frye thought he would take a whack at 'The World's Most Dangerous Man' but Ken turned him down. The exact reason was never revealed but Frye really wanted to bang with Ken to avenge his Dan Severn's loss. "The Predator" turned to some nasty mudslinging tactics to get the match to happen. He let the world know that Shamrock was cheating on his wife with a 19 year old girl. That's enough to make someone's brain explode inside their skull, but Frye went just a step further. He said that Ken's adoptive Father, Bob Shamrock, would be in Frye's corner along with his brother Frank. Ken turned red and a bunch of veins formed in his forehead…we're assuming.
The showdown finally happened at Pride 19: Bad Blood.
What resulted was one of the fiercest bouts in MMA history. Furious punches to the body were met by screams from the crowd. Neither fighter wanted to give the other an inch in the ring. Eventually it went to the ground where Shamrock had Frye in a vicious heel hook that destroyed ligaments and severely injured both of Frye's ankles in the process. Regardless of the damage dealt throughout the fight, Frye gained power from his mustache and won the split decision by a centimeter.
Ken Shamrock and Don Frye would continue their respective careers after this bout, but neither legend was quite the same. Frye fell into hard times and allegedly became addicted to painkillers which, some say, was the direct result of his match with Shamrock. Ken went on to Fight Tito Ortiz a lot. When asked about it years later, Frye cleared the air:
"I saw Ken Shamrock whoop him (Dan Severn) at UFC 6, and I thought, "That's a guy I gotta fight. Anybody who can whoop Dan Severn like that has gotta be a man, and I want to test my size against his size. I had the chance to talk trash, and they gave me the fight; I crossed the line. I wasn't professional about it, but Ken was, and after the fight, we shook hands and went our separate ways."
Almost a decade later and these two are still at it:
In the mid 1990s when MMA was still in it's infancy, Senator John McCain was shown a few tapes of the early UFC pay per views and made one of those 'Wait, what did I just step on? It was soft and squishy like a…what was that!?' face. The Senator from Arizona started a veritable witch hunt, famously deeming the sport as "human cockfighting". MMA has been trying to get from under that political response ever since. Over the next few years, McCain and other politicians began letter writing campaigns that put first graders to shame but garnered the response from athletic commissions and cable providers to stop showing the UFC events. It effectively blackballed MMA on television. In a Shakespearean turn of irony, the campaign that McCain spearheaded actually led to a unified mixed martial arts rule set in 2001 which ushered a new golden age for MMA.
Now 10 years into the millennium and we have 43 of the 50 states on board with MMA. There are still some states holding out *cough* New York *cough*. MMA was banned in New York in 1997 and has become a poster child for digging it's heels in against legalizing MMA. Firstly, you would think that if Boston legalized it, New York would immediately follow suit and secondly, for a state that is so in debt, a way to generate revenue in the state without raising taxes should bring these events to their respective arenas. According to one UFC estimate, an event could generate as much as $11.5 million if held in New York City and over $5 million for an event held in Buffalo.
Unfortunately, if we thought the battle for New York could be won just by having nearly every other state legalize and endorse MMA then we are sadly mistaken. NY has become the Alamo for politicians vs. MMA beef with the greatest enemy being assemblyman Bob Reilly, one of MMA's biggest haters.
"This sport is so violent it's no way to raise revenues"
He also said that he would consider introducing an alternate bill that would legalize the sport but tone down the violence, perhaps making it illegal to hit a floored fighter or to eliminate the use of elbows. Elbows we can understand. Strikeforce doesn't use them…but you can't strike a downed fighter? Isn't that called…K-1?
Check out this guy on Fox Fight spreading his agenda.
The cool moment of zen in this whole ugly story comes full circle with former NY Governor, George Pataki, who initially banned MMA in 2001, now reversing his position on the matter:
"With more rigorous oversight, training and medical requirements – mixed martial arts has made considerable strides to ensure the safety of participants".
There is hope yet.


This can all be boiled down to the "My dude is better than your dude complex". Combat sports tends to spiral into a whirlwind of beef until no one can even discern the origin of the beef or what they were arguing about to begin with. Is it the gloves? The rules? Ground game? Like the chicken and the egg, it's impossible to really pin down the roots of this beef, but it's there alive and well, like your functional alcoholic grandfather. Check out this video of Joe Rogan vehemently defending mixed martial arts on ESPN's Sportscenter.
Boxing, as much as some people don't want to admit, is a major part of MMA. It's a friggin martial art. What a lot of people need to understand is that it's not about 'MMA dude' vs. 'Boxing Dude' in a ring/cage. Just because Michael Jordan made a jump to baseball doesn't mean he would be a good wide receiver in the NFL. Athletes are athletes and with that comes bravado, but the real damage is done by the media and the handlers of their respective combat sport. Maybe I spoke too soon. Check out this video of Bernard Hopkins calling out MMA on it's 'homosexual-like' undertones.
And how can we forget our old buddy, Bob Arum. Check out this interview by AOL's Ariel Helwani.
First off, a big rest in peace to Ryan Gracie. If he were still alive, I can only hope this would bring a smile to his face. If you've been following MiddleEasy, then you're well aware of this beef (and if you haven't, click here to get up-to-date). This beef had it all. A Gracie, Wallid Ismail, a fashion show, Pepe Beach…and fanny packs. Most importantly the beef produced two of the greatest interviews of all time: