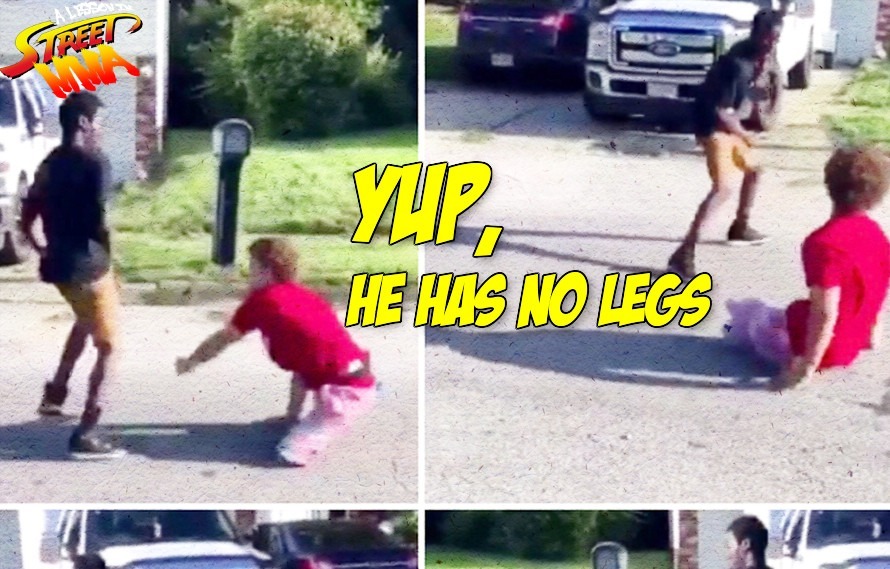 Oh and you've seen a lot of Street MMA fights where one dude has no legs? As objective, Street MMA journalists we are trying to cover this fight in the middle of the road without bias. No rooting interest. Straight down the middle.
But oh my God that dude has no legs, no fear and balls of steels. *In our best Joe Rogan voice* "That guy (with no legs) is my hero."
A part of us, the evil part, asks why didn't his opponent just soccer kick him in the face but sometimes Street fights are about respect. Even if you have little to no takedown defense, there must be respect. Without a Street fight code of conduct are society will crumble from the inside out.
Respect to that guy for for not soccer kicking the dude with no legs in the skull. Also props to the guy for getting taken down over and over again for our enteratinment. We are not laughing at you, we are laughing with you.
To be honest our dude in the black shirt was in a no-win Street MMA situation. If you win, you're the asshole who just beat up the kid with no legs in his front yard. Then again if you lose, the world watches with their jaws wide open as our hero with no legs single legs you into the pavement.
Damn and he talked smack as he was mounting you while throwing punches? Jesus, no legs and a cold heart.
Can't stop watching this video of a dude with no legs score multiple takedowns in the streets. We can't. Close up The Internet, we're good for the rest of the day.
So there was a fight after school today vs a kid with no legs 💀😭 pic.twitter.com/3kugblspxz

— tunahs (@tunahss) August 16, 2018