A Lesson in Street MMA: All the 2016 Black Friday shopper vs. shopper Street MMA fights in one post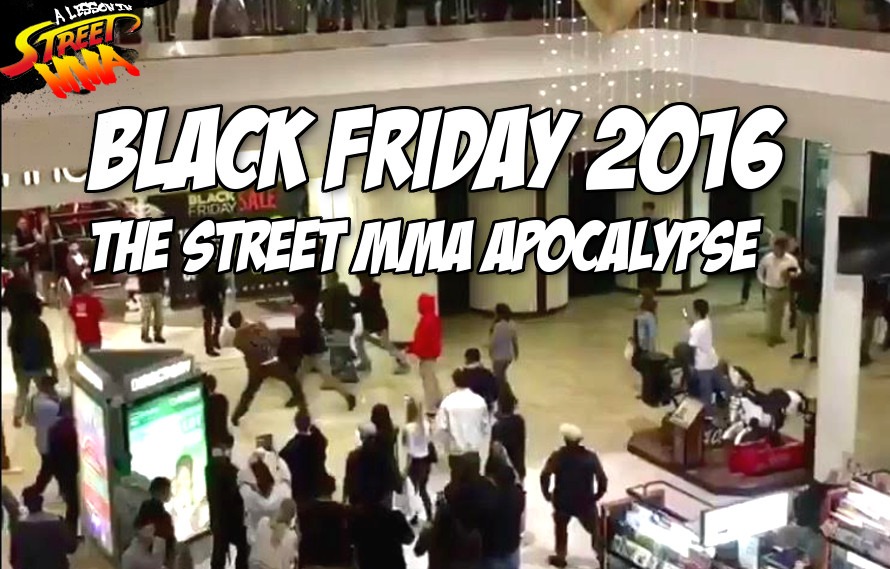 There is nothing more American than Black Friday Fights. Nothing says the 2016 Holiday season is upon us like strangers punching each other in the face in the name of a good electronics deal. Black Friday fights started slow in 2016 but as the unwashed masses wake up so does their thirst for violence and savings.
Throw 12-6 elbows for that shower clock radio. Stockton Slap the shit out of someone in hopes of getting that last lightly used DVD player. Soccer kick your downed opponent if he tries to grab that bread maker from your cold exhausted turkey glazed hands. This is Black Friday Street MMA and all rules of human decency are tossed to the curb for at least one day out of the calendar year.
Presented with little comment, here are the best cases of Street MMA that have happened so far on Black Friday 2016 AKA The Street MMA End of Days
1) 30 man over the top rope Street MMA Royal Rumble
At this point, #BlackFriday is basically just another excuse for thugs to stage mini-riots. pic.twitter.com/47zSlwk85o

— Paul Joseph Watson (@PrisonPlanet) November 25, 2016
2) Soccer kicks are legal in front of Macy's
3) Those old school Jon Jones elbows create shopping space
4) Mini-mall Street MMA = the fastest growing sport in the world
3,2,1! #PnPBlackFriday madness hits South Africa NOW! https://t.co/4Y7c6Vh1Yf pic.twitter.com/hVPTzt0x79

— Pick n Pay (@PicknPay) November 25, 2016
5) That Black Friday clinch battle
6) Stockton Slap folks until you get the savings you deserve
More updates to come as the consumer violence rolls in
Update 1: Cage Malfunction
What a K@K fight! @ewnreporter Chaos over toilet paper. CE #BlackFriday pic.twitter.com/7B1apKs9RO @G_Skev @AkiAnastasiou @PoppyIsMyName https://t.co/Fi9LgP3ili

— Jay J Botes (@jayjbotes) November 25, 2016
Update 2: ……………
"I WILL FIGHT ALL OF YOU"
"Here you go"
"Why Thank You, dear :)"
Update 3: Oh my (fight) God. Tag-team Street MMA fight spills into the check-out line AND the Subway located inside your neighborhood Walmart