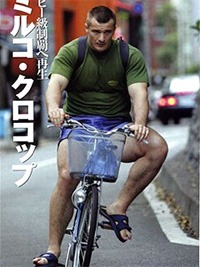 About a decade ago, I found out that Santa-Clause wasn't real, but Mirko Cro Cop is. I've slept with one eye open ever since. I used to have nightmares about a Croatian Southpaw who could make 300lb+ men fall to their knees and cry with a single left kick to the mid-section. Imagine my astonishment when I turned on K-1 and saw Cro Cop decapitating people with the most powerful left leg in the sport's history. Suddenly the 6760 miles that separated New York from Tokyo didn't seem far enough. Leave it to reality. It always has a way of letting all the bad stuff hurt you, while keeping good things at a metaphorical arm's length.
Today, MMAScraps Radio is reporting that Gilbert Yvel will now face Ben Rothwell while his scheduled opponent, Pat Barry, faces-off with Mirko Cro Cop on the main card of UFC 115 in Vancouver.
Barry vs. Cro Cop is a fight that could have went down this past weekend at UFC 110 when Ben Rothwell dropped-out of his fight with Cro Cop with a mysterious stomach bug in Australia (damn Vegemite…), but Pat Barry couldn't get medically cleared in time. Luckily, this fight is finally going to happen. Both fighters have decorated K-1/Kickboxing careers; so this will be just like the old days, except with 4-ounce gloves and a much more Canadian audience. In the meantime, the war-of-words leading to the fight should be entertaining.