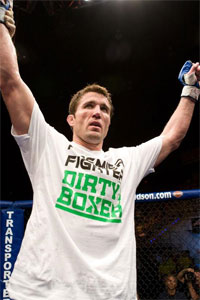 Before Chael Sonnen even stepped in the cage with Nate Marquardt at UFC 109, he was throwing every verbal dagger he had in Anderson Silva's general direction. Chael wanted us to not buy into the 'Anderson Silva hype' before he was even remotely close to a title shot. In an interview held six-months ago, Sonnen said that if you're a fan of The Spider, then you're living under an elaborate delusion.
"That guy's no more the top fighter out there than Bigfoot is roaming the woods. That is an absolute myth, and all these guys can buy into it, but there's a young man out in Portland, Oregon, that is not signing up on that bandwagon."

"It's quite ironic that all the media comes on and talks about how great this guy is for reasons that are completely un-understandable to me. How great Anderson Silva is, and all of us fighters are in the back going, 'jeez, they're out there massaging his ego, Anderson hates them so much, he pretends he can't understand them.'

"If Anderson ever signed to fight me, which is highly unlikely, he'll be getting a verbal beating like you've never seen. And his language barrier won't be the point of interest."
Props to Chael Sonnen using the elusive 'un-understandable'. That's one of those words you keep in your back pocket and only use when you want to make someone's head spontaneously explode from grammatical error. Now we're just twelve-days away from watching the middleweight bout that we've all bee salivating over for the past few months. If your blood pressure hasn't elevated, you're in good cardiovascular health. Keep it up. But if you want it to shoot through the roof and potentially risk having some sort of heart-attack, check out this UFC 117 promo video.