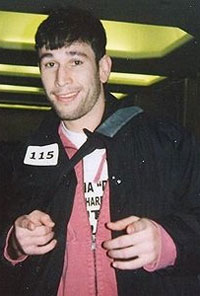 Hey, so I heard you like witty college-themed sitcoms that take place in imaginary universities. I think I got something for you, it's called Blue Mountain State and it's the only thing I remember from UFC's Fight Night 20. I think some fights happened and there's some movie named 'Legion' that apparently we should all see. It involves a grandmother and some angel thing with wings (because most angel things have wings). I knew I was excited all day for something but after SpikeTV's first commercial break, I felt my brain going a little numb and simply forgot why I tuned in. Give me a minute to rewind my DVR…ah, damn there it is. UFC was on tonight.
Hidden deep within nearly two hours worth of commercials were four pretty exciting fights, all of which guaranteed to ruin any hint of a betting parlay you had tonight. UFC Fight Night 20 started off with thousands of chicks across America tweeting exactly how hot Amir Sadollah's mullet looked as he evaded nearly every strike from Brad Blackburn. The fight was a lesson in why I will never be an MMA fighter. Amir essentially connected at will but just couldn't fully penetrate Blackburn's lead coated skull. Sadollah won a convincing unanimous decision (all judges scored the bout 30-27) and just as Amir was about to get on the mic for a post-fight interview, Mike Goldberg informed us that a sneak peak of Blue Mountain State was coming on and the broadcast was cut to a commercial of 'Legion'.
We knew Tom Lawlor had a pretty killer entrance for tonight, Seth Petruzelli even teased us with it on Twitter. It would have been hard for Lawlor to follow up his UFC 100 entrance with Seth on a dog chain or his impression of Harold Howard at yesterday's weigh-ins. I'm sure Tom Lawlor had an amazing entrance, but due to time constraints and the desire of SpikeTV to get us to watch the sneak preview of Blue Mountain State…we will never know. In a brutal three-round brawl, the fight went to the cards and Aaron Simpson barely nudged out Tom Lawlor to grab the split decision. Tom Lawlor later apologized to all of his fans for not grabbing the finish. No need to apologize Tom, anyone that comes out as the 'Just Bleed' guy automatically moves up the list in 'People I want to be like when I'm older' list.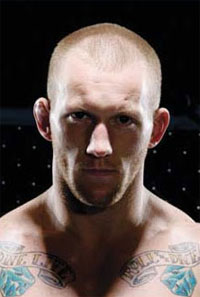 Third fight of the night involved a guy that used to live in the same apartment complex as a couple of guys at MiddleEasy.com. I happen to be one of those guys and I do remember going to his Star Ranch building to grab a red cup and stand in the corner like the random guy I was. Last week, we interviewed Efrain Escudero and he told us the nerdiest thing he's into is 'Gang Life'. When you get paid to render people unconscious, I guess 'Gang Life' is pretty nerdy. We were looking for an answer like 'assemble 500 piece jigsaw puzzles'. Just shows how nerdy we really are. Efrain appeared to be thoroughly winning the fight but in the third round, Evan Dunham managed to get Efrain in a nasty armbar that…eventually…made Efrain tap. Dude waited till the absolute last second and that's how you represent Star Ranch Building 2 to the fullest.
The final fight of the night was a rematch from The Ultimate Fighter Season 5. Gray 'The Bully' Maynard vs. Nate 'The High school Bully' Diaz. In the first round we were granted to see both fighters raise their arms in the middle of the cage and call each other a plethora of four letter words. It was like we were in elementary school recess all over again. The fight went exactly as you expected, a flurry of punches which some connected…others nearly hit a low flying aircraft (Michael Schiavello style) and at the end of the fight we were once against presented with a split decision. This time, it went in favor of Gray Maynard and just as he was about to make his post-fight speech…Blue Mountain State was thrown in our face like a speeding ticket in a school zone.
That's pretty much how UFC Fight Night 20 went down tonight, minus 97% of the commercial interruptions. Props to the whoever ran ZUFFAs television marketing tonight. Give that guy a friggin raise and a pat on the back (then an elbow in the face from every MMA fan that will have Blue Mountain State ringing in their ears for the next six days).