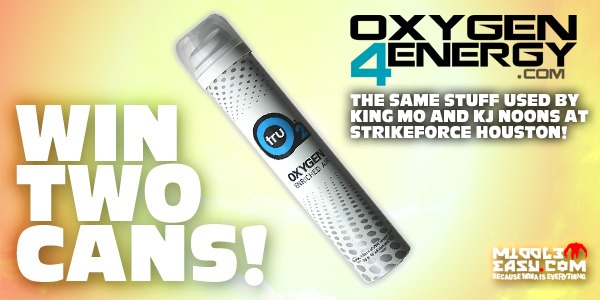 Now it's your time to shoot oxygen directly into your mouth and have the entire MMA world question the legality of it. We now know that King Mo and KJ Noons used canned oxygen at Strikeforce Houston and that it was approved with the Texas Department of Licensing and Regulation. We even asked King Mo about the infamous can that spawned Oxygengate 2010. Starting today, you can win two free cans of the same canned oxygen used by King Mo and KJ Noons!
Oxygen4Energy and MiddleEasy will award ten winners a chance to shoot two cans of enriched air directly into their lungs free of charge. To win, you must be a registered member of MiddleEasy.com. That's it! To register, just go to the right side of this page and click 'Register' or alternatively, you can just click here to sign up.
A winner will be randomly selected each day for the next ten days from the list of MiddleEasy registered users. You must live in the United States to win, sorry international guys out there.
If you can't wait to get your hands on one of these cans, they're currently offering a buy four get one free deal on their site. Someone out there needs to let Dan Quinn know this stuff exists for the sole reason of having a Stevia/Canned Oxygen inspired Youtube video.
Good luck! Winners will be posted here at 7pm PT daily for the next ten days. Check back to see if you're one of the lucky winners.
| | |
| --- | --- |
| Winners | Date |
| SpilledBagofIce | 08/24/2010 |
| Blackula Jonez | 08/25/2010 |
| I_enjoy_a_warm_bath | 08/26/2010 |
| docpye | 08/27/2010 |
| bonelessthurs | 08/28/2010 |
| Kimura77 | 08/29/2010 |
| TEAM_TITO | 08/30/2010 |
| jUSTINsANE5x | 09/01/2010 |
| OB. | 09/02/2010 |
| ohhjustme | 09/03/2010 |