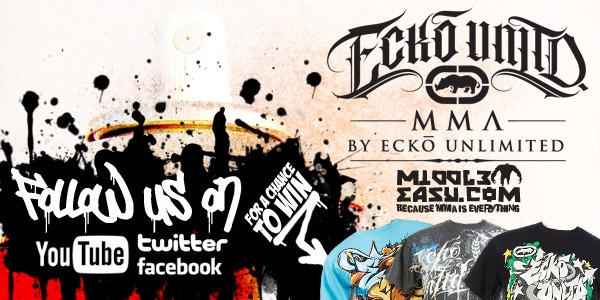 It's that time of the year when mosquitoes relentlessly rip at your flesh, the sun drains all your ambition and daytime television serves as a steady reminder that you should get a job. Put aside that Starbucks application for one more day and enter our Social Networking Contest sponsored by Ecko Unlimited and MiddleEasy. Winners will receive free Ecko Unlimited gear which will undoubtedly make this ridiculously hot summer just a little bit cooler.
Contest Rules:
To enter is as simple as 3.14. One contest entry will be awarded for doing each of the following…
On Twitter: Follow @EckoMMA and @MiddleEasy and tweet the following message: " Follow @EckoMMA AND @MiddleEasy for a chance to win FREE gear! RT and follow to enter! http://bit.ly/alCgMp "
On Facebook: 'Like' EckoMMA and MiddleEasy on our Facebook Fan Page and click the 'Suggest to Friends' button on the upper-left of the page. Suggest each of our Facebook Fan Pages to a minimum of 10 friends.
On Youtube: Subscribe to MiddleEasyTV and EckoMMA and favorite three videos on each channel.
Bonus Entry: Retweet or 'Like' this contest page to gain another entry into the contest. The two buttons are located on the upper left side of this page just below the title.
That's it. Each social network will get you one entry into our contest and one step closer to getting you free Ecko Unlimited apparel.
Submission Rules:
Feel free to enter as many times as you like. This contest is only open to residents of North America but if you're from another country, we still love you. A winner will be selected on August 5th, August 12th and August 19th. The USD amount of each prize has not been determined, but I can assure you will not be disappointed.