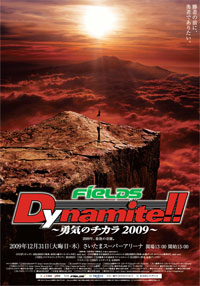 I wonder what the over/under is on the cost of medical expenses from all the epileptic seizures that will be caused by looking at Shinya Aoki's pants tonight. It's like the dude sent his pants to the Carebear's Art and Science Institute, got them back and rinsed them in a rainbow. If Crayola and Spandex got drunk one night and hooked up, it's offspring would be Shinya Aoki's pants. Whatever happens at Dynamite!! 2009, just remember that it comes on tonight (sort of in the morning) at 3am ET/12pm PT on HDNet and it will air for seven friggin hours. You can't miss this. Call in sick tomorrow, reschedule your paternity test…do whatever you have to do but you cannot miss this. No excuses.
Here is the finalized card…well, so far.
MMA Bouts:
Satoshi Ishii vs. Hidehiko Yoshida
DREAM Super Hulk Grand Prix 2009 Final: Ikuhisa Minowa vs. Rameau Thierry Sokoudjou
Gegard Mousasi vs. Gary Goodridge
Alistair Overeem vs. Kazuyuki Fujita
Katsuyori Shibata vs. Hiroshi Izumi
Kazuo Misaki vs. Melvin Manhoef
Hayato Sakurai vs. Akihiro Gono
Shinya Aoki (DREAM Champion) vs. Mizuto Hirota (SRC Champion)
Tatsuya Kawajiri vs. Kazunori Yokota
Hideo Tokoro vs. Jong Man Kim
Hiroyuki Takaya vs. Michihiro Omigawa
Norifumi Yamamoto vs. Masanori Kanehara (SRC Champion)
K-1 Bouts:
Masato vs. Andy Souwer
Ray Sefo vs. Yosuke Nishijima
K-1 KOSHIEN 62kg Class Tournament Semi-Finals:
Shota Shimada vs. Katsuki Ishida
Hiroya vs. Masaaki Noiri
Reserve Fight: Tsukasa Fuji vs. Tatuya Kusakabe
Final: HIROYA/ Masaaki Noiri vs. Shota Shimada/ Katsuki Ishida
In honor of tonight/morning, here is 'Baka Survivor' for your audio and video pleasure. Consider this my after Christmas present, feel free to return it though…I left the receipt in the box.