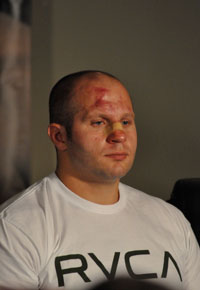 Everyone is finally back home (except for our interviewer, he's floating around in Canada somewhere) but due to an over abundance of rawesomeness that was the Strikeforce: Fedor vs. Rogers fight weekened, we were unable to spill some MMA knowledge in your direction. While we were in transit to the airport the news broke that Cung Le will be facing Scott Smith in the December 19th Strikeforce card entitled 'Evolution' (because evolution is always a cool word for anything). Jacare vs. Matt Lindland have also been confirmed as well as King Mo who is fighting some guy named TBA (he looks pretty raw though).
At the post-fight conference, Joost Raymond opened up with 'When's the last time you saw a fight like this with UFC?'. Scott Coker mentioned he's going to sign a couple of heavyweights that would be adequate competition for Fedor and Rogers in the next seven days. The only two guys that I can think of is Jeff Monson, Bobby Lashley and Gilbert Yvel. That's actually three…and four if I add a guy like Pedro Rizzo. Hell, five if I add Minowaman. Ever since Dream and Strikeforce came together like Voltron the potential matches for any division got thrown in the 'Oh wow' category. At the post-fight conference, Scott Coker even said that he would like to see Jake Shields vs. Mach Sakurai which, obviously, everyone cheered for. Microphone got shoved in Mayhem's face and he believed that he tapped Jake Shields before the bell rung. Shields said that he didn't try to fight the RNC too hard since the clock was about to expire. Someone asked what's next for Werdum, his translator shot back with ' Werdum says he already fought Overeem in Japan, he doesn't want to fight him again. He wants Fedor'. Josh Gross from SI.com asked Werdum if Big Nog couldn't submit Fedor in Pride, what makes you think you can? Fabricio said something along the lines of 'My Brazilian Jiu-Jitsu is stronger'. Coker being the diplomatic CEO he is said he didn't know if Werdum would fight Overeem. Werdum then spent the entire rest of the post-fight press conference balancing a Polant Watches hat on top of a Aquafina bottle.
Quote of the post-fight presser came from Jake Shields when he said 'Cung Le wont fight me, that's why he vacated the belt and rejoined Strikeforce a month later.' Cung Le then said he's honored to get dissed by Jake Shields. Spoken like a true fighter turned actor turned back to fighter. Fedor and Rogers finally came in, Fedor's face was pretty busted up and Rogers eyes were filled with tears. Brett said he didn't agree with the stoppage but was abruptly cut-off by his trainer who simply said 'Brett didn't show up tonight'. Brett added that if he threw more punches, it would have been a different fight and that he would go to Japan to fight Overeem for the title.
Alright, now hopefully everyone is up to date and MiddleEasy can go back into it's 'ridunkulous unnecessary article' mode. It's good to be back and props to Rogers putting up a fight that went to the second round, something that a lot of people couldn't achieve.