I decided to sit down and try to imagine what the ultimate fighting game of all time could be like, check out my list:
The views expressed are from the author Desmond Madden who is an EA UFC addict and studying Software Development:
Pride FC Mode
Pride Mode was included in THQs UFC undisputed 3 and it was arguably one of the greatest things in video game history, it was beautiful to experience the majesty of Japanese mixed martial arts in the video game format and plenty of people have happy memories of role-playing as Bob Sapp.
Pride mode has been the most avidly requested feature from fans for EA to add in their UFC games; essentially it would allow you to fight in a ring and compete with the modified Pride rules (Knees/Elbows to grounded opponents) and the gameplay would be presented exactly as Pride was in all its Japanese glory, this would be easy to do as the UFC own all the pride licenses.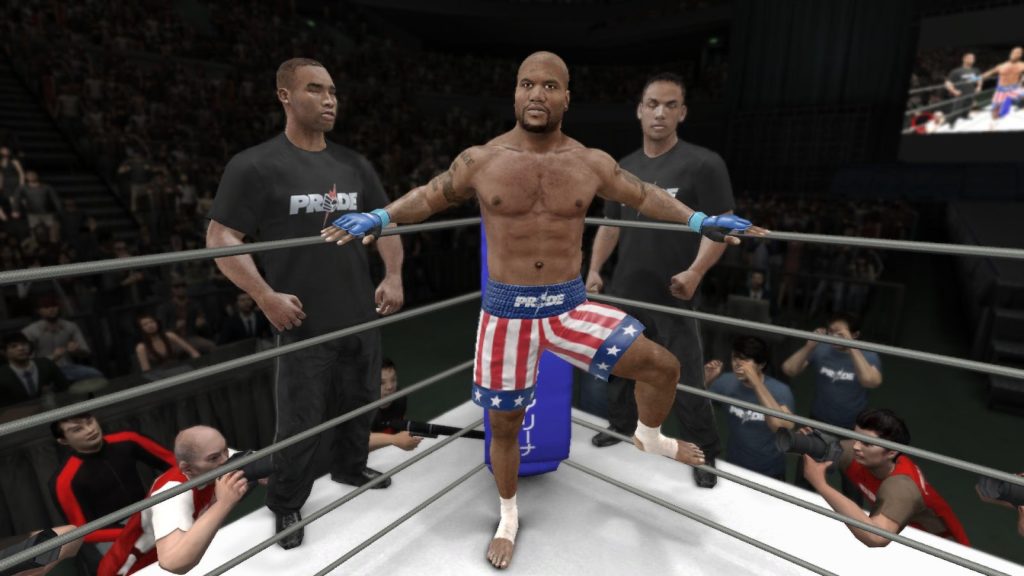 (Pride Mode in UFC Undisputed 3)
State of the art roster
When EA UFC 3 was released in 2017 many hard-core martial art fans criticized the games lackluster roster, people pointed out that many fan favorites such as Justin Gaethje, Mike Perry & Kimbo Slice were missing from the newly released game.  
Thankfully the EA team managed to continually support the game and brought more fighters to the game via free updates and managed to please the fans in the process. Hopefully when UFC 4 is released all fan favorite fighters are in the game on the release date and more legacy fighters are included.
Play as your favourite Icons in their prime with the #EAUFC3 Icon Edition. Available July 3-17 👉 https://t.co/KzdMoHsBzv pic.twitter.com/qDeF7AAHOA

— EA SPORTS UFC (@EASPORTSUFC) July 3, 2018
(The roster was continually updated)
Journey Mode
One of the heavily marketed aspects of UFC 3 was its career mode. The career mode was a huge improvement over previous iterations but still failed to fully immerse the player into the story and experience of becoming an octagon legend.
Some popular EA Sports franchises such as Madden NFL & FIFA have implemented a "Journey mode" which tells an actual story through in game cut scenes and dialogue options, UFC 4 should try to include a journey style story mode.
The story mode could be a rocky-esque story, featuring the experiences of training at an early age, getting involved in street fights and gang crime, fighting on the regional scene as an amateur all the way up to rising to UFC stardom and gaining the GOAT status.
(Imagine this, but UFC)
Frostbite Engine / PC & Nintendo Switch Ports
In order for EA Sports to create the journey mode for FIFA & Madden NFL they needed to utilize the Frostbite 3 engine. Without going into the techno mumbo jumbo, essentially the Frostbite 3 engine allows game developers to get better performance from video game consoles; which means they can do bigger and better things with their games.
If EA decided to ditch their current game engine and use the frostbite engine for EA UFC 4 they could likely make the graphics better, they could also offer 4K support for the Xbox One X & PlayStation 4 Pro consoles. It's also more of a possibility that they can create more animations. It even opens the door to PC and Nintendo Switch ports; if EA would be willing to release the game on said consoles.
Mild Stand-up Refinements
UFC 3 promised a revolution in MMA games through the use of its real player motion technology, although once release time arrived most people hated the new system and it garnered tons of criticism from hard-core UFC 2 fans. I personally trashed the game for weeks on end.
Though after a lot of patching and continued support from the development team UFC 3 slowly transformed into one of the best fighting games of all time. After a few months, the UFC 3 striking system felt completely different. After careful balancing and fine tuning from the development team the striking is now almost perfected.
When UFC 4 releases the striking system should be 100% perfect at launch and only contain small refinements; for example, in UFC 3 it can be a struggle to land knees and elbow strikes, this is something small that could be fixed in UFC 4.
Revolutionized Ground Game/Toggle Submissions
Whilst UFC 3 vastly improved the stand-up game, it retained the same old grappling system from UFC 2 albeit it did add a few extra layers of polish; such as the ability to get takedowns up against the fence.
In UFC 4 the ground game could be completely rebuilt from the ground up; the player could move their character around on the ground using the left analogue stick and transition using the right analogue stick, certain variables like stamina, position and where their weight is  will determine how fast you can transition between different positions, players could also be able to block transitions like they could by using the right trigger and correct direction with the right stick in UFC 3. This would make the ground game just as fluid and dynamic as the striking system is.
A HUD could also display a grade for each transition and offer advice if the player unsuccessfully blocks a transition I.E "Wrong direction on right stick" or to "Too Slow"
Players should also be offered the option in the settings menu to use the current version of submissions where you attempt to escape the speed gates or they can choose to use the old submission system found in WWE games and in THQs UFC games where you attempted to cover the other dot.
(Some players want to go back to the old submission system, give us the option)
Legacy Moments
In THQs UFC franchise they offered the player the ability to go back and relive famous MMA moments, the player was encouraged to replay the moment as true to life as possible and if they met certain targets they were offered gameplay rewards.
What made this awesome was that it was accompanied by the actual UFC promotional videos and came across as authentic to the player. With the UFC license this would be easy to do and would make a change from the conventional "Fight Now" game mode.
Title Run Mode
Title run mode was also a feature present in the THQ UFC games and it allowed the player to pick a fighter and try to win a title with the chosen fighter. So, you could pick eight fights and if you won seven in a row you were presented with a title shot at the end.
Most players will probably already play these imaginary scenarios over in their head as they play "Fight Now" in UFC 3 but it would be an easy addition to the game.
Career Mode Enhancements
The career mode in UFC 3 was a monumental shift compared to UFC 2s but it wasn't perfect. In THQs game they had real life gyms and coaches such as AKA, 10th planet Jiu-Jitsu and others and it made the game more immersive.
UFC 4 should contain real life gyms and coaches so that when you're playing career mode the real-life coaches like Eddie Bravo, Urijah Faber & John Kavanagh are in the actual corner offering instructions to your created fighter. They could even add real life managers into the career mode.
(Eddie Bravo in UFC Undisputed 2009; before he thought the earth was flat)
In career mode, the player may even choose to take performance enhancing drugs which will improve their attributes and fighter's overall skill rating but runs the risk of failing drugs tests which means they will be side-lined and their career length will be shortened.
Taking inspiration from the New Star Soccer mobile game; the player could be able to buy items such as houses and expensive cars which will improve their moral; if their moral is high they will perform better at training.
(New Star Soccer lets you buy stuff for your player)
Better Commentary & Presentation
The presentation of the EA UFC games has largely stayed the same since UFC 1. Whist other sports games have evolved, for example in Madden NFL the entire stadium is shown and aerial shots of the city and stadium are shown before the game begins, in games like NBA 2K the players are greeted to a pregame show from real life personalities. In FIFA, the crowd seems realistic.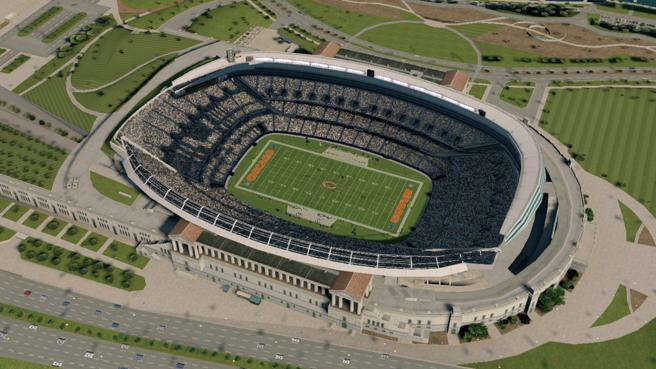 (Stadiums and aerial shots shown in Madden NFL)
In UFC 4 before starting a fight the players could be greeted to an actual prefight show styled after the FS1 show that actually happens in real life. Before fights Joe Rogan and Jon Anik could be talking on the side-lines about the fight before the fighters walkout. Nice aerial shots of Las Vegas could be shown if the fight takes place in the T-Mobile Aren or for whichever city the fight happens in. These are all things that would make the UFC 4 presentation incredible.
(Pregame shows in NBA 2K series)
Commentary is also something fans of the series have been critical of. In UFC 3; Jon Anik delivered an incredible performance but Joe Rogan rarely ever talked and seemed more monotone in comparison to UFC 2, so UFC 4 must have better commentary.
UFC 4 could also offer the ability to switch between commentary teams so if you're fighting in a European stadium John Gooden and Dan Hardy commentate, if it's a fight in MSG or the T-Mobile arena Rogan and Anik call the fights and if it's anywhere else like the Air Canada Centre or Jeunese Arena; the fights are called by Jimmy Smith and Jon Anik.
Corner Mode
In this totally hypothetical game mode the player could play through the career of a coach, (Something akin to manger career in FIFA) they would be tasked with making sure their fighter is properly trained for their opponent and when a fight is happening the player will have to press certain buttons to offer instructions on how their fighter is going to win, so if you're fighting against a wrestler like Khabib and your fighter is a kickboxer you could encourage them to use their jab and not kick or clinch.
Whilst the player controls their coach they view the fight from the first person perspective of the coach in the fighters corner; EA could even open up this mode to use virtual reality headsets like the PS VR, so the player could use their VR headset to watch the fight from the view of the coach to get an immersive view of the fight and to experience what it's like to be a coach.