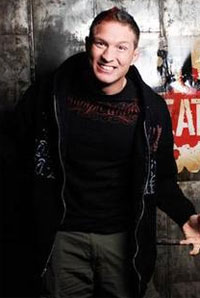 Receiving a screener of The Voice vs. Mayhem before it airs is the closest thing any of us can get to Christmas in July, a holiday filled with egg nog and gingerbread cookies. All of which are impossible to obtain in the summer. My only hope in 2010 is that we can all collectively agree to stop bringing hype to this stuff known as 'gingerbread'. In theory, gingerbread is a sell out bread. Gingerbread is incapable of making bologna and mayonnaise sandwiches. A gingerbread man can not be rolled together with ham to make a snack. Something went wrong in the bread factory that day. If I were a gingerbread man and I had a Christmas wish, it would be not to be placed in a horizontal line with men that look just like me and be baked alive.
I wish I could share this copy of The Voice vs. Mayhem with all of you. It's literally right here on my desktop surrounded by pictures of Carina Damm and Kyra Gracie. All of you guys will have to tune into HDNet at 10:00 PM ET to hear Mayhem Miller expand on exactly why he despises Nick Diaz. It's the type of hate that can only be produced though years of meticulous antagonization. Since you've already seen the video of Mayhem slamming Nick Diaz for being Nick Diaz, watch this video of Mayhem interviewing Nick back in EliteXC nearly three years ago.
The Voice vs. Mayhem Miller coming on tonight at 10:00 PM ET only on HDNet. If your cable/satellite provider doesn't offer HDNet, tell them you have a small mammal that you will throw off a large cliff if they don't start carrying the channel. Trust me, it works.