Before each event the commission and the organizers of the event usually go over the rules and discuss what they should expect to hear from the referee when they are in trouble etc etc. One of these people in a position of power need to sit these fighters down, put a reassuring hand on their shoulder and explain to them that the Eminem Curse will almost guarantee their loss. Last week we saw Bigfoot Silva get turned into a human horror movie by Cain Velasquez after coming out to the 8 Mile soundtrack, now just six days later at the TUF Live finale, Jake Ellenberger walks out to a track off 2002's The Eminem Show.
Jake Ellenberger what were you thinking?
You wonder how long this Eminem curse has been around? I remember people putting the pieces together after Shane Carwin walked out to 'Til I Collapse' against JDS. Maybe the more important question here is: why does Marshall Mathers hold supernatural powers over the fate of MMA matches? Baby steps. Fighters need to learn not to come out to his songs anymore.
After getting bloodied and beaten, Martin Kampmann came back in style and kneed the face of Jake Ellenberger to snatch the come from behind victory from the jaws of possible defeat. With comebacks like this and his last fight against Thiago Alves, Martin deserves a snazzy nickname like 'Komeback Kampmann' or something. Look at this .gif from the Zombie Prophet.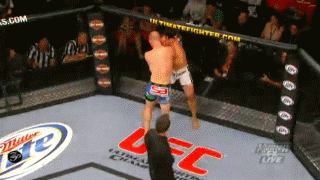 [Source]