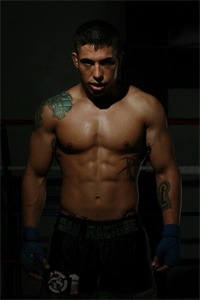 When we interviewed War Machine, we asked him if he had to pick between being a vampire or a werewolf which one would he choose. He told us vampires are the best and he's always wanted to be one. Maybe we should have asked him what type of vampire…the Blade type that rocks a a flat top and two horrible sequels or the type of vampire that likes to go to porn parties and knocks out their agent, girlfriend as well as a dozen other guys. We asked War Machine about his reputation for flipping out at parties, here's what he had to say:
When I go out all I want to do is get drunk and find some chicks, you know what I mean? That's all I care about. I'm always easy going but my problem always happens when all the other retards out there act stupid. Once I'm pushed over the limit and I'm passed the point of no return, I kind of snap and it's a wrap. I'm cool…as long as nothing happens. I try not to go out too much because of that.
Apparently one of 'those retards' acted up this past weekend at porn party and War Machine…well he had to equally distribute smack-downs. Here's an account from someone that was at the party.
…"This looked like something out of a bad Vince McMahon script as this guy War Machine went nuts and began taking everyone on at this party," The Vizier says. "We're talking multiple assaults and battery with the cops after him."

"War Machine's own agent, Derek Hay, looked to be the primary target with a couple of shots to the head. Mika Tan's Ex was KO'd as well & sent to hospital."

"I never saw anything like it," continued The Vizier. "War Machine was in kill mode. His fists were lethal weapons. Anyone who tried to get between him and Derek got taken down – hard."
Of course here is War Machine's official response which includes a hilarious and uncomfortable 'LOL' placed at the end.
And here's the expected 'I beat up my girlfriend too' bit from Terez Owens.
Update: I have in fact spoken to War Machine's Girlfriend Alanah Rae, who confirms that the former MMA star hit her across the face last night at Brook Haven's Birthday Party..She claims he then went on to pummel almost a dozen dudes including his own porn agent Derek Hay..who still remains in the hospital recovering…more to come. -TO
Congrats goes to War Machine for alienating another industry. Check out the pictures of the aftermath.
[Source]