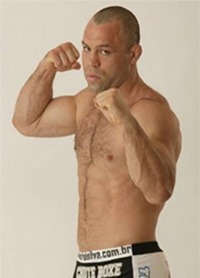 Look at that mug, tangible evidence of your visceral fear that one day you will be on the opposite end of a cage with a Brazilian that is known world-wide as 'The Axe Murderer.' The damage he inflicts on human beings is so thorough and violent, that the only description one could attain is to compare the damage to that of a killer wielding a heavy, sharp blade. He will extract blood from your torso, regardless if you've given him permission and fortunately for all of us normal humans out there, we won't have to worry about him knocking on our door and demanding our soul. We don't fight, therefore we don't even register in Wanderlei's plane of existence.
I'm sure you thought Brandon Vera would be an easy fight for Shogun Rua. We all did, including Wandy. Check out what The Axe Murderer said in an interview with TATAME regarding Shogun Rua's performance at UFC on FOX 4.
I've seen many people criticize Shogun's gas, but what people don't understand is this: Shogun was trying to rip Vera's head off since the first second. He wasn't missing any punches. He punched the guy hard. He got very close to knocking Vera out in almost all rounds. The power of his punches were amazing and it demands a lot of energy, so anyone who does a fight like that, especially a guy the size of Shogun… Shogun is a 220lbs guy. He fights at the 205lbs, but he's a 220lbs guy. He's almost like a heavyweight. He's a big guy, so automatically if you fight like that and being that size you're going to get tired.

Honestly, I thought Shogun would win easier, I thought it was an easy fight. Vera came really well prepared for this fight and Vera's a big guy, bigger than Shogun and Shogun is already a big guy. He's a heavyweight who came to fight Shogun. He made Shogun's victory big. I'm a fan here and I loved the fight, it was really exciting. Shogun went for it, punched the guy over and over and he handled the punishment and also punched Shogun. Shogun came back and punished him. He came a little dangerous but not a lot. He came back and knocked the guy out in almost 20 minutes of fight, punching a lot to knock him out. It was a really good performance of Shogun's. The way I'm standing, it was a "regular" tiring fight, due to what happened.
There, now you share something in common with The Axe Murderer. Congratulations. Enjoy it while it lasts.