Vitor Belfort's fighting frequency updating style is congruent to Jesus Christ. He may not come when he's called, but he's always on time.
The Anderson Silva vs. Vitor Belfort saga plays out like some screenplay that can only be written by Sherri Shepherd. For anyone that's not familiar with Sherri Shepherd, she's one of the co-hosts on that yenta show people call 'The View'. Her first month on the job, she was asked if the world is flat or round and she said 'I'm too busy feeding my kid to know'. I completely understand. If an asteroid was hurdling towards earth, nothing could come between me and my yogurt with the fruit at the bottom.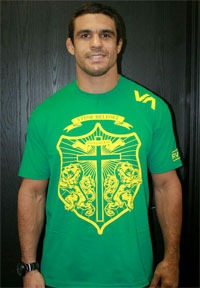 On September 25th, Anderson Silva vs. Vitor Belfort was announced for UFC 108. Everyone rejoiced, people celebrated on the streets of Brazil and Dan Henderson shrugged his shoulders and went back to grilling his fish tacos. Anderson Silva then issued a warning along the lines of 'Dude, don't stand with me' and Vitor Belfort essentially said he doesn't have the passion to fight Anderson Silva. Words started to fly and then we found out that the entire fight could be scrapped and days later…the card was in the recycle bin. The Portuguese magazine Mano a Mano (great name) broke the news that Anderson Silva vs. Vitor Belfort was moved to UFC 109.
Everything seemed kosher in the MMA universe until Anderson Silva told Portal das Lutas that due to a recent elbow surgery, the fight between The Phenom was off. Click here to read the entire quote otherwise continue to eat your roommate's leftover Chinese food. The bout was rescheduled for UFC 112 in Abu Dhabi and then Vitor Belfort dropped the news to TATAME that he had to undergo surgery. Demian Maia stepped in and we all remember how that went…a fantastic display of skill and precision (I still think Ando did nothing wrong in that fight).
UFC 117 then went down and we witnessed the 'fastest white Republican known to man' effectively dominate Anderson Silva for four rounds, only to be caught in an illustrious triangle in the middle of the fifth to force everyone to jump up in their living rooms like they were trying to evade a gang of roaches.
The fight was so incredible that Dana White instantly gave Chael Sonnen another title shot (which was scheduled to go down at UFC 125) despite being finished in his last bout. Vitor Belfort vs. Yushin Okami was slated for UFC 122 and the winner of that fight would get a shot at The Spider. Everything was going as planned, birds were chirping in the sky, the planet was rotating as normal and then Chael Sonnen was busted for steroids, consequently throwing a very large anabolic wrench into UFC's plans. Dana White scrambled to find a replacement opponent for Anderson Silva, which led him to The Phenom, Vitor Belfort.
Chances are Vitor Belfort would say the entire course of events leading up to this fight was 'God's will', but in this interview with UFC.com, Belfort says that Jesus will help him defeat Anderson Silva.
"My plan is to go in there to fight, I'm not gonna be dancing around. Anderson (Silva) is an expert [standing up] with kicks and knees and elbows and I respect that — but I'm not afraid of it. I think every day that I'm gonna win the fight, that I'm gonna push the pace. I have to look for the opening, look for the gap and if it goes to the ground I have to look for the submission. If we're [on the feet] I have to look in his eyes and know I'm gonna beat him. He's the champion and I'm the challenger, it's gonna be a lion facing a lion. It's gonna be a great, great fight. I'm about to accomplish my journey. In the name of Jesus I'm gonna leave [UFC 126] with a victory."
Now that Vitor has enlisted Jesus Christ to help him defeat Anderson Silva, I guess we can all say goodbye to the phrase 'The Evolution of the Fight Game' and instead, have to adopt the theory that MMA was magically created with the flick of Dana White's fingers. [Source]