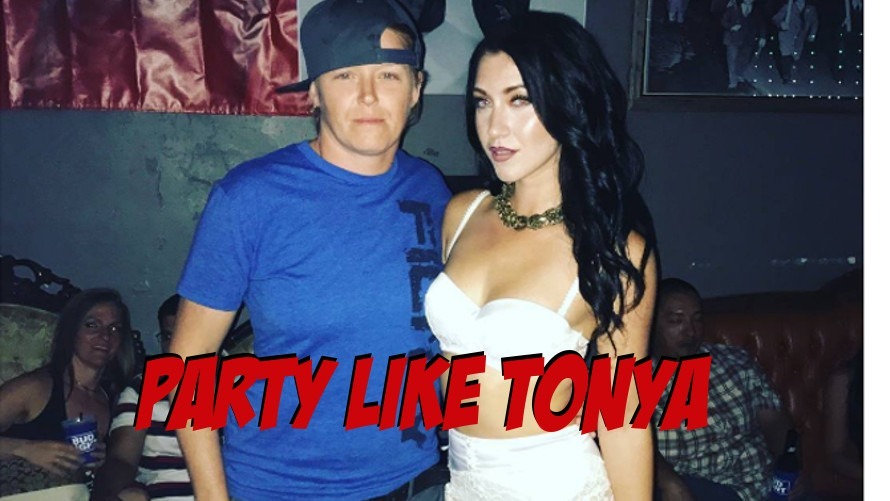 Tonya Evinger is the living spirit of Mixed Martial Arts.
If you needed proof of this claim, go no further than her Instagram page. A typical Saturday night for Tonya Evinger is the best night of nearly any MMA fan's life. For your consideration, I give you Tonya Evinger's Instagram feed from Saturday. I think you will see it perfectly encompasses a life we all wish to lead.
Her Instagram page privacy settings don't allow you to embed her shenanigans, but trust us, it's worth clicking the links.
The day starts off innocently enough with some silly high-jinks at the car wash. But very quickly escalates to the normal pre-pre-game boredom of watching TV and occasionally throwing a remote control at your buddy's ball sack.
Then, through the magic of social media, we fast forward to a bar. Where Tonya Evinger is force feeding a friend the weirdest cocktail garnish I've ever seen. But notice she is pre-gaming at noonish with a cocktail. Power move, Tonya. Shortly after that, Evinger found two ladies at the bar and enthusiastically suggests they share their affection for each other. The change in her tone of voice when she demands "these bitches make out" will echo through the pantheon of MMA history.
At this point in the day, things are getting loose, but Tonya Evinger's party is just getting started. It seems like this was a party appearance for a bar called Pearl Bar in Houston. It all started off innocently enough, but things seemed to escalate quickly.
First, the waitress begins appearing and she is only wearing lingerie. Then the lingerie wearing women seem to multiple. But just like when you go out, get too drunk, and think the bar staff is feeling you, Tonya picked a favorite. You can't hate on her taste in women, either. Naturally, Evinger got to that drunken point where the difference between photo and film is transitory.
*****Be forewarned, we are entering the region of NSFW videos. Keep it together. I have faith in you.*****
Then the entertainment begins. Which I guess at Houston gay bars means Jello wrestling. I'm not mad at that. And it seems like the crowd was fully on board for the stylish grace of wrestling on a bed of slimy sugar. This is pretty much what America is all about. Jello wrestling might be the only thing left to bring this country together.
Unfortunately for our hero, Tonya Evinger's great night was destined to end alone. It's happened to the best of us. A legendary night of fun is winding down, and you find yourself making out with a "straight" girl, when your wingman steps all over your game. Just terrible. Listening to Tonya dress down her friend for cock-blocking her makes me realize just how much Evinger and I truly are kindred of spirits.
https://twitter.com/tonyaevinger/status/896738133282365443
But all great nights have to come to an end. And after all those great highs, there has to be a few lows. Unless, your really pimping the game correct. And judging from the fact that Tonya Evinger had zero visible hangover and was chilling at a BBQ the next morning, I'd say she is crushing the game proper. What a living legend.