Video: Maryna Moroz and Cristina Stanciu have a respectful UFC nip slip Reebok wardrobe malfunction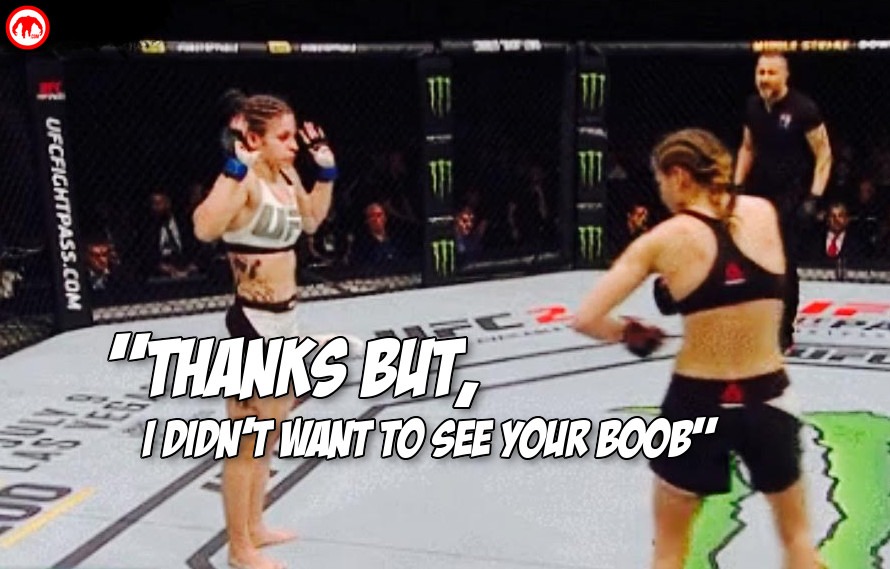 Oh Reebok and your Reebok made fight kits (uniforms). During UFC Fight Night Zagreb another wardrobe malfunction happened in a women's fight. Watch closely as Maryna Moroz and Cristina engage in a striking exchange, then disengage due to awkward results.
Silence. Questions. Then a #FreeTheNipple happens in the center of the Octagon. A real life Reebok fail happening right before our very eyes. In Zagreb, Croatia the "martial" in mixed martial arts stands for letting your opponent adjust her bra when her boob pops out. As real as a nipple slip gets.
[gfycat data_id="OrganicAmazingGroundhog"]
Nip slip?? #UFCZagreb

— CageFrog (@CageFrog) April 10, 2016
Titty slip and prolonged 69 position were the best parts of that fight. #UFCZagreb

— Christine Stanley (@KnuckleUp125) April 10, 2016
This is why Anik and Stann are great.

That moment deserved total silence. Let the nip get back into place. Move along. Nothing to see here.

— Suzanne Davis (@SoozieCuzie) April 10, 2016