Dear sir, you are no Just Bleed Guy. UFC fans have changed over the last 25 years and maybe not for the better. Are UFC fans too corporate?
What happened to the good old days where fans of the Ultimate Fighting Championship would show up with no shirts on? With not only their chest painted but also their foreheads? What happened to that dude smoking weed directly in back of the original Just Bleed guy?
We want to party with him.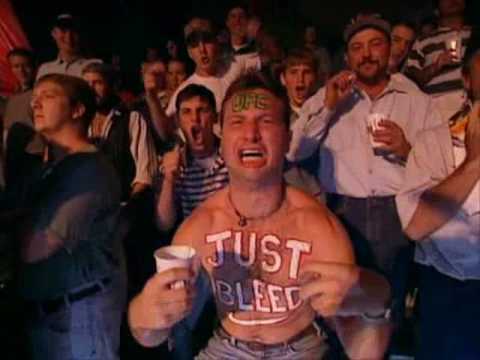 That's the type of dude who will hit on your significant other while you're in the bathroom, but rather than punch him in the face for it, you give him a fist bump out of respect for his insane efforts.
MMA is officially on ESPN and there may be no place for Just Bleed guy or his horny weed smoking buddy.
Instead the MMA community went wild for a crazy ass Paige VanZant fan on Saturday night. During the ESPN + portion of the UFC on ESPN +1 Brooklyn (if that makes any sense), the camera panned to a dude who was really excited PVZ won her fight.
Our man was hyped but when we first heard about him, we expected so much more. Why was he still wearing a shirt? Where was the alcohol? Why is his friend not smoking weed while also uncomfortably hitting on all the females in his section?
This is it?
MMA on ESPN cannot be this tame. The Just Bleed Guy is rolling over in his grave at this new breed of UFC fan. (And yes, we just assume he's dead by now, RIP).
This Paige VanZant fan isn't even the "hit him with the d**k twist" guy. SMH. MMA community, we need to do better.