Before Reebok became the official equipment provider of the UFC, the entire sport of MMA maybe had one or two wardrobe malfunctions in its history. But thanks to the fine folks at Reebok, who are still working the ins/outs of a sports bra, we've have at least five or so flat out UFC uniform fails during big time fights.
Weather its Clay Guida tearing apart his shorts or Urijah Faber's ass slipping out during a title fight, Reebok fight shorts and sports bras just really want you to see your favorite fighters naked.
From UFC Ottawa over the weekend both Joanne Calderwood vs. Valerie Letourneau laid it all on the line in the promotion's first female flyweight fight. Then in the third round, Fox Sports 1 became Not Safe For Work and briefly went from TV-14 to TV-MA. While Letourneau was defending another striking assault from Calderwood, she had to briefly pause from defending herself to put her breast/boob/nipple/ anatomically correct body part back into place.
Letourneau almost ate a lot more damage thanks to her officially licensed Reebok made UFC fight kit.
Oh, Reebok. Watch below for the exchange.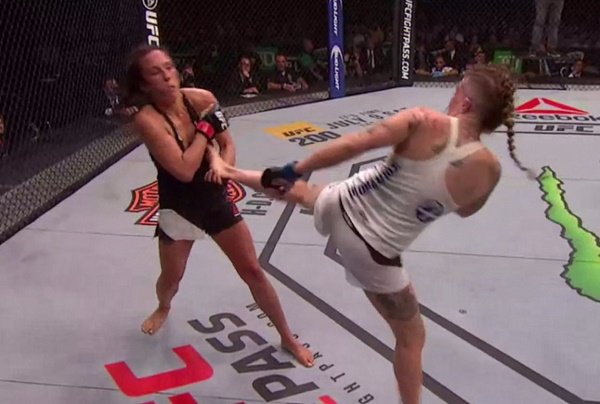 [gfycat data_id="GlumWebbedKitty"]
Update: Stats!!!
This probably isn't interesting to anyone but me, but I counted the times Letourneau stopped to adjust her top. pic.twitter.com/L9F3SzO47C

— Suzanne Davis (@SoozieCuzie) June 20, 2016
Join our list
Subscribe to our mailing list and get interesting stuff and updates to your email inbox.