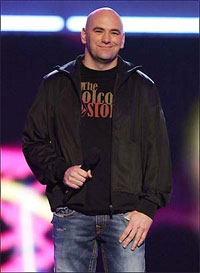 If MiddleEasy were credentialed for UFC in Afghanistan, I could think of nothing better to do than to spend a weekday covering an MMA bout in an international warzone. However, I've thought about it and I can find out about three-hundred other things I would rather do. All three hundred of those things involve not being in Afghanistan (and half of them involve Kristin Kreuk in some way). Ariel Helwani managed to follow Dana White all the way to the UAE to shove a microphone in his face in order to get a quote that the entire MMA world will feed off of for the next two weeks. Once again, Ariel was successful. Here's what Dana had to say about having UFC in Afghanistan.
Well we're working on it right now, we're hoping to do it in the next couple of months, bring a fight to the troops.

The big thing that we're battling right now is how we would air this thing to the rest of the world. We don't know if we will be able to shoot it or not. We might have to just go there and put that fight on and not shoot it which we've never done before.
So if a UFC event happens in a desert and no one is around to hear it, does it really make a noise? Props to Dana for hosting an event solely for a group of individuals that are more courageous then I will ever be (I don't even like taking a right-hand turn on a red light) but an absolute bummer for the fighters who rely on their sponsors to be aired on live television. [Source]