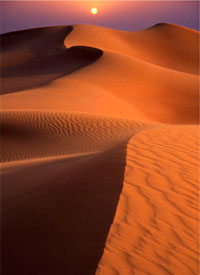 UFC 112 will go down in Abu Dhabi on April 10, 2010 and it is slated to be the first event in UFC history to be held outdoors. Outdoors, in the scorching desert heat of the Middle East in mid-Spring. It may not be that bad as that Wil E. Coyote image you have in your head. The United Arab Emirates is the same country that placed huge pipes under the beach to 'cool the sand'. That's pretty baller.
"We're going to have a big press conference in Abu Dhabi on Wednesday, with our new partners from the region, Flash," said Marshall Zelaznik, UFC's managing director of international expansion. "(Zuffa CEO) Lorenzo and myself will be there with some of the biggest names on the UFC roster. I don't want to give away the official announcement, but this will be a very unique show and not just because the card itself will be as good as any in UFC history."

The show is expected to be the first outdoor UFC event in history.
If you get turned down for UFC 112 media credentials, just take it with a grain of salt. It's better than watching it with a gallon of sand. The cheese factor on the site just increased by 10%. [Source]