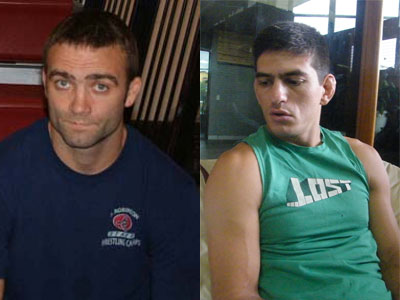 (Singing, er um "rapping"…in my lamest Slim Shady impression attempt) Guess Who's Back? Back again? Cathee's back…Tell a friend! OK, so I'm not really back…its my first time! Oh snap, I'm popping my MiddleEasy cherry with some fight predictions today, so be gentle. I'm a newbie.
Thiago Vs Volkmann
We all remember how Thiago KO'd 106 cardmate Koscheck don't we? Welp, me thinks that things are not going to go over in quite the same fashion as that lucky fight ending shot Thiago got last time. I'm thinking we should get a pretty unattractive submission ending fight out of this one as these two aren't winning any beauty pageants anytime soon. I give it to Volkmann.
Grove Vs Rosholt
Oh Kendall, how I love your sweet Hawaiian accent, but accents and pretty teeth aren't going to win you any fights. I just don't know here. Kendall really has to win this one in my opinion to save himself a spot in the UFC. He's a tall drink o' pineapple juice and with limbs like that he can be devastating on the ground if he stays confident. He doesn't take hits all that well though. He tends to forget where he left his balls when he starts getting hit though-so if Rosholt keeps it standing and gives KG a little punishment the win is his. I'm going with Rosholt.
Dent Vs Sotiropoulos
I say if Dent isn't feeling too overly emo he can take George. You can't really blame Dent for being kind of depressed though, he is from Madison, OH. That is enough to depress anyone. Believe me, I know I hail from a place not so far from there.
Larson Vs Foster
Come on…really. Larson.
Saunders Vs Davis
This fight is going to be like looking at the Caucasian version of Bushwick Bill and Snoop Dogg going at it in the cage. Saunders towers over Davis by like four and a half feet and has a tremendous reach advantage. Davis will need to stick and move because if Saunders gets him in the clinch, those knees will be able to put a hurting on Davis's chin while Saunders hangs out and chats with Joe Rogan outside the cage. Kind of off topic but I have to say that Saunders might be in the "doable" category- but those pork chops he has frying up on the side of his face have me all turned off. Maybe if he lays on top of Davis he can beard burn him into submitting? Naw…my money is on Davis.
Baroni Vs Sadollah
Oh Amir, the ladies we love you so. Amir is just so cuddly and lovable. I'm not sure how cute and cuddly coincide with getting into a cage and choking the life out of someone…Anyway, he rocked a mullet and somehow I still like him, so I'm giving my pick to Sadollah.
Cane Vs Little Nog
I like Little Nog, and I'm thinking that as long as this fight goes to the ground it should be his. Hopefully he doesn't try and box it out with Cane.
Koscheck Vs Johnson
Here is where the hair aversion REALLY kicks in…its tough for me, because the mess of hair that makes it look like Kos got attacked by the cotton candy machine at the state fair gets me all distracted. I need someone to photoshop a lowcut fade on a pic of Kos so I can pay attention to the rest of him which is prime USDA grade "A" filet mignon. As much as I want to like Kos for how much he continues to improve as a fighter, that hair makes my left eye twitch while my hand reaches for the Frizz-Ease. Please, tame that pack of rabid poodles that are humping your noggin Kos!
This one is truly going to be a battle though and could potentially get fight of the night. Johnson is impressive and I think even if Kos tamed those tresses I would still pick Johnson for the win. Johnson is a beast.
Ortiz Vs Griffin
I want to DQ Ortiz for wearing shades indoors. That and his neck does seem to be outgrowing his extra large sized head and it doesn't even seem like that should be physically possible! Tito is looking extra diesel lately and seems to have been training pretty hard for this one. On the other hand, if you get a chance…take a close look at the cauliflower garden growing on Forrest's ears. Looks to me like he acquired a few more florets! He might be looking to take Tito to the ground and sing him a lullaby. If this fight lasts more than 2 rounds, I think Tito might be toting too much muscle to keep up with Forrest's conditioning and Forrest will take it. Tito will have to come out blazing and finish Forrest off quickly to get the W this time.
Thanks for humoring me…I'll be tweeting (twatting) during the event.