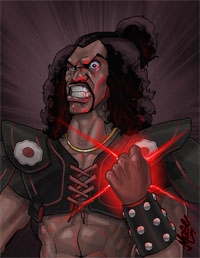 The MMA gods smile on MiddleEasy. I can't believe this is happening to me right now. The only thing that could even get close to surpassing the rawesomeness of this fight would be if Abraham Lincoln and Bob Ross fell from the sky directly in opposite corners of an octagon and strapped on their 4oz gloves. Everyone remembers 'The Last Dragon vs. The Dragon' article in which I predicted Bruce 'The Last Dragon' Leroy over Lyoto 'The Dragon' Machida by way of The Glow. If you don't know what The Glow is, don't even waste your time with the rest of this article. Go talk to Larry over there with the red flannel on. Just don't come on this side of the room because we're having a 80s rawsomeness party over here.
Seriously, if you don't know what 'The Glow' is then I suggest you call up your mother and let her know how horrible of a parent she really is. The Glow is what every kid tried to achieve. The Glow encouraged us to finish our plate of dinner at night. The Glow was the reason you would brush twice a day and floss as needed. If you were a victim of child abuse and never saw the best 80s martial-arts movie ever, here's a brief summary (you really should call up your parents though).
Sho'Nuff, the Shogun of Harlem ruled New York by breaking into movie theatres and terrorizing patrons with his Kayne West sunglasses and outfits made by the costume designer from Mortal Kombat. He also ruled the streets with something known as 'The Glow' which just makes everything you touch have a corresponding sound effect and a neat red LED glow. People were afraid of The Glow until Bruce 'The Last Dragon' LeRoy starts macking on this really hot chick and coincidentally protects the streets at the same time. Something happens with a boombox that eventually leads to a showdown between Sho'Nuff and Bruce LeRoy in an abandoned factory (give or take a few hundred pivotal plot scenes). After getting his head repeatedly dunked in a barrel of something (we're thinking its rawesomeade), The Last Dragon gets his glow back and uses some weird blue lightning to defeat The Shogun of Harlem. To top it off, dude catches a bullet in his teeth.
The new UFC 104 promo video aired this weekend and all we can say is thank you UFC for reading the site. [Source]