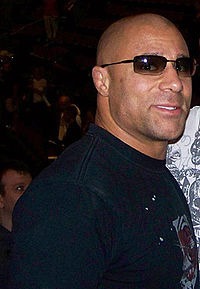 Frank Trigg is back in the UFC. Of course I can't say that without stating the blatantly obvious, 'Frank Trigg vs. Matt Hughes' needs to happen tomorrow. Trigg signed a four-fight deal with UFC but everyone (even your mother) is just waiting for one of those (or four re-matches). Just insert a UFC 99 1/2 and throw in Trigg vs. Hughes, Carwin vs. Kongo and Clay Guida vs. Blanka (which is like Guida fighting himself). Since Trigg is entering as a middleweight realistically his first fight should be against…well, I'm going to have to say Hughes. I'm pretty sure Trigg has spent the last few years of his life obsessing about avenging those two losts served via Hughes' rear naked choke. 
There's no reason this shouldnt happen tomorrow in the parking lot of a Dairy Queen. Throw up a cage, give me some ice cream and lets get this fight on! Congrats Frank Trigg for returning to the octagon. Read more here.
Join our list
Subscribe to our mailing list and get interesting stuff and updates to your email inbox.