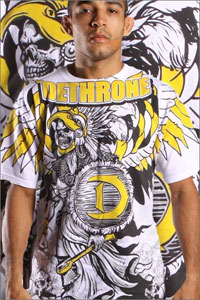 Tonight, Jose Aldo did exactly what Rihanna told him to do in his walk-out song and effortlessly ran Colorado by obliterating Manny Gamburyan with an inhuman amount of vicious ground and pound. I live a block away from Little Armenia in Hollywood, CA. I'm certain there are some households that are in disbelief after seeing their guy get manhandled in just 1:32 in the second round.
Got to give it up for Gamburyan. He seemed to be landing some rather decent shots in the first round and it even appeared that he rocked Jose Also with a right hook (although some will probably argue that he slipped). Keep in mind this was all before Jose Aldo realized that he was Jose Aldo.
The low kicks started to launch, Gamburyan's leg started to buckle and Jose Aldo managed to capitalize off an uppercut which sent Manny to the mat. After that, the worst possible thing that could possibly happen to Gamburyan — happened, and it only took a matter of seconds. Jose Aldo landed on Manny and unzipped a bag of right fists he kept hidden in his gloves. Herb Dean jumped in, and Jose Aldo celebrated by scaring the hell out of anyone that got in the way of his back-flip off the top of the cage.
We've already called Jose Aldo a frate trane. This is nothing new. Tonight was just his scheduled stop in Colorado. If you cross your fingers, he may stop at a town near you.