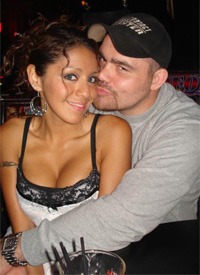 If they ever stop making sequels to God of War for Playstation, it means they've run out of UFC champions to model their level bosses after. On the flip side, it'd be nice if they never got around to making a boss that had Junior Dos Santos' punching power. It wouldn't make for a fun game.In fact, I could paint you a mental picture of how many times you'd smash your controller on the ground and punch holes in your wall out of frustration. Eventually, you'll pick up replacement controllers on eBay, and put some posters over the holes in the walls, but the disk would remain in the console and haunt you until you finish the game.
A smarter idea would definitely be to model the new end-boss after Tim Sylvia.
Back in the day, the scariest dude in the UFC was Tank Abbott. When someone knocked him out, that person became the scariest man in the UFC. Through some simple MMA math, Tim Sylvia eventually climbed to the top of the badassery food chain and reigned atop the division from 2003 to 2008. In fact he was undefeated until Frank Mir broke his arm, but rebounded to win the belt again and defended it three times. He maintains a very respectable (31-7) record and feels he's still capable of amazing things in your favorite video games and in the Octagon.
"I love to fight," Sylvia said. "I still want to do it. I still can do it, and I think I'm still one of the top 20 in the world."

"[Monte Cox] was in contract negotiations, we agreed to [the Cormier fight], and it was all going to happen," he said. "I just the thought that he was saying that because they wanted to release it; he didn't want the press to get the leak beforehand."

"So we just assumed that they had talked to both sides, ours and Frank Mir," Sylvia said. "And when Frank probably agreed to it they just understood that would be a better fight or look better for [Cormier], or even the UFC. I don't know. I'm just really disappointed in this whole thing, to be honest with you."

"Obviously, they thought about me, and they asked if I'd fight for them," Sylvia said. "So we hope they keep me in their mind. I'm headed to the gym right now. After my last fight, I only took two weeks off. So I've been back in the gym. My weight is down; I've been around 290, so if I was to get a notice within two weeks, I could cut the weight right."
There's a part of me that wishes Tim Sylvia got the second chance he was looking for, but mainly because I hate writing articles with credible sources only to find out that they aren't true a few hours later. Regardless of whether or not the UFC ever allows him to compete again, he vows to proceed forward like the software engineers working on God of War. He'll continue fighting at smaller shows and they'll continue beating a dead horse with a series everyone is sick of, but because we're closet fans of both, we'll continue to support them. [Source]