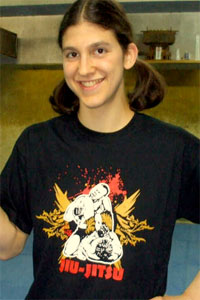 The World's Strongest Man just tapped to a 305lb Tim Sylvia. I think we have officially seen 'everything'. In fact, 'everything' was invented for nights like this. In the main event, we saw a 305lb Tim Sylvia not only get booed in his home town, but nearly fall face first backstage as he walked towards the cage. Mariusz Pudzianowski came out to his ritualistic Polish hip-hop/R&B fusion song by his brother who looks like an imitation version of Mariusz.
Bell rung, Timmy ran towards Mariusz and in a moment of sheer rawesomeness, Pudzianowski tossed Sylvia to the ground, Ubereem style. The place erupted, Mariusz jumped on top of Sylvia and within seconds Tim was on his feet, effortlessly tagging Mariusz with straight jabs. Mariusz couldn't find a way to close the distance so he tried the 'Let me hold my head down while my arms flail wildly in order to grapple with this guy' technique. Tim managed to get Mariusz in the clinch and deliver devastating knees to Mariusz's torso which must feel like a very large slate of some type of metallic alloy that is not found in this galaxy. Pudz somehow managed to survive the first round but early in the second, Tim dropped Pudz and with just a little bit of ground and pound, made Mariusz tap due to strikes. Bummer for The World's Strongest Man but even in Brock Lesnar's third fight, he lost to a former UFC heavyweight champion. Marinate on that.
The real fight of the night, if not the entire year, was Roxanne Modafferi's split-decision win over Tara LaRosa. I won't be surprised if tonight, the MMA world witnessed the greatest women's MMA bout of all time. Roxy dropped LaRosa in the first with a superman (superwoman?) punch, LaRosa dropped Roxy in the third round with a right hook and everything in between was filled with MMA goodness. It was like one giant Twinkie filled with an incredibly tasty substance that no one really knows the chemical composition of. Props to Roxy on her huge win and be sure to check back for our exclusive Moosin: God of Martial Arts gallery. Shameless plug, I know.
And the moment you've all been waiting for, Mariusz Pudzianowski and Tim Sylvia's head on fire for no apparent reason.
And, of course, the video. Props to devilman676 for the find.