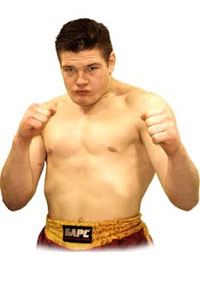 This weekend Alexander Shlemenko made his long-awaited return to the ring against Anthony Ruiz somewhere in Mother Russia. The Shlemenko you see here may be a rusty Shlemenko, (he hasn't fought since injuring himself in a car crash in April) but that doesn't mean he can't put the absolute hurt on Anthony Ruiz's facial area like only a Shlemenko knows how.
Marvel at the loud cracks of the punches landing on the hard dome of Ruiz, grimace as he takes shot after shot including a devastating knee that looks like it did this to his face. Smile as Steven Seagal and Oleg Taktarov enter the ring to congratulate the Bellator middleweight title challenger on a job well done.
MMA needs 10,000% more Oleg Taktarov. It's nice to see him here.
[Source]