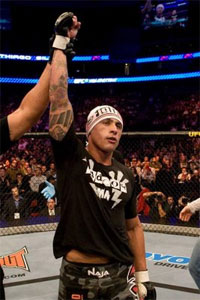 So we didn't get the technoviking entrance that everyone would have salivated over. But we did get to see a devastating left-hook knock…but it didn't come from the dean of mean. Thiago aced Jardine 1:35 in the first round and the dude is only 26 years old. For some reason, they had to tell us that Silva was beaten by his father and he lived in poverty when he was a kid. See, that's too much info. You might as well tell us what the name of his high school girlfriend was and at what age he found out that Santa Claus wasn't real.
Thiago Silva brings his record to 14-1 with his only loss coming from a guy that masquerades on earth as if he were human. His earthly name is Lyoto Machida, but we all know him as 'The last guy you would ever want to piss off'.
Congrats to Thiago Silva on taking out Keith Jardine. Somewhere in Eastern Europe, Technoviking is sitting on a sofa in disappointment. In about 5 minutes he will be grabbing an upside down bottle of water and dancing to horrible drum and bass.