If this cute, pixelated, Lyoto Machida somehow made his way into a mech like Biggs and Wedge in the beginning of Final Fantasy III (VI in the United States) I would freak out. The only entity that could defeat a 16-bit Lyoto Machida in a Final Fantasy mech is a 16-bit Jon Jones in a Final Fantasy mech. Even then, 16-bit Jon Jones would get the fight of his life, but in the end, Lyoto Machida is all out of Phoenix Downs. The more I stare at these guys, I think they may be a little more detailed than 16-bit. They almost look like they're from the PS2 era Fire Pro Wrestling. Man, I miss Fire Pro and putting Fedor Vs. Cro Cop in an exploding barbed wire deathmatch. But back to these cool dudes.
Peter Santha has dedicated an unknown and presumably shocking amount of time into recreating your favorite MMA fighters of the 90's, yesterday and today (that's my radio station drop about these digital fighters) and we have a bunch to show you here. Look at them. Don't you wish you could somehow play with each and every one? EA UFC: scrap your last 8 months of development, use these models instead. Nah just kidding. Kind of…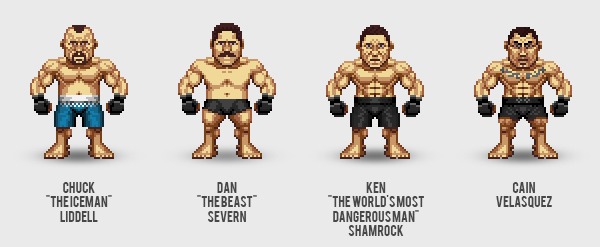 See more pixel fighters here!