The Parallel Universe Theory dictates the current universe we reside in is surrounded by a seemingly infinite amount of other universes, all filled with a seemingly infinite amount of possibilities. In short, whatever combination of actions that accumulate into a scenario can be found in at least one parallel universe. We don't know how to traverse these universes because humans are idiots. We can't even cure the common cold. However, those universes are out there and I've created a list of The Top Ten Alterations to MMA History That 100% Occurred in a Parallel Universe, only at MiddleEasy.com.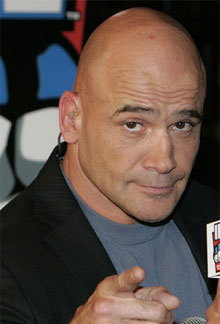 A couple months ago Bas Rutten appeared on Joe Rogan's podcast/Ustream, which is undeniably the greatest free entertainment of our generation. On the show, Bas retold a now infamous tale of an incident that occurred inside a Swedish nightclub sometime in 1997. If you're too lethargic to redirect your cursor to the video below, I'll attempt to retell Rutten's tale in the best Dutch accent I can possibly pull off.
Bas gets drunk one night and stumbles into a Swedish night club. Nothing about that sentence should surprise you. Rutten is known to occasionally get down in random countries. The story goes Bas was restrained by security guards and was told to leave the club because he was entirely too boisterous. Bas agreed, but wanted to find his friend who was still inside in the place. Apparently the bouncers were in the mood to pick a fight with El Guapo and begin to shove him around the hallway. Within seconds, Bas was throwing enough hooks to level all security personnel within the vicinity. After Rutten knocked out essentially everyone in the hallway he was trapped in, he realized that eventually the same guys he KOd would gain consciousness and continue to pursue him. Bas ran down the hall to make his escape but was cornered by the police department. That night he ended up in prison and he later discovered the court wanted to give him nearly a year behind bars. Fortunately, Bas Rutten had a friend in Sweden that eventually got him free.
However, in a parallel universe, the outcome to the story is vastly different and changed the course of MMA as we know it. As Bas mentioned on Joe Rogan's podcast, the reason why the court imposed such a lengthy sentence was due to one of the bouncers in the club serving as an actual police officer. That's right, Rutten clean-clocked a cop (try saying that five times fast, you can't do it). Under the Swedish Penal Code, gross assault comes with a minimum sentence of a year attached, and as of July 1st 2010, it will get you anywhere from four to six years in the slammer. Let's assume that in this alternate universe, Bas Rutten's friend never helped him. The officer (along with the fleet of security guards) pressed charges. Rutten faced nine months in prison but his sentence was extended by six months for sending five fellow prisoners to the hospital in a good, old-fashioned jail brawl. This would mean that Rutten's legendary 28-4-1 record would drastically change. Actually, his record would never have a draw being that he was imprisoned when he fought Osami Shibuya at Pancrase: Alive 3. In fact, his last six fights in Pancrase would have never gone down and his title shot with Kevin Randleman at UFC 20 would never have materialized. This would have also meant Bas never suffered the series of injuries that forced him to retire in 2006. The knee, bicep and neck injury would have never happened — resulting in Bas Rutten continuing his MMA career for two additional years. After grabbing a few wins in Pride FC (shortly before their collapse in 2007), Bas Rutten was contacted by Tom Atencio to compete in their inaugural Affliction event, 'Affliction: Banned.' This would be Bas Rutten's retirement fight, so M-1 Global and Affliction decided to match him up with the former Pride FC title holder (and current WAMMA champion) Fedor Emelianenko.
It was a monumental fight, but Bas Rutten squeezed out the unanimous decision over The Last Emperor, effectively stealing the title of 'G.O.A.T' from Fedor. He retired as the linear heavyweight champion and WAMMA went out of business by the end of 2008. In this parallel universe, Bas Rutten is the measuring stick to determine the skill of all heavyweights for the remainder of mixed martial arts history.

It's important to note the inspiration of this entire list is 20% my undying passion for quantum physics and 80% Loretta Hunt's 'Let's Get It On' book. If MMA history had a religious manuscript, this would undoubtedly be it. Midway through composing this list, I called Loretta to fact check a few lingering items. A lot of brain cells have been murdered from the time I read 'Let's Get It On' till now, so props to Loretta Hunt for being my personal Google.
In the book, Big John mentions that Michael Buffer was invited to a few of the earlier UFC events due to his stellar work with Bob Arum's 'Top Rank' and his famous 'Let's get ready to rumble!' trademark. Art Davie propositioned Michael Buffer to announce all future UFC events, a decision that he played with for a while. As we all know, Michael Buffer chose WCW over UFC, and Michael's brother, Bruce, was pegged for the slot as the official UFC announcer. However, we're talking about an alternate universe in an alternate timeline that has already happened. Things are just a little bit different over there.
MMA would have undergone a drastic reconstruction if Michael Buffer chose to go with the UFC instead of WCW. In this parallel universe, Michael Buffer's association with UFC legitimized the sport of MMA. The public saw Buffer's participation as validation for a new combat sport and cognitively, people could now easily relate it to boxing. John McCain's crusade against 'Human Cockfighting' would have never occurred. The UFC would have never gone through its infamous 'Dark Ages' which means that it would have never been sold to the Fertitta brothers in 2001. The company would have continued to scoop in revenue and the future of UFC would have gone in Art Davie's direction — so essentially everything would be XARM.
That's right, the UFC turned into an arm-wrestling organization that forced two fighters to strap their left hand to each other on a podium and fight until a person was knocked unconscious, tapped out, or won the arm-wrestling match. We're serious here. The UFC would have been XARM, and Michael Buffer would have been announcing the whole thing.
In fact, it would have looked something like this.

It's a moment that will forever live on in MMA lore, proof that The Monster was just too much of a beast for himself. There's a few variations of the story, but let me start with the most popular one. Backstage before Kevin Randleman's first title defense which was scheduled at UFC 24, Team Hammerhouse (which at the time consisted of Kevin Randleman, Mark Coleman and an old, heavybag on Coleman's porch) was acting like a pack of enchanted wildebeests in order to get Randleman prepared for an up-and-coming undefeated Brazilian fighter known as Pedro Rizzo. Apparently Kevin Randleman was sprinting from one end of the hallway to the next and at some point he lost his footing over a rug, smacking head-first into the concrete floor. Another version of the story doesn't have Kevin sprinting, but suggests he was doing his patented jump when he slammed his head on a low-lying pipe, then collapsed to the ground, hitting his head once again on the concrete floor.
Regardless of the details, Kevin Randleman ended his night inside Lake Charles Memorial Hospital on March 20th, 2000 as the medical personal attempted to revive him. He was diagnosed with a concussion and the bout was rescheduled three months later at UFC 26 where Kevin Randleman won a unanimous decision, handing Pedro Rizzo his first career loss. There's no video footage of the incident, but a member of The UG attempted to recreate the Kevin Randleman slip using MS Paint.
That scenario happened in this universe, but those course of events would be entirely different in a parallel universe. Kevin Randleman warmed up backstage with Mark Coleman and he eventually slipped and slammed his head on the concrete floor. Instead of being knocked out, Kevin Randleman received a 'walking concussion' and was helped to his feet by Coleman. Not recognizing the symptoms of a concussion, Mark Coleman slapped Randleman in his face a couple times, screamed at him to focus and starting ranting about Chute Box being a 'cheap [expletives]' for no apparent reason.
Kevin Randleman stumbled in the cage and was quickly TKOd by Pedro Rizzo in the first round. Pedro Rizzo went on to be the new UFC heavyweight champion and improved his record 10-0. According to Rizzo's actual record, he went on to finish Josh Barnett and Dan Severn, but if he was the champion in this parallel universe, those two fights would have been title defenses.
Who knows if he could have defeated Randy Couture at UFC 31 with his newly found confidence, but the fact remains that for the duration of 2000-2001, Pedro Rizzo would have been considered the greatest heavyweight in the world and the first Brazilian champion in the UFC.
However, in all available universes, Big John McCarthy still finds the entire ordeal hilarious.
Most people are unfamiliar with the story of Pride FC nearly signing a lucrative deal with the G4 network, so throw that popcorn in the microwave and grab a seat. Don't burn it either, I don't want this place smelling like four-week old ramen.
In 2007, Nobuyuki Sakakibara promoted Jerry Millen to the Vice President of Promotions of Pride FC in the US and placed him in charge of getting a television deal for the Japanese organization. Millen wanted to find a network to reach that coveted 18-35 male demographic so he chose to negotiate with the G4 Network, owned by NBC Universal. G4 was already in talks with King of the Cage to air events from the promotion, but just before they were going to pull the production trigger, Jerry Millen presented them with a enticing package from Pride FC. They were in talks four roughly a three-month period and the executives at G4 were pretty receptive to the form of entertainment Pride FC had to offer.
A verbal agreement was struck to create a 'TUF-like' show which would take place in Japan and include fighters from across the planet. Instead of living in houses, these fighters would use modified old-school Japanese dojos for accommodation. Both companies also agreed on airing 'Pride Countdown shows' leading up to the PPVs and hosting 'specialty fights' that would air exclusively on G4. At the time, Pride FC was king. The UFC even loaned their fighters out to Japan in order to compete in those now legendary cards. It's been reported that the UFC deal to buy Pride FC came down just a few hours before Sakakibara flew to Los Angeles to meet with G4 executives. The deal happened so fast that Jerry Millen didn't have time to break the news to G4, they found out on the internet.
From that moment on, ZUFFA disassembled Pride FC, only bringing a handful of fighters to the UFC. They went on to be the colossal juggernaut they are today due to literally buying out their competition. However, in a parallel universe, things went just a bit different.
In this parallel universe, Sakakibara made it to the G4 meeting in Los Angeles and eventually signed a four-year deal with NBC Universal to not only air Pride FC on G4, but to even air a Pride event in a primetime slot on NBC in 2008. This would have incited the start of two separate MMA wars — Pride FC would be involved in both.
First, CBS and NBC would be going head-to-head with their monthly 'Saturday Night Fights' broadcast. Instead of choosing separate weekends to air the events, both networks felt the need to counter-program their rival, effectively 'piggy backing' off the advertising and buzz of their counterpart. The North American public would have been presented with cards like Kimbo Slice vs. Ken Shamrock on CBS for Elite XC going against something like 'Pride FC Openweight Grand-Prix' on any given weekend in NBC. The term 'freak show' would be so incorporated into the MMA lexicon that its negative connotation would be expunged. It would be the norm to have televised matches that focused on entertainment and shock-value over rankings and advancing in weight divisions. MMA transformed into an entertainment driven entity.
The continued existence of Pride FC in the MMA world also meant that it would be in direct competition with UFC. Let's face it, Pride FC finding an American television partner is the only point of time in which the MMA landscape would have changed forever. With Pride FC and UFC competing for viewers, the war would have been reminiscent to the old WWF vs. WCW battle that happened in the mid-90s. In this parallel universe, the sport of MMA grew ten-fold solely because there was competition going on at the main stage of entertainment. Both companies were vying for legitimacy in the sports world, and the public took note.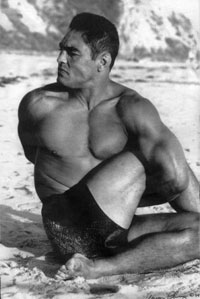 You may think UFC was created as a competitive arena to display the functionality of various martial arts, but in reality, it was manifested to show how much Gracie Jiu-Jitsu kicked ass. Seriously. Rorion Gracie wanted to take the Gracie Challenge one step further and invite fighters from all disciplines to be schooled by this new form of combat. That's not even an exaggeration. When Rorion linked up with Art Davie to host the first UFC, Rorion made it abundantly clear that the UFC would be a platform to launch Gracie Jiu-Jitsu to a nationwide audience. Art Davie liked what he heard and on November 12, 1993, the UFC had their inaugural event.
Within the family, it was widely known that Rickson Gracie possessed the greatest skill level and even Royce Gracie went on record to state 'Rickson is 10 times better than me. He's the only one who can beat everybody.' In reality, that's exactly what the Gracie's wanted; someone that can step inside the cage with any person and have a 100% success rate at defeating the opposition. It was clear that Rickson would be the premiere choice to represent the family name at UFC, but Rorion had other plans.
Royce trained with Rorion in California and he knew that if he granted Royce with a slot in the first UFC show, he would literally become an overnight celebrity, which ultimately meant more people would train at Rorion's academy. While most of the Gracie family disagreed, Royce was pegged to be the sole representative of the Gracie name at UFC 1, and history was made.
At the second UFC event, it was rumored that Rickson Gracie was offered to be included in the tournament, but priced himself out of negotiations with a ridiculously high sum of money. But what if Rickson Gracie was the first and only Gracie to represent jiu-jitsu in the early days of UFC? You don't have to ask that question because according to the laws of quantum physics, that scenario already happened.
To this day, Rickson Gracie still claims that he's 400-0 in MMA. With him competing at UFC 1 in an alternate reality, that record would have only inflated to epic proportions. In 1993, Rickson would have been thirty-five-years old, a full eight years older than his younger brother Royce. One would assume that Rickson Gracie would have easily disposed of Art Jimmerson, Ken Shamrock and Gegard Gordeau at UFC 1, but 1993 is also the same year when Rickson Gracie received his first official loss in his thirty-three year long career. The defeat was against Ron Tripp at the US Sambo Nationals in Norman, Oklahoma, although Rickson suggested the loss should not count since he was allegedly misinformed of the rules before the event.
In a parallel universe, Rickson signed the UFC contract to compete at the inaugural event, the failed bout against Ron Tripp never materialized. However, in this timeline, Rickson was destined to have one loss on his record in the year 1993, and it just so happens that it occurred in the UFC tournament against Ken Shamrock. The tournament failed to place the Gracie name on the map and the 'Gracie Challenge' no longer existed. Shamrock went on to compete in future events, and ultimately gained name recognition early within the budding sport. The Gracies were only known as the family that failed at introducing their family secret to combat sports. While Gracie Jiu-Jitsu was still practiced in small gyms across California, the true fighting style everyone wanted to learn was classic shootfighting, which enabled Ken Shamrock to prevail at the very first UFC card.
ProElite, the company that received second place in the 'Buy Strikeforce' marathon.
In the Summer of 2011, we interviewed Paul Feeler, the CEO of Stratus Media Group (the organization that purchased ProElite's assets) and inquired about the rumor that ProElite offered to purchase Strikeforce for the sum of $40 million:
It's rumored that you offered $40 million for Strikeforce, can you clear this up?
"I can tell you that
we were in significant discussions to acquire a large portion of Strikeforce and it did not materialize
."
So…what happened?
"Well, it's well known that UFC came and acquired things."
That was all we could get out of him regarding the failed deal, but leave it to MMAPayout to fill in the gaps of the entire story. According to MMAPayout, ProElite did in fact offer Strikeforce something in the vicinity of $40 million, but it was 'paper deal' meaning ProElite would take over Strikeforce by offering Scott Coker shares in the company followed by a smaller monetary offer. At the time, ProElite's stock was trading at $0.01 so one could either look at the stock trading glass as half-empty, half-full or half-what the hell is someone doing offering me stocks at $0.01 for a multi-million dollar company? Granted, as of September 29th 4:00pm EST, ProElite (PELE) is trading at an even $0.20, representing a 20x return on the deal that Scott Coker never made. Of course now we know that Coker never made the deal with ProElite because ZUFFA swooped in and offered him the same $40 million amount, but this time around it was tangible currency.
The deal was agreed upon in January 2011 and on March 12th, 2011 Dana White announced that UFC acquired Strikeforce — and thousands of heads simultaneously exploded and magically reassembled after the earth-rattling announcement. ProElite lost, UFC won — again.
But this feature isn't about what occurred in this universe. Not at all. We're in the business of discussing the top ten alterations to MMA history that 100% occurred in a parallel universe, and that's exactly what we'll do.
In a parallel universe, the UFC deal never went through. Silicon Valley Sports & Entertainment (the main investors of Strikeforce) decided to go with ProElite's paper deal and Strikeforce became a ProElite asset in 2011. Paul Feeler reopened communication with Strikeforce's television partner, CBS, and it was agreed the promotion would return to their Saturday night slot with Strikeforce: Diaz vs. Daley on April 9th, 2011. This marked the first time the organization returned to network television after the now infamous Strikeforce brawl at Strikeforce: Nashville in 2010. As you may remember, Strikeforce: Diaz vs. Daley was friggin' bonkers.
The main card started with Shinya Aoki submitting the previously unsubmittable Lyle Beerbohm. The next bout was a somewhat uneventful one when Gegard Mousasi going the distance against Keith Jardine to receive an unexpected and strange draw from the judges' score cards. After that, we were treated to a 155lb domination as Gilbert Melendez went ravenous on Kawajiri to retain the Strikeforce lightweight belt. In the main event, we all witnessed perhaps the most entertaining round in MMA this year when Nick Diaz and Paul Daley stood in the pocket and traded strikes like suicide bombers. Diaz was ultimately the last man standing and the crowd inside the Valley View Casino Center in San Diego, California went absolutely bananas.
The UFC still had forward momentum despite not acquiring Strikeforce, and the UFC on FOX deal was struck, with their first event, UFC on FOX: Velasquez vs. Don Santos, slated on November 12th, 2011 in Anaheim, California. Now in direct competition with another primetime network, CBS announced they would counterprogram UFC on FOX with their very own Strikeforce card: the conclusion of the Strikeforce Heavyweight Grand-Prix featuring Josh Barnett vs. Alistair Overeem (remember, due to ProElite acquiring Strikeforce, Overeem never made the UFC transition) and the winner would not only be awarded with the Strikeforce GP belt, but also the Strikeforce heavyweight title. Amazing stuff, these parallel universes.

Yes, real live alligators surrounding the cage, swimming inside a make-shift moat. That was the plan going into UFC's first event until a doctor placed a seed of logic within Art Davie, advising that medically it's a really, really bad idea to have potentially man-eating creatures just a few feet away from humans. In retrospect, it seemed like such a frivolous concept, but it took a doctor's opinion to convince event planners to remove wild alligators from their itinerary. It was never included, and the UFC went on to be the brand that it is today.
That's what happened in this timeline, however in the next — the scenario played out just a tad bit differently. The medical doctor called in sick on the day of the event planning and the executives at the newly formed UFC office decided to go with the alligator/moat idea in order to get mainstream media outlets talking about the event. The word got out that UFC would be using live animals in their first event and PETA staged a massive protest, with a plethora of women removing their clothing in the name of animal rights. It never makes any sense, but whenever PETA is involved, the world expects random acts of unsolicited nudity. Despite the misguided protests, the first UFC event goes as planned and a year later at UFC 2, the alligators were reintroduced and have now become synonymous with UFC. From event to event, the UFC hired animal handlers and assigned the arduous task of lugging giant alligators across the country to new venues.
With the persistent appearance of alligators at events, the general public now considered UFC as a 'gimmick' more than a sport, which opened the political playing fields for any career politician to throw dirt on the organization. Now embracing its badboy image and understanding they have fully sinked the sport of MMA in the US, UFC resorts to a new sport to attract everyone's attention: Alligator wrestling. Here's a brief video of how it played out in a parallel universe.
Take a moment and digest the greatest MMA picture of 2010, captured by our bud Esther Lin.
The raw emotion, confusion, relief and anxiety — it's all there, and it's damn hard to miss it. Just thank whatever higher power you believe in for enabling you to be alive through July/August of 2010. We all witnessed some of the most exquisite and eloquent smack-talk that ever emerged from a human being. Chael Sonnen wouldn't even call it selling a fight, but simply 'telling the truth' and 'exposing Anderson Silva for who he is.' You could literally taste the energy surrounding the event, and it resembled the flavor of a handful of sunflower seeds. I managed to create the following video of Chael Sonnen's greatest quotes from a UFC 117 press conference, and I'm sure many of you are already familiar with the clip.
The elements were in place for a grandiose Anderson Silva performance or a heart-thumping upset from the hands of Chael Sonnen. There would be no middle ground. We all knew the outcome of the fight would end in a remarkable fashion, and it did. The main event of UFC 117 began with Chael Sonnen advancing on Anderson Silva like some autonomous being, impervious to all pain. Sonnen put hands on The Spider, some would even say that Chael dropped Anderson in the opening rounds. Regardless of what happened in the stand-up, the fight always ended on the ground, with Chael controlling Silva for the better part of the rounds. An upset was imminent. All of the trash-talk, Brazil bashing and the awkward staredowns seemed like it finally paid off for the self-proclaimed 'fastest white Republican in MMA.' After being dominated for over twenty-three minutes, Anderson Silva threw a hail mary triangle up and it landed snuggly around Sonnen's neck. With the UFC middleweight title just two minutes away from being strapped around his waist, Sonnen was forced to tap out inside the Oracle Arena at Oakland, California. We emphasize the religious term 'hail mary' because according to an interview in Gracie Magazine, even Anderson Silva believed his victory was attributed to divine intervention.
"I feel we learn in all our fights, in victory or defeat. We learn from everything, in every way, whatever the situation may be. What people sometimes forget is that God is above it all. I didn't stop thinking of him for a moment, and he didn't let me down. Of course, we have to train and all, but it's really important to have faith. I remember having looked up between rounds and asked him to guide my movements and he enlightened me. It's even hard to say something like that to a magazine like Gracie. A lot of folks will read it and think I'm playing to the media. But anyone who watched the fight could see all was lost and there were just two minutes to go. I felt a very strong presence from God there and that was important."
At the end of the night, Anderson Silva remained champion and Chael Sonnen remained another unsuccessful challenger to the UFC middleweight title.
Yep, you guessed it. In an alternate universe Chael Sonnen was never triangled by Anderson Silva in the fifth round and went on to dethrone the greatest MMA fighter of our time. Chael Sonnen wrapped the belt around his waist and went on a roaring media rampage, doing a potpourri of 'I told you so' interviews. Sonnen even returned to be a guest on the panel of FOX News in order to discuss not only being the newly crowned champion, but also to serve as a political analyst to argue against Obama Care.
Everything was going as planned until the California State Athletic Commission accused Chael Sonnen of testing positive for performance enhancing drugs. Actually, the drug test denoted that Chael's testosterone levels were abnormally high, indicative of steroid use. He faced a year-long suspension, but the news surfaced that Chael Sonnen actually informed the CSAC before the fight that he would test for high amounts of testosterone. The hammer finally came down, resulting in Chael Sonnen being suspended a year from MMA. Chael appealed the decision, claiming he had hormone replacement therapy prior to UFC 117. His charges were somewhat dropped in an overly complex, roundabout way. However, just a few months after his hearing, Dana White suspended his UFC contract so that he could 'deal with personal issues.'
Keep in mind that in this parallel universe that we all find ourselves in, Chael Sonnen was still the UFC middleweight champion throughout the post-fight ordeal. Being that the CSAC never officially suspended him, the belt remained under his control and even though he had to wait nearly a year to get back in the cage, he was still the champion. While Chael Sonnen was away, Anderson Silva felt that he simply didn't have it anymore and retired from the sport at the age of thirty-six. Dana White then created a UFC middleweight interim title match between Vitor Belfort vs. Brian Stann at UFC 126. Stann grabbed a unanimous decision over The Phenom and earned a chance to unify the titles as headliners in UFC 136.
As far as UFC: Rio, the event materialized but without Anderson Silva in the mix, the card was simply a shadow of what it could have been. Due to Anderson Silva's absence from MMA, Burger King never got involved in the sport and we would have never seen video of Silva serenading a Double Whopper.
Very rarely does one fight determine whether a MMA organization will survive or be another victim to the iron giant that is ZUFFA. When we say 'very rarely' we actually mean 'quite often'. We've seen it with EliteXC and everyone remembers the warm fuzzy feeling we had just before Barnett was accused of taking PEDs before Affliction: Trilogy.
We all would like to forget the day in which Tom Atencio broke the news that Fedor/Barnett was canceled along with their entire MMA promotion. We all were left with handfuls of non-refundable plane tickets and pre-paid hotel rooms. MiddleEasy was all dressed up and had no where to go — so we got drunk instead. Absolutely, mind-bending, time-traveling paraletic drunk. When we woke up the next morning, DirecTV decided to poop in their hands and rub it directly in our face via satellite signal with this nonsense.
The entire ordeal was a traumatic experience, so I decided to create a permanent reminder of my pain in the form of this video of Affliction's eerie final phone call to the media. If you're a necrophiliac and a student of MMA history, then you can appreciate it. It's filled with scary accurate predictions from MMA journalists as well as highly contradictory statements from a variety of sources.
The MMA world was on Defcon 4 at the end of July 2009. Couple that with OMA's prank of Kimo Leopaldo that ended up as the lead story of nearly every mainstream media outlet and you have a community of people that was suddenly placed on 'high-blood pressure alert' by their doctors. As we all know, the fight between the number one and two heavyweight in MMA never occurred and Affliction collapsed within just a few hours after the cancellation of Affliction: Trilogy. Barnett ended up suspended for an entire year while Fedor eventually moved to Strikeforce. UFC, DREAM and Sengoku picked at the corpse of the remaining Affliction contracts and it was 'business as usual' in the MMA world.
That's the version you may remember, but in a parallel universe, everything changes.
In this reality, Josh Barnett was never accused of using performance enhancing drugs prior to facing Fedor Emelianenko at Affliction: Trilogy. The show went on, and the PPV numbers reached well over 250,000. Josh Barnett managed to TKO Fedor through the use of oppressing ground-and-pound and became the linear heavyweight champion of the world. Due to the rampant success of the third show, Affliction received more financial backing from core investors like Donald Trump, Oscar De La Hoya and Mark Cuban. With its legendary million-dollar paydays, an influx of fighters tried flocking to Affliction in order to become a part of the high-paying fighter stable.
With Fedor still under contract with Affliction and Dan Henderson now a free-agent that was leaning towards signing with Affliction, Strikeforce never had the opportunity to take their promotion to the main stage. CBS couldn't justify placing a card in a primetime slot on the network without a notable heavyweight headliner and the November 7th, 2009 show never happened. Showtime remained the home of Strikeforce and ZUFFA eventually let the promotion slowly die out instead acquiring it in 2011.
As far as Affliction, with event payrolls topping $3.3 million, over twice as much as the live gate, the organization was doomed to self-destruct. At the end of the year, Affliction collaborated with FEG to deliver a monumental Dynamite!! 2009 New Year's Eve event that was on par with the attendance at 2002's Pride Shockwave. Under the impression that Affliction could garner those same monumental numbers in the US, the organization held another event on April 2010 entitled Affliction: Dominate. The card was insanely stacked, and even featured talent from DREAM and the upcoming Bellator FC. In the main event, Badr Hari took on Alistair Overeem in a mixed rules bout. The first round was all kickboxing while the second was entirely MMA. Each round lasted a total of ten minutes. Unfortunately, the bout ended in a draw, and the remainder of the card was filled with rather uneventful decisions. This was due to Affliction offering a $100,000 win bonus for each fight. The fighters were competing not to lose, finishing or knocking out their opponent was a secondary concern. On July 2010, Affliction could no longer sustain their daily operations and reverted to being just a clothing company.
In this alternate universe, Dana White collected the remnants of another failed organization and assembled the parts to form the Voltron that we all know as the UFC.
Another gem from Loretta Hunt's 'Let's Get It On' tells the tale of Rorion Gracie nearly creating his own MMA organization that would have undoubtedly rivaled UFC in the mid-90s. After UFC 5 in Charlotte, North Carolina, Rorion Gracie and Art Davie sold their portion of UFC to Semaphore Entertainment Group, an organization that worked with UFC since their initial start in 1993. While Art Davie chose to work with SEG as UFC's matchmaker, Rorion had other plans to create his own MMA organization that would attempt to overtake UFC.
From the beginning, Rorion was never a fan of these things called 'rules.' For Rorion, fighter protection was just an annoying aspect that got in the way of pure physical combat. During UFC's beginnings, he was a huge advocate of removing all rules, rounds and officials. It appeared that Rorion was attempting to recreate the same fighting environment that his father thrived in back in Brazil. Rorion believed that when in danger, a fighter's natural bushido spirit would kick in and out of compassion for their opponent, fighters would stop on their own will and proclaim they are the winner.
I don't think I have enough pens in my office to write down the ways in which that model would completely deteriorate within seconds of an actual MMA bout. It was Big John McCarthy that invented the term 'intelligently defending,' a concept that Rorion Gracie loathed. So when Big John informed Rorion that he would continue to officiate the UFC after April 1995, Rorion gave Big John an incredible ultimatum:  Either get on board with the Gracie family and work for us in our soon-to-be formed MMA promotion, or leave us alone and stick with your UFC. With kids to feed at home and the steady income he received being a referee, Big John chose to go with the UFC and the rest is history.
That actually happened.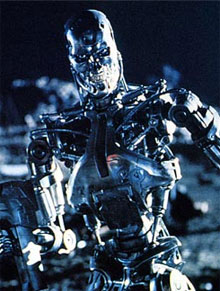 Due to Big John's lack of involvement in Rorion's idea of a new MMA promotion, it never came to fruition. However, we're operating on the plane of multiple universes, and in one universe, Big John chooses the red pill.
He leaves UFC and gets on-board with Rorion and the rest of the Gracie family. They eventually create an MMA organization fueled by the Gracie Challenge and its appeal of a truly 'No Rules' sport. They host their first event in Anaheim, California and it features a group of relatively unknown fighters. The event is filled with elements of ultra-violence. Arms get broken, a fighter loses his eye-sight due to finger pokes — by the end of the event, a fighter goes into a coma due to severe blood loss. With time, all the fighters eventually recover from their injuries and all but one resigns to compete in the next event. Pirated tapes of the card spread like a highly infectious disease and with just one event under Rorion's belt, the UFC is viewed by fight fans as an inferior product.
Eventually, politicians begin to create legislation outlawing the events in certain states. This doesn't bother Rorion, however. He takes the event from state to state, completely mystifying live audiences until the US government permanently shuts down the events and MMA all together. Rorion takes his promotion to Japan and eventually merges with another young MMA organization called Pride FC. The Japanese audience consumed the newly created sport and with attendance records topping the 70,000 mark, it was clear that our civilization had an unquenchable thirst for ultra violence.
People were killed inside the ring, limbs were severed from bodies, but the blood-lust simply fueled the fans. Dying meant nothing to a fighter, but it was the journey to death that mattered. In a long enough time span, Pride FC (led by Rorion Gracie) consumed the planet. There were no reality shows or package television compilations. Only guaranteed live deaths on television, a growing fad among the 18-35 male demographic. Rorion eventually parlayed the success he had with Pride FC into a endeavor: a live-action game show reminiscent of 'The Running Man.'
Humanity's future was a bleak one, and it all can be directly attributed to that faithful day in Rorion Gracie's office when Big John made a pivotal decision that changed the course of humankind.